Baltimore & Ohio 4-8-2 (Class T)
Last revised: May 9, 2023
By: Adam Burns

The Baltimore & Ohio operated some of the finest steam locomotives of any railroad ranging from its 2-8-8-4 Class EM-1 Yellowstones to their beautifully designed 4-6-2 Pacifics.  Another of these included its fleet of Class T 4-8-2 Mountains.  

Well crafted and engineered machines many were built at the B&O''s own Mt. Clare Shops in Baltimore after early tests on the wheel arrangement proved successful in the 1920s.  The railroad initially intended the 4-8-2s for use in heavy passenger service along the stiff grades of the West End. 
However, in later years it designed or purchased others for use in freight assignments, a task for which they were just as capable.  
Many Mountains remained in regular service all over the B&O's vast system from Baltimore to Chicago until the mid-1950s and unfortunately, none were preserved.
While relatively inconsequential, the B&O is often recognized for the simple beauty of their common steam designs; most carried clean lines, few interruptions along the boiler, centered-headlight, and symmetrical pilot.  They were aesthetically pleasing, which included their 4-8-2's.  The locomotives looked good leading a train!
Photos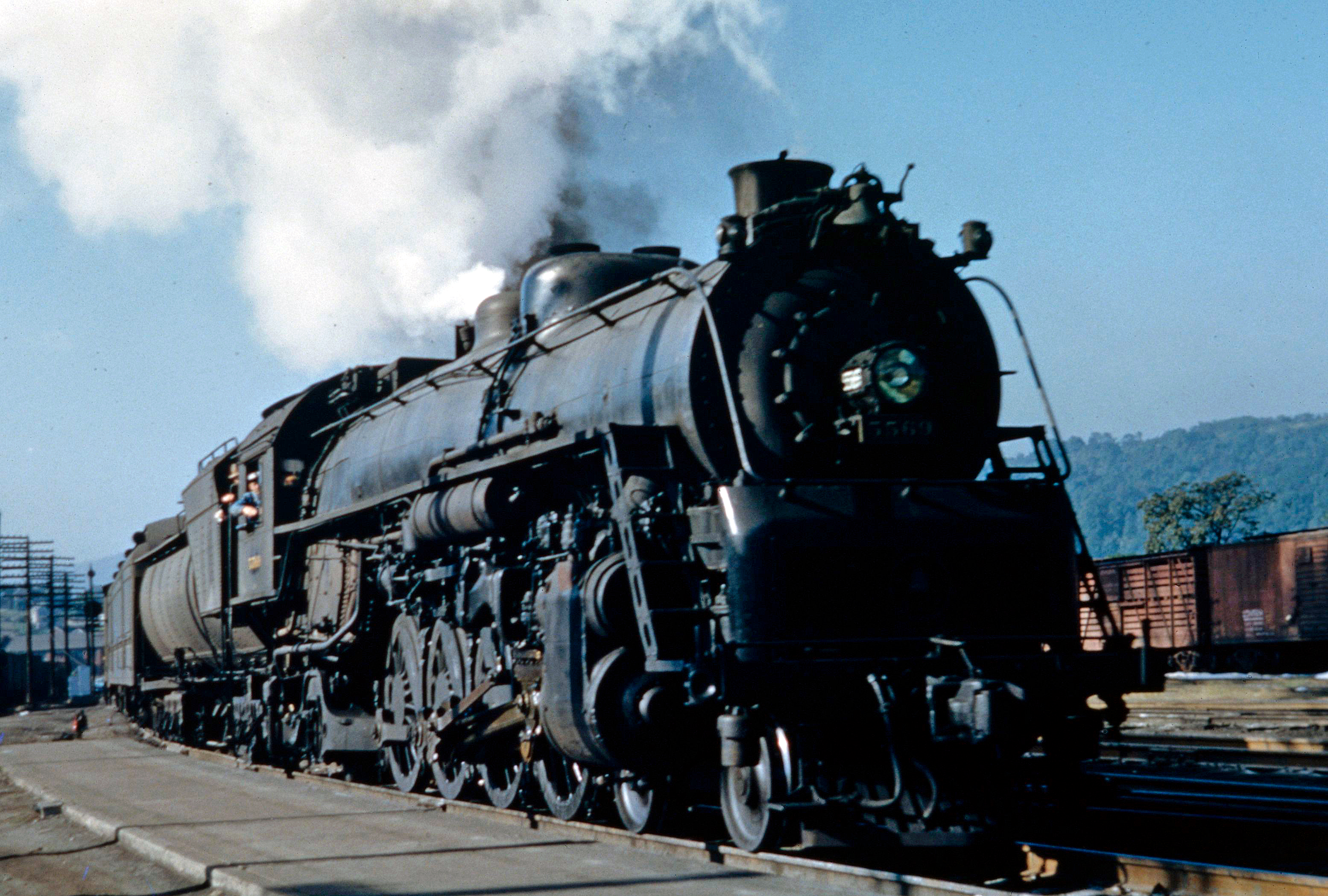 Baltimore & Ohio 4-8-2 #5569, arrives at the Queen City Hotel in Cumberland, Maryland with a westbound train during the early 1950s. Likely a Bill Price photo. American-Rails.com collection.
History
Since the early 20th century the Baltimore & Ohio had been relying on its fleet of Class P 4-6-2s to do the job of hustling passenger trains all across the system as they offered a good balance of power and speed.  
However, by the early 1920s with the increased use of steel in car construction and a growing demand for rail travel the B&O needed something more powerful.  The 4-8-2 Mountain was first put into service on the Chesapeake & Ohio in 1911.  
They were designed for the very reason the B&O expressed interest in them, the C&O needed something with more muscle to move passenger trains along its main line through the mountains of western Virginia and southern West Virginia. 

One of the B&O's Class T3 4-8-2s, #701, is seen here in Chicago, circa 1958. This Mountain was originally #5557, manufactured by the Mount Clare Shops in 1942. It was renumbered in 1956 to make room for incoming diesels. Fred Byerly photo. American-Rails.com collection.
First Examples
The B&O's first 4-8-2s were built completely from scratch; Mt. Clare shop forces took the boiler from 2-10-2 "Big Six" #6009 and used it to construct Class T 4-8-2 #5500 in 1925. 
The locomotive, given the name Lord Baltimore (until 1935), used 74-inch drivers, a tractive effort greater than 65,000 pounds, and was intended for use in passenger service hauling trains along the west end of the Cumberland Division. 
A year later in 1926 the railroad built another, #5501 (named Philip E. Thomas after the B&O's first president), which used the boiler of #6030 and saw service over the same territory as its counterpart.  While these Mountains performed well enough it wasn't until 1930 that more were added to the fleet.
Modern Designs
That year the B&O's General Superintendent of Motive Power & Equipment, George Emerson, wanted to test the practicability of a water-tube firebox.  
To do so he ordered two 4-8-2s from the Baldwin Locomotive Works; one, numbered 5510 and listed as Class T-1 used a water-tube firebox while another, carrying #5550 and given the designation as Class T-2 used a standard firebox. 
Unfortunately, Emerson was never able to complete his study but these pair of Mountains remained in regular service on the B&O until the 1950s.  The next batch of 4-8-2s were built specifically for high-speed freight service to help keep up with war demands according to David Mainey's, "Baltimore & Ohio Steam In Color." 
The locomotives were again constructed at Mt. Clare and the first were outshopped in 1942 using boilers from older Class Q-1 Mikados and P-1 Pacifics; listed as Class T-3 they sported 70-inch drivers with about the same tractive effort as the earlier types.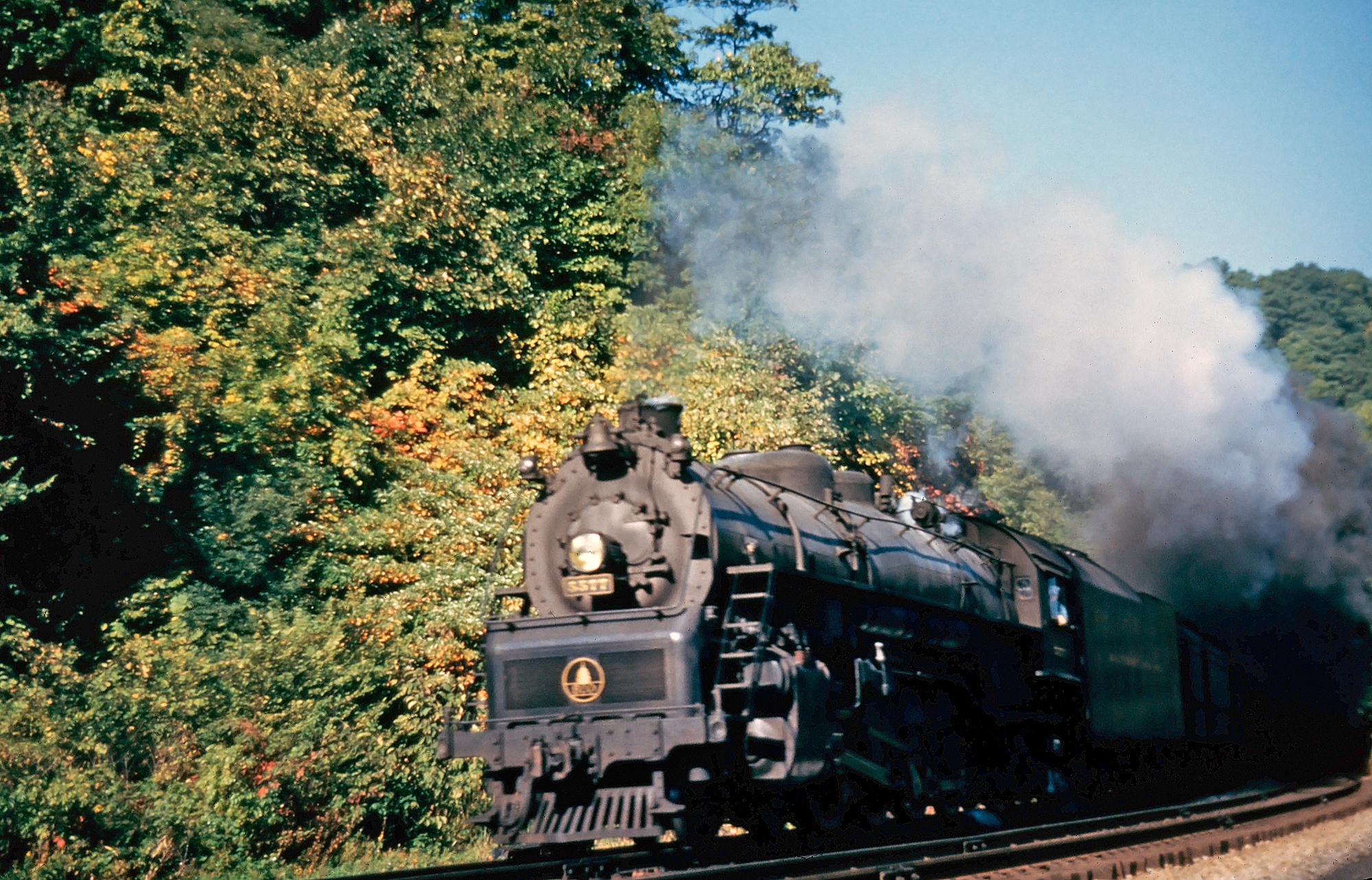 Baltimore & Ohio 4-8-2 #5577 (T-3b) exits Randolph Tunnel along the Magnolia Cutoff with an eastbound passenger consist, circa 1955. American-Rails.com collection.
As Mr. Mainey notes in his book they could have just as easily been used to pull passenger trains given their power and speed.  The T-3 class, as was so common on the B&O, was broken down into several subclasses; only one (#5564) had roller bearings on all axles, which was listed as Class T-3a.  
By contrast, the T-3b's used standard friction bearings and the group of T-3c's had roller bearings on all axles (including the tender) except the main drivers.  
Finally, there was the curious fleet of T-3t's; these Mountains were distinguished only by their use of tenders, which according to Mr. Mainey's book were of a Vanderbilt design.  
Most railroads did not subclass their steam locomotives based on the tender used, since they were often swapped and interchanged among one another.   Altogether, seven examples from the three subclasses ("a," "b," and "c") were equipped with these larger tenders and labeled as Class T-3t. 
Classification
| Model | Builder | Road Number(s) | Date Built | Disposition |
| --- | --- | --- | --- | --- |
| Class T | B&O | 5500 ("Lord Baltimore"), 5501 ("Philip E. Thomas") | 1925-1926 | Scrapped, 1953 |
| Class T-1 | Baldwin | 5510 | 1930 | Scrapped, 1951 |
| Class T-2 | Baldwin | 5550 | 1930 | Scrapped, 1952 |
| Class T-3 | B&O | 5555-5563 | 1942-1943 | All Retired By 1960 |
| Class T-3a | B&O | 5564 | 1943 | Retired By 1960 |
| Class T-3b | B&O | 5565-5584 | 1943-1946 | All Retired By 1960 |
| Class T-3c | B&O | 5585-5594 | 1947-1948 | All Retired By 1960 |
| Class T-4 | Baldwin | 5650-5662 (Ex-Boston & Maine) | 1935 | All Retired By 1958 |
The entire fleet of T-3's could be found roaming over much of the B&O's system pulling freights on the stiff grades of the Cumberland and Monongah Divisions as well as working further west into the flatter territory of the Akron and Chicago Divisions.  
The final class of Mountains were the T-4's.  These locomotives were handsome machines purchased second-hand from the Boston & Maine in 1947, thirteen in all.  
With their 73-inch drivers they could also just have easily been used in passenger service although the B&O assigned them to the gentle grades of the Chicago and Akron Divisions where the zipped timed freights incredibly fast through the Midwest's farmlands. 

---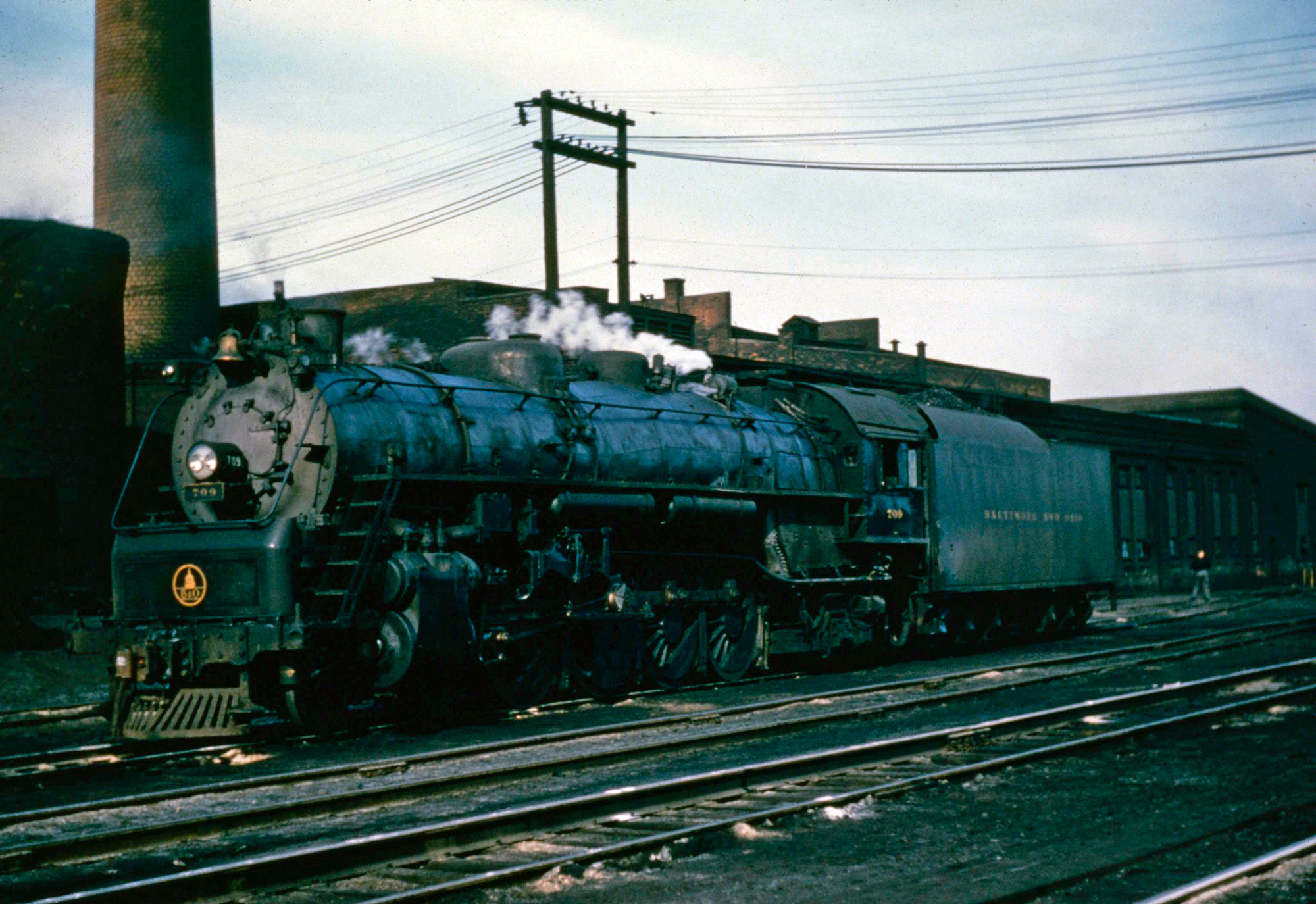 Baltimore & Ohio 4-8-2 #709 (built as #5568) is seen here near the roundhouse in Willard, Ohio on March 31, 1957. That year the B&O renumbered its remaining Mountains to make room for incoming diesels. Author's collection.
Retirement
Interestingly, the T-4's were, according to Mr. Mainey's book "...12% heavier, sported larger drivers and cylinders, and had a higher boiler pressure than the T-3's." 
During November of 1956 the B&O embarked on a complete renumbering of its remaining steam fleet to make room for its growing volume of diesels.  
The railroad's 4-8-2s were given the 700 series although not all had survived until that time; only eight examples of the T-4's were still in service by then.  
In any event, the B&O's Mountains survived longer than most of its other main line steamers; the last T-4 was finally scrapped in 1958 while the T-3's could still be found performing limited duties for another year. 
It's a shame none of the B&O's own 4-8-2s were preserved; they were well-built, fast, and great-looking locomotives that performed any task they were assigned.