Steam Locomotives, Raw Power In Motion!
Steam Locomotives, devices that would literally drive and power the American railroad industry for its first 130+ years of existence actually has its origins in England. Originally built by Richard Trevithick and Andrew Vivian in 1804 for the narrow gauge Penydarren tramway in Wales the contraption was first tested in America in 1826 by Colonel John Stevens, who showcased his "Steam Waggon" design (basically a steam-powered horse carriage) on a small circular track he had built on his estate in Hoboken, New Jersey. Colonel Stevens is also credited with owning the first railroad charter in North America when in 1815 he was granted permission to build the New Jersey Railroad Company, although it was never actually constructed until 1832 and would eventually become part of the Pennsylvania Railroad.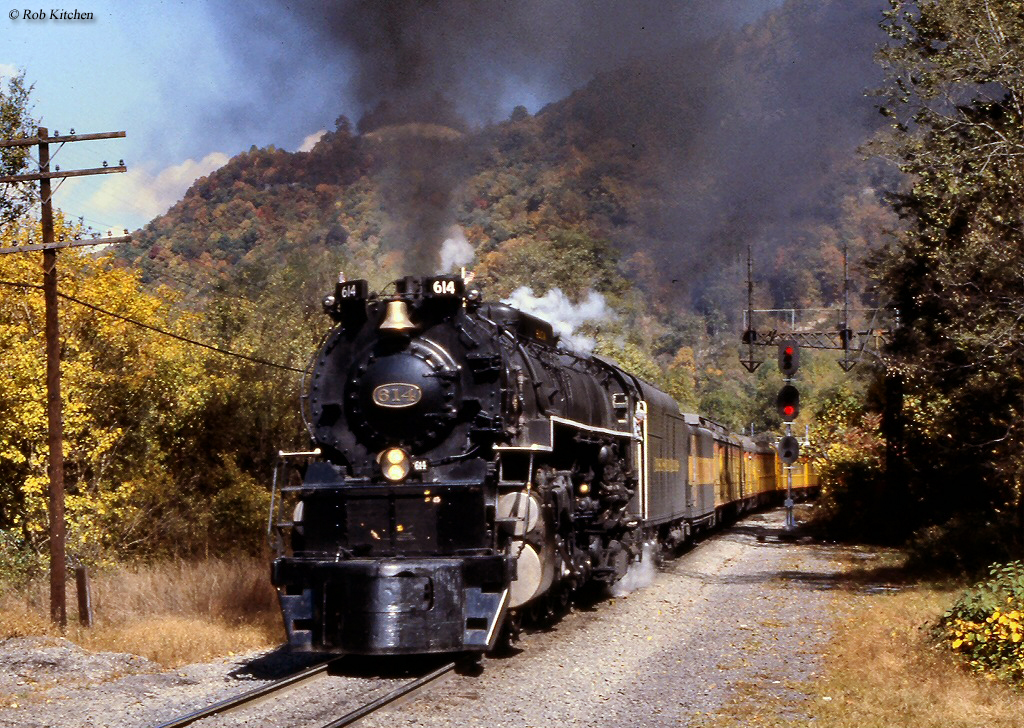 Chesapeake & Ohio 4-8-4 #614 was once a star attraction pulling various excursion as witnessed here heading up the Chessie Safety Express through rural Sewell, West Virginia along the New River Gorge during October of 1981.
Later, in August of 1829 Horatio Allen, a chief engineer for the Delaware & Hudson Canal Company (later the Delaware & Hudson Railway) tested an early English steam design on a 16-mile stretch of track the company owned between Honesdale and Carbondale, Pennsylvania. The locomotive used was named the Stourbridge Lion, which was a very simple two-axle machine with a vertical boiler, and it was employed to move coal from the mines at Carbondale to Honesdale.   Then, a year after that, another design was tested on the Baltimore & Ohio Railroad in August 1830, now known famously as the Tom Thumb (which is noted for racing a horse and lost, but just barely, and more than proved its ability as a reliable source of mechanical transportation). However, it was the South Carolina Canal & Railroad Company that would be the first railroad in the United States to haul a revenue train with an American-built locomotives when its Best Friend of Charleston, which was built by the West Point Foundry in New York, carried a trainload of passengers on December 25, 1830.
The operation of a steam locomotive is relatively simple, which I will try to explain just briefly. Fuel, usually either coal or oil, is fed into the firebox where the resulting hot gas enters bolier tubes, known as flues, to heat the surrounding water turning it unto steam. From this point the steam is fed into the pistons whereby it expands and drives the locomotive's rods (those massive steel shafts which are attached to the wheels) and propels it forward. The hot gases are then carried into the smoke box where they are funneled into the smoke stack and out of the locomotive. A quick note about a "modern" design's smoke stacks; most carry grating or some other type of screening to help reduce the amount of cinders (especially in the case when wood was used as fuel) which are projected into the air and can cause brush fires.
Milwaukee Road 4-8-4 #261 rolls by aging VN Tower at Nova, Ohio with an excursion in tow on June 16, 1996.
Having said that, the various steamers that where built over the years vary substantially, as virtually no two were exactly identical, even of the same design type! There were, however, roughly three basic types; non-articulated (meaning a rigid frame), duplex (it divides the driving force on its wheels by having two pair of cylinders but is also housed on a rigid frame), and articulated (which is a rigid mounted rear frame but pivoting front frame to negotiate curves).
Perhaps the best known and recognized of the early locomotives types was the very successful American Type 4-4-0 design, built during the mid 19th century which found widespread use across the country. From that point on steam designs continued to grow in size and weight and reached their technological height during the 1940s, at which time the industry began switching to diesel-electrics and steam began to fade away until it was all but completely phased out by the early 1960s.
Speaking of locomotive designs you may be wondering, "What the heck do those numbers and dashes mean?" The "scientific" or technical term for these numbers and dashes is the "Whyte notation" (developed by Frederick Whyte), which classifies steam locomotives by wheel arrangement. For instance, how the system works is by counting the number of leading wheels (those found on the front of the locomotive or pilot), then the number of driving wheels (those found directly under the boiler), and finally the number of trailing wheels (those found under the locomotive's cab), all separated by dashes.
Western Maryland Scenic Railroad 2-8-0 Consolidation #734 heads up another excursion as it departs Cumberland, Maryland on July 1, 2007. This unit began life as Lake Superior & Ishpeming #34.
So, if you happen to see a steamer and are curious as to how it is classified, simply count the wheel groupings from the front (the pilot) to the back (the cab), remembering that if you are looking directly at the side of a steam locomotive to double its wheel count when classifying (for instance, if you see three main driving wheels on one side there are also three on the other side for a total of six in your classification). For instance, with the common American design, it has four front wheels of two axles, four main driving wheels (or just drivers), and no trailing wheels/axles, and thus is classified as a 4-4-0 design.
Having said this you may also be wondering what the purpose is behind those trailing and pilot wheels/axles to either end of the main drivers. Well, the front pilot wheels/axle(s) acts as a guide to better help the locomotive negotiate its way into a curve without jumping the track, which was especially helpful as locomotives grew larger and heavier. The rear or trailing wheels/axle(s) served mainly in a supporting role as locomotives grew larger to bear the weight of the heavier cabs and fireboxes. These front and rear wheels/axle(s) also served a secondary function in displacing the weight of the locomotive more evenly over the rails, which produced less wear on them.
Twelve Wheelers/Mastodons (4-8-0)
Other Mallets
Consolidation Mallet (2-8-8-0)

Unique/Notable Designs
Southern Pacific/Overland 4-10-2
Manufacturers
Cass Scenic Railroad three-truck Shay #4 rests at Wittaker Station, West Virginia as passenger enjoy the surrounding scenery during the summer in the late 1980s.
Early, Pioneering Designs
Famous Locomotives
Spokane, Portland & Seattle 700

Special Excursions/Events
Perhaps more than any other piece of railroad equipment, past or present, the steam locomotive is the most universally recognized piece of railroading equipment. A good example of this is how children typically perceive the main line freight trains of today, calling them "choo-choos" even though the train is being pulled by diesel-electric locomotives, and steam has been gone for nearly five decades now [from hauling freight].   Of course, there are many good reasons why steam is so widely recognized as relating to railroads. First is by the far the most obvious that, again, steam pulled the trains for the first 130+ years of the industry's existence and during that time the American public traveled by train in much great numbers during than they do today.

The majestic N&W J-Class 4-8-4 #611 pours on the speed along the former Southern main line at Winston, Virginia as it powers an excursion bound for Lynchburg on May 15, 1993.
Perhaps the most compelling reason that steamers are so fascinating is that few other pieces of machinery can so visually show you just how hard it is at work (by being able to see the rods and drivers in motion). If you were lucky enough to be trackside during steam's golden years, from the 1900s to the 1940s, the experience was truly awesome; such as witnessing the Milwaukee Road's famous Hiawatha passenger train zipping by at over 100 mph through the Midwest with a 4-4-2 Atlantic or Hudson 4-6-4 on the point, or watching a thunderous display of power as a Baltimore & Ohio 2-6-6-4 EM-1 lugged a coal train over the railroad's steep main line in West Virginia and Maryland.  For more information on diesel locomotives, like the EMD's E series, F series, Geeps and other models, which ultimately led to the replacement of steam throughout the industry, please click here.