California Scenic Train Rides: A Complete Guide (2023)
Last revised: May 12, 2023
By: Adam Burns

If interested in California scenic train rides the guide here provides that information as well as a brief history of the state's railroads. 

Although its first did not appear until the mid-1850's (nearly 30 years after the Granite Railway was formed on March 4, 1826), California has an illustrious history with trains. 
It began with the Gold Rush and grew exponentially after the Transcontinental Railroad's completion. 
According to an in-depth analysis Trains Magazine published in its January, 2007 issue entitled, "Great Railroading: State-By-State," the state really was "Like Nowhere Else On Earth!"
In time it was served by five major "Class I's" (Southern Pacific, Union Pacific; Atchison, Topeka & Santa Fe; Western Pacific; and Great Northern), enjoyed a healthy industrial base, contained rich agricultural lands, and eventually encompassed a network of more than 8,000 route miles.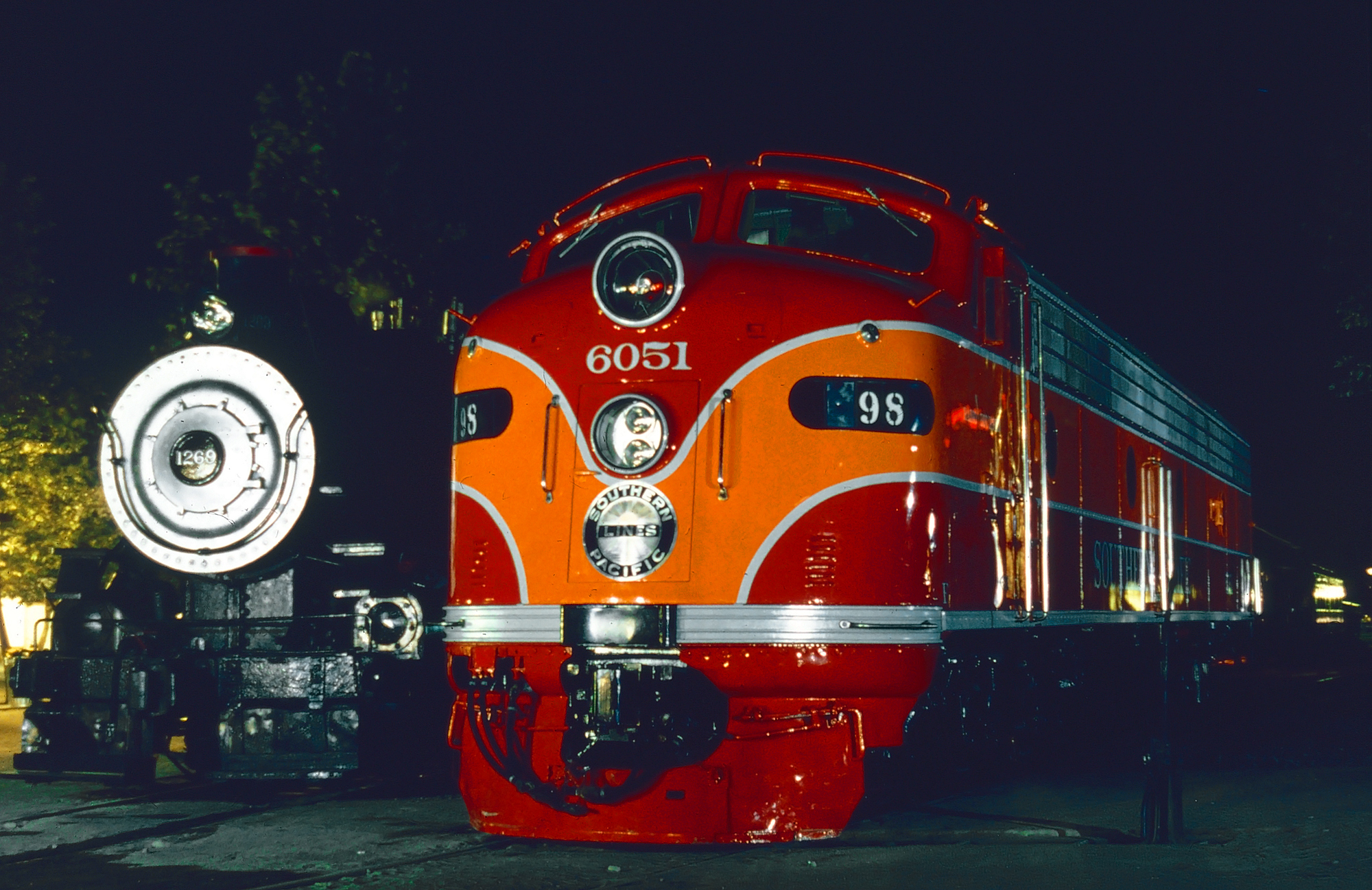 Southern Pacific E9A #6051 and 0-6-0 #1269 on display at the California State Railroad Museum in Sacramento, circa 1984. Mike Bledsoe photo. American-Rails.com collection.
As a result, California now offers several scenic train rides ranging from the noteworthy Napa Valley Wine Train and Fillmore & Western to the Yosemite Mountain Sugar Pine Railroad and Niles Canyon Railway. 
There are also numerous museums, such as the California State Railroad Museum which houses the last preserved "Cab Forward" steam locomotive.  
Please note!  The information here pertains only to California train rides pertaining to vacation and tourism destinations.  If you are interested in intercity/long distance rail travel please visit Amtrak's website.
State Rail History
It could be rightfully argued California single-handedly settled the West. 
Its lands remained in territory status for only two years (following their sale from the Mexican government as part of the 1848 Treaty of Guadalupe Hidalgo) before it achieved statehood on September 9, 1850 as the 31st state of the United States. 
Nearly a decade would pass before a bordering territory would gain a similar status (Oregon, granted statehood on February 14, 1859). 
While the "Gold Rush" (which began after James W. Marshall found the rare metal at Sutter's Mill in Coloma on January 24, 1848) brought tens of thousands of prospectors (eventually totaling around 300,000) it was rich farmland, within the San Joaquin Valley, and seaside ports (totaling 840 miles) that transformed California into the country's most successful economy. 
Its involvement with the iron horse predated the Transcontinental Railroad's completion by more than a decade. 
The Sacramento Valley Railroad is identified as the state's first to file articles of incorporation as a common-carrier when it was formed on August 4, 1852.
- California's very first railroad put into operation was the Arcata & Mad River Railroad, established in 1854 and opened its first two miles in 1855.  It was built by private interests to load lumber schooners in Humboldt Bay near Arcata. -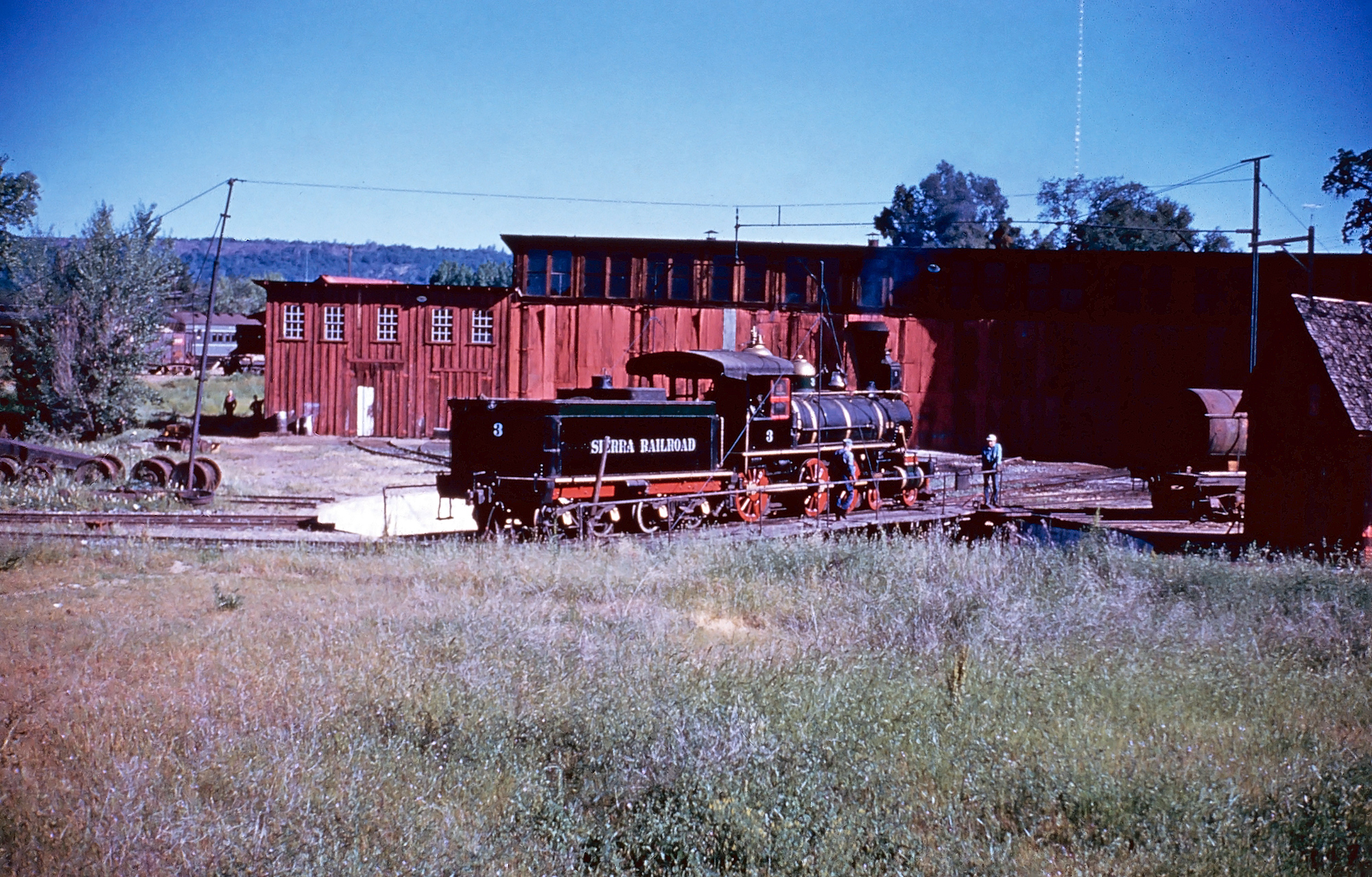 Sierra Railroad 4-6-0 #3 was photographed here at the roundhouse in Jamestown, California, circa 1965. American-Rails.com collection.
Four years later, on February 22, 1856, the Sacramento Valley was opened from Sacramento to Folsom (22.9 miles). 
In time, the SVRR would join the sprawling Southern Pacific network, a system which came to define California.
The SP'S heritage began with the Central Pacific Railroad, which completed the western leg of the Transcontinental Railroad. 
It was the vision of Theodore Judah who loosely formed the "Central Pacific Railroad Company of California" on November 1, 1860. 
Unfortunately, Judah was later. outmaneuvered by the "Big Four" consortium of Charles Crocker, Collis P. Huntington, Mark Hopkins, and Leland Stanford. 
He had approached them about securing needed financing for the project but they quickly took over the endeavor after realizing its monetary potential. 
They subsequently incorporated the Central Pacific Railroad of California on June 28, 1861 to "construct a railroad and telegraph line from the Pacific coast, at or near San Francisco, or the navigable waters of the Sacramento River, to the eastern boundary of California." 
With the passage of the Pacific Railroad Act, signed into law by President Abraham Lincoln on July 1, 1862, the CP adopted the agreement on October 7th and formally accepted it through the Department of the Interior on December 24th.
With the government's support the CP was provided land grants and federal loans for the purpose of establishing a connection with the Union Pacific (building west from Omaha, Nebraska) somewhere near the Sierra- Nevada Mountains. 
The two sides, through federal remediation, eventually settled on Promontory Summit, Utah and the Transcontinental Railroad was formally completed on May 10, 1869. 
To learn more about this endeavor please click here.  According to the book, "The Routledge Historical Atlas Of The American Railroads" by author John F. Stover, in time California was crisscrossed with ribbons of steel rail that had peaked at more than 8,300 miles by the 1920's. 
The Southern Pacific was always the state's primary rail provider but several other notables would also reach its borders including:
Western Pacific (its main line paralleled the SP from San Francisco/Sacramento to Salt Lake City)


Santa Fe (served all of the state's major cities)


Union Pacific (originally accessed only Los Angeles)


Great Northern (completion of its "Inside Gateway" to Bieber on November 10, 1931 offered a link to the Bay Area in conjunction with the Western Pacific)
California was also home to several short lines, the world's largest interurban (Pacific Electric Railway), and several logging operations.  Today, it's network totals 4,803 miles according to the Association of American Railroads.
Guide Information
Billy Jones Wildcat Railroad
This little operation is based in Los Gatos and provides 1/3rd-scale California scenic train rides. Its history is not that of your typical scale railroad; it all began with William "Billy" Jones, a longtime Southern Pacific. 
In 1939 he located and acquired an 18-inch gauge steam locomotive designed for the Venice Miniature Railway in Venice Beach, California. 
Jones then used the little steamer to establish a miniature railroad of his own to host rides for the public. 
After he passed away in 1968 a local group formed a non-profit organization called the Billy Jones Wildcat Railroad, Inc. to continue operating his collection at the Oak Meadow Park and Vasona Park in Los Gatos. 
It reopened in July, 1970.  Today, the railroad maintains an engine house, depot, and even a water tank while offering trips over 1 mile of track. 
They operate nearly year-round but have various hours depending on the seasons.  The attraction has become so popular it now hosts more than 100,000 visitors annually!
Calico & Odessa Railroad
Another small railroad, this tourist attraction is based in Yermo and operates a 2-foot, 6-inch narrow gauge line through the ghost town of Calico, California (in its heyday this community produced over $20 million in silver ore from 500 local mines during a 12-year period). 
The Calicao & Odessa is based from the actual Waterloo Mining Railroad, a local narrow-gauge system which hauled this silver ore from Calico to the mills of Daggett during the 1880's. (It does not, however, utilize the original right-of-way.)

California State Railroad Museum
Not surprisingly, scenic train rides can be found at one of the state's biggest train attractions.  Perhaps few other museums, except the Illinois Railway Museum, rival the California State Railroad Museum in terms of size, scope, and collection. 
With a history dating as far back as 1937, it's based in Sacramento and remains one of the city's top tourist destinations, seeing over a half-million visitors annually (a testament to just how interesting and engaging railroad museums can be).
Given the sheer size of CSRM's collection it would not be possible to cover it all here in a brief paragraph.  Thanks to the numerous resources available, of which few other museums are privy, CSRM is large enough to contain a number of various operating departments.
While it tends to spotlight and feature historic pieces related to California, or western railroads overall, it also highlights railroad history in general (including the Transcontinental Railroad). 
Finally, you can catch a train ride while there!  They offer excursion trips using an 0-6-0 steam locomotive, operating from the spring through late Summer, every hour on Saturday and Sunday. 
California Trolley & Railroad Corporation
This museum, located in San Jose, was established in 1982 as a 501(c)(3) non-profit organization.  Its primary mission aims at preserving the memory and history of rail transportation in the Santa Clara Valley. 
The group has two noteworthy steam locomotives under their care, Southern Pacific 4-6-2 #2479 (Class P-10) manufactured by Baldwin in 1923 and Southern Pacific 0-6-0 #1215 (Class S-10) also built by Baldwin (1913). 
They are currently working towards the complete restoration and operation of the former while the latter will remain a static display piece. 
In addition, they operate a number of trolleys on a short stretch of track.  Finally, their long term goals involve opening the San Jose Steam Railroad Museum which will maintain Southern Pacific's historic, six-stall Lenzen Roundhouse and turntable.
California Western Railroad, "The Skunk Train"
The famed Skunk Train, one of California's most popular scenic train rides, operates from Fort Bragg to Willits (where a connection was once made with the now-defunct Northwestern Pacific Railroad). 
The heritage of this trackage, which totals 40 miles, can be traced back to the Fort Bragg Railroad that began operations in 1885 for the purpose of moving redwood logs from the rich forests of Glenblair to a mill at Fort Bragg. 
After various name changes it became the California Western Railroad on December 19, 1947.  Following many years moving timber products the CWR discontinued freight operations in 2001. 
The carrier had operated passenger trains for many years and essentially transitioned into a tourist attraction, particularly after freight service ceased.  The railroad operates both steam and diesel locomotives year-round while also hosting a number of special events.
Carolwood Barn & Museum
This organization, located in Griffith Park, Los Angeles looks to preserve Walt Disney's vast collection of scale model trains, one of his longtime interests. 
The barn in which these displays are housed holds particularly historical significance.  It was built in 1950 by Disney, himself, at his home in Holmby Hills, California, replicating a similar structure at his family's farm in Marceline, Missouri. 
The building acted as a workshop, used to maintain his 1/8th scale live-steam railroad, the so-called "Carolwood Pacific Railroad." 
A few years later he went on to build the now world-renowned attraction, Disneyland, although the barn always remained on his property. 
Today, it continues to feature his original works and is open the third Sunday of each month from 11:00 AM to 3:00 PM.  Admission and parking to the museum are both free of charge.
Colma Historical Association
This organization, which launched in 1993, is housed within the Southern Pacific's restored wooden depot in Colma, originally completed between 1863-1870. 
They are open throughout much of the week and there is no admission.  The entire grounds include three additional buildings; the main museum, freight depot (built between 1904-1905), and blacksmith's shed. 
Please note this group is not primarily centered around railroad preservation. 
While they do have some displays relating to trains it also features historic embalming equipment, blacksmithing items, typewriters, and information concerning Colma's 14 different cemeteries. 
There are also quilts on display, vintage buttons, telegrapher items, period clothing, and numerous photos from year's past.  It is an interesting place with a little of everything to see!
Fillmore & Western Railway
(Closed - June 28, 2021)
Found just up the coast from Los Angeles, the Fillmore & Western offered several different excursions, from dinner trains to murder mystery specials.

The railroad was best known as the location of many featured films, television shows, and various commercials.  Until operations ceased on June 28, 2021 when its leased expired, this number had totaled more than 400!  
The history of the trackage, which totals 28.25 miles connecting Piru with Saticoy, dates back to the Southern Pacific. 
The state's most famous railroad completed the line in 1885, which remained its primary corridor between San Francisco and Los Angeles until 1904. 
Today, the right-of-way is owned by the Ventura County Transportation Commission. 

Folsom Valley Railway/Folsom City Zoo
The Folsom Valley Railway is part of the Folsom City Zoo in Folsom, California. 
The train ride has been in operation since 1970 and utilizes an authentically-scaled steam engine and cars (12-inch gauge) running on about 4/5-mile of track. 
In June, 1978 the operation was taken over by Mylon Thorley from the original owners, the Sherman brothers.  A little over a decade later there was another ownership change when, on January 1, 1991, Terry Gold acquired the little attraction and he remains the caretaker today.   
There are currently two locomotives on the grounds; a 4-4-0 named "Cricket" (built by Erich Thompson of Berkeley Hills, California in 1950) and 4-4-2 #3001 (a project launched by Alan Shelly in 1938, it was later finished more than a decade later in 1949).
If the weather permits the railroad operates during select days of the week every month of the year.

Fort Humboldt State Historic Park
Based in Eureka, this state park (since 1977) carries the goal of preserving the region's logging history.  
Specifically their mission statement is "...to create awareness and appreciation for the impact of timber, logging, and railroads on the settlement and growth of Humboldt County." 
In addition, since the grounds are within a former Army fort, military history is presented here as well.  Of their many attractions the group offers scenic train rides, or speeder trips, during the summer months.  
They also have two small, standard-gauge (4 feet, 8 1/2 inches) steam locomotives on displa:
Elk River Mill & Lumber 0-4-0 #1, named the "Dolly Varden" (built by Marshutz & Cantrell [National Iron Works] in 1884)


Bear Harbor Lumber Company 0-4-0RT #1 (manufactured by Marshutz & Cantrell [National Iron Works] in 1892)
The park's website states it is open daily from 8:00 AM to 5:00 PM.
Irvine Park Railroad
The Irvine Park Railroad is situated in Orange, California and offers scale-California train rides (1/3-scale) throughout much of the year (except major holidays, including Thanksgiving, Christmas Eve, Christmas Day, and New Year's Day) within the Irvine Regional Park. 
This recreational venue is also home to numerous other outdoor activities such as the Orange County Zoo, paddle-boat and bike rentals, pony rides, and numerous hiking trails. 
The railroad began in 1996 and has transformed into one of their most popular attractions, running a sort of semi-circle loop over a portion of the property. 
Also, be sure to visit the park for special events, such as their Easter Extravaganza, events for Halloween, and a special "Christmas Train!" 
Finally, visit their website to learn more about hosting parties on the grounds (which includes pavilion/moon bounce rentals and even enjoy an outdoor get-together at the "Locomotive Loop").
Knott's Berry Farm
Don't let the name fool you!  Scenic train rides can be found at this tourist attraction. 
Knott's Berry Farm provides a laundry list of family activities and is essentially a theme park.  Some of these include a roller-coaster, water slides, and virtual reality game. 
They even have the Mrs. Knott's Chicken Dinner Restaurant (opened in 1934) and a hotel accommodations.  Finally, one of their very popular attractions is the Calico Railroad, which operates tours around the park. 
This is not a scale-train ride.  The equipment is actual, full-size locomotives and cars operating on three-foot ("narrow-gauge") track. 
The equipment is particularly noteworthy and historic.  They include:
Operational 2-8-0 #41 (originally built for the Rio Grande Southern in 1881 by Burnham, Parry, Williams Company [Baldwin Locomotive Works] as a Class C-19 "Consolidation" which spent many years in Colorado) 


2-8-0 #340 under restoration (originally built for the Denver & Rio Grande in 1881 by Burnham, Parry, Williams Company [Baldwin Locomotive Works] as a Class C-19 "Consolidation")
There are also a pair of 24-inch gauge locomotives on the premises including 0-4-0T #3 (built by the Vulcan Iron Works in 1908) and 4-4-0 #83 (this locomotive is operational and was built by Crown Metal Products in 1982)
LARail.com, Inc.
One of the most luxurious of scenic train rides can be found through LA Rail, designed to whisk passengers back in time and experience what rail travel was like during the industry's "Silver Age" of streamliners. 
The cars operate largely between Santa Barbara, Los Angeles and San Diego running as part of Amtrak consists. They also offer long-distance trips from time to time. 
Please check their website to learn more about these adventures. 
Their current fleet includes Pacific Sands (10-roomette, 6-bedroom Pullman sleeper), Silver Splendor (Vista-Dome lounge-diner), Pacific Trail (44-seat coach), Overland Trail (39-seat club/lounge), and Tioga Pass (open-observation business car).
Laws Railroad Museum
This museum (operated by the Bishop Museum & Historical Society) is based in Bishop and housed within the city's preserved Carson & Colorado Railway depot (built in 1883). 
The C&C was a very noteworthy narrow-gauge (3-foot) system that, according to Dr. George Hilton's book, "American Narrow Gauge Railroads," operated some 293 miles from Mound House, Nevada to Keeler, California. 
Construction on the project began from the Virginia & Truckee's (the C&C's parent company) main line at Mound House on May 31, 1880 and had reached Keeler three years later in July, 1883. 
Like the V&T, it was built primarily to handle the silver mining boom and then later served a quick flurry of gold mining activity. 
In March, 1900 the Southern Pacific acquired the property for $2.75 million, converted it to standard gauge, and reincorporated it as the Nevada & California Railroad (May 11, 1905). 
Afterwards, the line was extended to Mojave in 1910. The museum's most significant display piece is Southern Pacific 4-6-0 #9, a narrow-gauge steam locomotive manufactured by the Baldwin Locomotive Works in 1909.
Lomita Railroad Museum
This museum, housed in a beautiful replica (constructed in 1966) of Boston & Maine's depot that still stands in Wakefield, Massachusetts. 
They have also built a full-scale water tank on the property, a device commonly used by steam locomotives to gather water along the tracks. 
Finally, several pieces of rolling stock can be found on the grounds including a Southern Pacific tender, Union Pacific caboose (built in 1910), Santa Fe caboose, Union Pacific boxcar, and Union Oil tank car. 
Their featured attraction is preserved Southern Pacific 2-6-0 #1765 (M-6) which sits on display next to the building.  This little "Mogul" was built by the Baldwin Locomotive Works in 1902. 
In addition to these there are various displays on-hand to peruse.  The museum is open Thursday through Sunday, offers tours for groups and schools, and charges admission for ages 3 and over.  To learn more please visit their website.
Napa Valley Wine Train
One of the most popular scenic train rides, and well known throughout the country, is the Napa Valley Wine Train. 
They offer one of the best dinner train experiences you can enjoy anywhere featuring a wide range of options (including wine, of course) aboard their train which operates through the beautiful Napa Valley region. 
The train itself is operated by the Napa Valley Railroad, a reborn entity tracing back to 1864.  It originally connected Calistoga and Crockett (48 miles).
The purpose of the original, just like today, was to bring tourists to Napa Valley (in this case to Calistoga, a resort city). 
If you find yourself vacationing or traveling through this region's famous vineyards you may want to consider stopping for a visit to this very posh train, which spares no expense in the meal and journey!
The Napa Valley Wine Train was initially started in 1987 by local preservationists and railroad enthusiasts among stiff opposition from local communities.
After a lengthy court battle the railroad won out and was granted the right to operate the then ex-Southern Pacific trackage between Napa and St. Helena. 

Nevada County Narrow Gauge Railroad Museum
This organization is based in Nevada City and its mission is to preserve the region's narrow-gauge history, which was predominantly centered around the logging industry.  
They have a rather substantial collection on the premises with many pieces restored.  Of particular note is their preserved 2-6-0 #5, built by the Baldwin Locomotive Works for Carson & Tahoe Lumber & Fluming in 1875. 
They also feature another steamer, 2-6-2 #5, manufactured by the Lima Locomotive Works in 1911 for Williamson & Brown Land & Lumber Company (a few years later, in 1916, it was sold to the Argent Lumber Company Railroad of Hardeville, South Carolina). 
Other pieces of rolling stock include a pair of small Plymouth diesel switchers, a modern 0-4-0 steam locomotive, an operating "rail bus" car, and various other freight cars.  To plan a visit and learn more please visit their website.
Niles Canyon Railway
The Niles Canyon Railway features a number of different scenic train rides on its 1 hour, 15 minute round trips, pulled by both steam and diesel locomotives. 
It is one of many tourist lines in the state providing excursions on a former Southern Pacific (SP) route.  This particular corridor extends a little under 10 miles with a history that can be traced back to the Civil War era.  
The SP discontinued service in the mid-1980s and subsequently abandoned the line.  However, thanks to the hard work of many volunteers a section was rebuilt a few years later and today provides a popular tourist attraction for thousands.
The railroad has since grown to the point it now hosts several specials throughout the year.  Noteworthy among its collection are four operating steam locomotives:
Robert Dollar 2-6-2T #3 (manufactured by American Locomotive in November, 1927)


Quincy Railroad 2-6-2T #2 (built by American Locomotive in 1924)


Clover Valley 2-6-6-2T #4 (manufactured by Baldwin in March, 1924 it is one of only a few Mallet locomotives currently in operation)


Southern Pacific 4-6-2 #2472 (built by Baldwin in 1921, listed as Class P-8)
Pacific Southwest Railway Museum
This museum is operated by the Pacific Southwest Railway Museum Association (PSRMA) with two locations, Campo and La Mesa. 
Throughout much of the year they offer excursions via a 16-mile round trip over trackage originally built by the San Diego & Arizona Railway (SD&A). 
It was later sold to the Southern Pacific in 1932 whereupon the property became known as the  San Diego & Arizona Eastern Railway. 
There are two preserved depots maintained by the PSRMA, a former SD&A wooden structure in Campo and San Diego & Cuyamaca Railway trolley building, built in 1894, which served La Mesa. 
The museum maintains a fairly sizable collection of steam and diesel locomotives along with an assortment of other equipment. 
Their notable pieces include Coos Bay Lumber 2-8-2T #11 (built by Alco in 1929) that is under restoration and an eclectic collection of diesels. 
Poway-Midland Railroad
Located in Poway, the Poway-Midland Railroad operates on a 0.5-mile segment of track in the city's park using a 0-4-0 steam locomotive (originally built by Baldwin Locomotive Works in April, 1907 for Cowell Cement) and a trolley car. 
The arrangement carries an usual 3-foot, 6-inch narrow-gauge alignment.  This little organization, owned by the city, and headed by the Poway–Midland Railroad Volunteers, Inc., has been open since 1991. 
According to the railroad, its history can be traced back to a Colonel John Porter who built a small attraction on his property near Aubrey, known as the "Rattlesnake Creek Railroad." 
He passed away in 1980 before the idea could be fully put into operation.  However, the city subsequently purchased his railroad in 1986, which led to the volunteer group's formation and eventual operation of the property. 
Some of their other better known pieces include an 1894 Los Angeles trolley car, Fairmont Speeder built in 1956, and a cable car manufactured in 1906 that originally operated in San Francisco.
RailGiants Train Museum
This museum is located in Pomona at the Fairplex and operated by the Southern California Chapter of the Railway & Locomotive Historical Society (the oldest railroad preservation society in the United States, the R&LHS was founded in 1921).  
They have a large outdoor collection available to see and peruse.  The group's most famous piece, Union Pacific 4-8-8-4 "Big Boy" #4014, was reacquired by UP in 2013 for restoration and operation as part of its heritage steam fleet. 
Their other noteworthy locomotives include:
Outer Harbor Terminal Railway (Santa Fe) 0-6-0 #2 (Schenectady Locomotive Works, 1887)


Fruit Growers Supply Company 3-truck Climax #3 (Climax Locomotive Works, 1909)


United States Potash Company 2-8-0 #3 (Baldwin Locomotive Works, 1903)


Santa Fe 4-6-4 #3450 (Baldwin, 1927)


Southern Pacific 4-10-2 #5021 (American Locomotive, 1926)


Union Pacific 4-12-2 #9000 (American Locomotive, 1926)


Union Pacific SD40-2C #3501 (Electro-Motive, 1972; this unit, fully operational when it arrived, was traded to the museum for 4-8-8-4 #4014)


Union Pacific DDA40X "Centennial" #6915 (Electro-Motive, 1986)
The museum is open on the second full weekend of each month; 10 AM - 5 PM.

Railtown 1897 State Historic Park
Railtown 1897 is located in Jamestown offering excursions pulled by steam locomotives and restored vintage railroad equipment. 
They house their collection within the town's historic shops and roundhouse.  Excursions are offered throughout much of the year with special events also hosted. 
These trips are presented under the name of the Sierra Railway, with ties to this trackage.  It dates back to 1897, originally projected to connect the California Central Valley with the Gold Country foothills. 
At its largest length the railroad ran 57.43 miles from Tuolumne (serving the West Side Lumber Company's mill there) to Oakdale where interchange was established with the Southern Pacific and Santa Fe. 
The name "Rail Town 1897" first appeared in 1971 when the railroad began marking excursions and slowly grew from that time forward. 
In 1982 California's Department of Parks and Recreation purchased the property, renaming it as Railtown 1897 State Historic Park.  Today, they offer a wide range of trips and special events throughout the year.
Redwood Valley Railway
Located inside Tilden Regional Park at Berkeley the Redwood Valley Railway offers miniature train rides on weekends year-round and weekdays during the summer. 
The attraction has been around for many years; it all began in 1952 when Erich Thomsen established the Tilden South Gate & Pacific Railway, a 12-inch gauge system (later expanded to 15-inch in 1968). 
Today, the railroad operates 1.25 miles of track and draws over 160,000 passengers a year. 
There are five, live-steam locomotives which pull the trains: 
0-4-0 #2 named Juniper


2-4-2 #4 named Laurel


4-4-0 #5 named Fern


2-6-2 #7 named Oak


4-6-0 #11 named Sequoia (all of these machines were manufactured locally at the organization's Redwood Valley Shops; the newest is 2-6-2 #7 built in 2006)
These miniature railroads have become increasingly popular over the years, particularly the more authentic venues with live steamers and scale-structures/equipment.

Roaring Camp Railroads
The Roaring Camp offers a number of different scenic train rides to experience. They also host special dinner trains throughout the year featuring entertainment.
What became the Roaring Camp & Big Trees Narrow Gauge Railroad was the dream of F. Norman Clark who wanted to bring back the majesty of the steam locomotive. 
His idea began in the late 1950s when steam was all but gone from main line railroads.  Eventually, Clark located a 2-Truck Shay in Dixiana, Virginia that had long been removed from service and rusting away. 
The Shay was a classic geared steam locomotive, created by Ephraim Shay in the late 19th century and designed to pull heavy loads at slow speeds up steep, circuitous, and poor trackage.  
This made it ideal for service in the timber industry while it also found use in other applications.  After acquiring it in 1958 he located nearly 200 acres of ground for lease on the Big Trees Ranch in Santa Cruz County near Felton.  
This area is home to a preserved virgin stand of giant redwoods, part of which now comprises the Henry Cowell Redwoods State Park.  
With property acquired Clark set about constructing a 3-foot, narrow-gauge railroad that totaled just over 3 miles.  Whether intended or not he was able to add to its realism by featuring very steep grades on the route, some of which topped out at over 9%! 
In 1985 the Roaring Camp & Big Trees Narrow Gauge expanded its business when it launched the Santa Cruz, Big Trees & Pacific Railway.  
This new system took over the former Southern Pacific's Felton Branch between Felton and Santa Cruz, a one-time narrow-gauge system.  
With declining customers and washouts SP cutback the line to Rincon, which was later restored to Santa Cruz under Mr. Clark. 

Fox River Train
The Fox River Train, previously known as the Sacaramento RiverTrain, is based out of West Sacramento, features upscale dinner train packages offering entertainment with your meal during the three-hour trip.  They also provide special trains and events throughout the year. 
The history of this line can be traced back to a noteworthy interurban, one of the longest end-to-end system of its kind, the Sacramento Northern Railway (SN). 
It's so-called "Woodland Branch," originally built by the Northern Electric Railway, ran 16-miles from West Sacramento to Woodland and remains in operation today. 
The SN would later join one of California's largest railroads, the Western Pacific.  In 1991, WP-successor Union Pacific sold this trackage to the Yolo Shortline Railroad which went on to merge with the Sierra Railroad in 2003 and began hosting the current dinner train after that time.  

San Francisco Cable Car Museum
As its name implies this museum tells the rich history of San Francisco's cable cars, which were first put into service in 1873.  
While these machines are not traditional railroads they have played an important role in the city's transportation needs for well over a century.  
Today, they function largely for nostalgia/tourism purposes. The museum contains two notable cars within its collection; a former Sutter Street Railway grip car and trailer manufactured in the 1870's and another grip car belonging to the Clay Street Hill Railroad. 
The latter company holds the distinction as the first to be successfully put into service when it began running on August 1, 1873 along Clay Street. 
Its construction was financed by Andrew Smith Hallidie while the line was engineered by William Eppelsheimer.  In 1888 it became part of the Ferries & Cliff House Railway.  The system remained in operation until February 15, 1942.  Admission is free with varying opening hours.
San Francisco Municipal Railway
Arguably the most interesting of all scenic train rides is the San Francisco Municipal Railway.  Perhaps nothing more is as quintessentially San Francisco as the city's cable cars, which have been in nearly continuous service since 1873.  
The Municipal Railway keeps alive this important part of the city's history and it remains a popular tourism draw today.  The system covers a nearly 50 square-mile region and hosts more than 240 million riders annually. 
There are currently 82 different lines in service which are covered via bus, trolleybus, light rail, streetcar, and cable cars.  

Santa Maria Valley Historical Railway Museum
This organization, established in 1999, is located in Santa Maria and has a small collection of equipment on hand, including a small miniature railroad offering rides to the public.  
According to their mission statement they are "...dedicated to the preservation of the railroad heritage of California, the Central Coast, and the Santa Maria Valley."  The museum is open every second and fourth Saturdays of each month from Noon to 4 PM.

Sonoma TrainTown Railroad
This little operation, located in Sonoma and within a small theme park, offers a range of miniature train rides operating on the 15-inch scale. 
The two locomotives featured include 2-6-0 #1 (built by Winton Engineering, 1960) and 4-6-4 #5212.  The railroad can trace its history back to 1958, founded by Stanley L. Frank of Oakland. 
As a successful businessman who held an MBA from Harvard, Frank sought to establish a 10-acre outdoor attraction which would enable the public to ride miniature trains.  It began operation in 1968 and has evolved into a popular entertainment venue ever since. 
While there be sure to visit their carousel and scale-roundhouse which houses the locomotives and other equipment! 
TrainTown is open throughout much of the year although their dates vary depending upon the seasons.  To learn more and plan a visit please check out their website.

Southern California Railway Museum
Another one of the most scenic train rides available is found at the Southern California Railway Museum, formerly known as the Orange Empire Railway Museum. 
This organization has a substantial collection of preserved equipment and also offers excursions powered by steam locomotives, trolley cars, and diesel locomotives. 
Their noteworthy pieces include:
Nevada Central Railroad 2-6-0 #2 (named the "Emma Nevada" it was manufactured by Baldwin in 1881)


Waimanalo Sugar Plantation Company 0-4-2T #1 (manufactured by Baldwin in 1883 and then known as Pokaa, it later worked on the Grizzly Flats Railroad in San Gabriel, California, whereupon it was renamed Chloe)


Belle Point & Reserve 0-4-4RT #1 (manufactured by Burnham, Williams [Baldwin] in 1894)


Mojave Northern Railroad 0-6-0T #2 (built by Davenport Locomotive Works in 1917)


Ventura County Railway 2-6-2 #2 (built by Baldwin in 1922 this locomotive is operational)


Union Pacific 2-8-2 #2564 (Class MK-10 it was built by Alco's Brooks Works in 1921)


Santa Fe FP45 #98 (built by Electro-Motive in 1967)


Southern Pacific U25B #3100
There are also historic streetcars originally belonging to the Pacific Electric and Los Angeles Railway (LARy).  Finally, they offer excursions over 1.5 miles of right-of-way as well as a 0.5-mile dual-gauge "Loop Line."  

South Coast Railroad Museum

Based in Goleta this museum is situated inside the former Southern Pacific's beautifully restored two-story wooden depot built in 1901.
The structure is not at its original location and is currently on display at  300 North Los Carneros Road in the Los Carneros County Park).
During the railroad's construction of its so-called "Coast Line" linking San Francisco with Los Angeles (a corridor that continues seeing considerable usage today). 

This particular depot is based from SP's standard "Combination Station No. 22 plan," a design widely used by the company during the late 19th through early 20th centuries. 
The museum contains a few pieces of rolling stock and states their primary goal is to "focus on the history, technology, and adventure of railroading" within the local region. 
If interested in planning a visit they are open during Friday, Saturday and Sunday from 1:00 PM to 4:00 pm.
Sierra Railroad
Also operated by the same organization that owns the Skunk Train and Roaring Camp the Sierra Railroad offers their Sierra Railroad Dinner Train, which features both dinner and entertainment.  To learn more please visit the RailTown 1897 listing above.

Tehachapi Depot Railroad Museum
This organization is housed within a beautiful replica of a Southern Pacific, single-story wooden depot.  It was completed in 2009.  
The attractive facility features a very large collection of historic artifacts inside, all of which is presented to a very high quality. 
What's more, it's free to the public.  While there be sure to take a moment and watch the countless Union Pacific and BNSF Railway trains passing by on a regular basis. 
This very busy route has remained a vital rail corridor dating back to the SP and Atchison, Topeka & Santa Fe (Santa Fe) era, a setup which persists under UP (owner) and BNSF (leaser). 
The line's most striking feature is a grand loop whereupon trains pass over themselves (originally featuring 15 tunnels) to keep grades manageable.  If you would like to learn more about the museum please visit their website.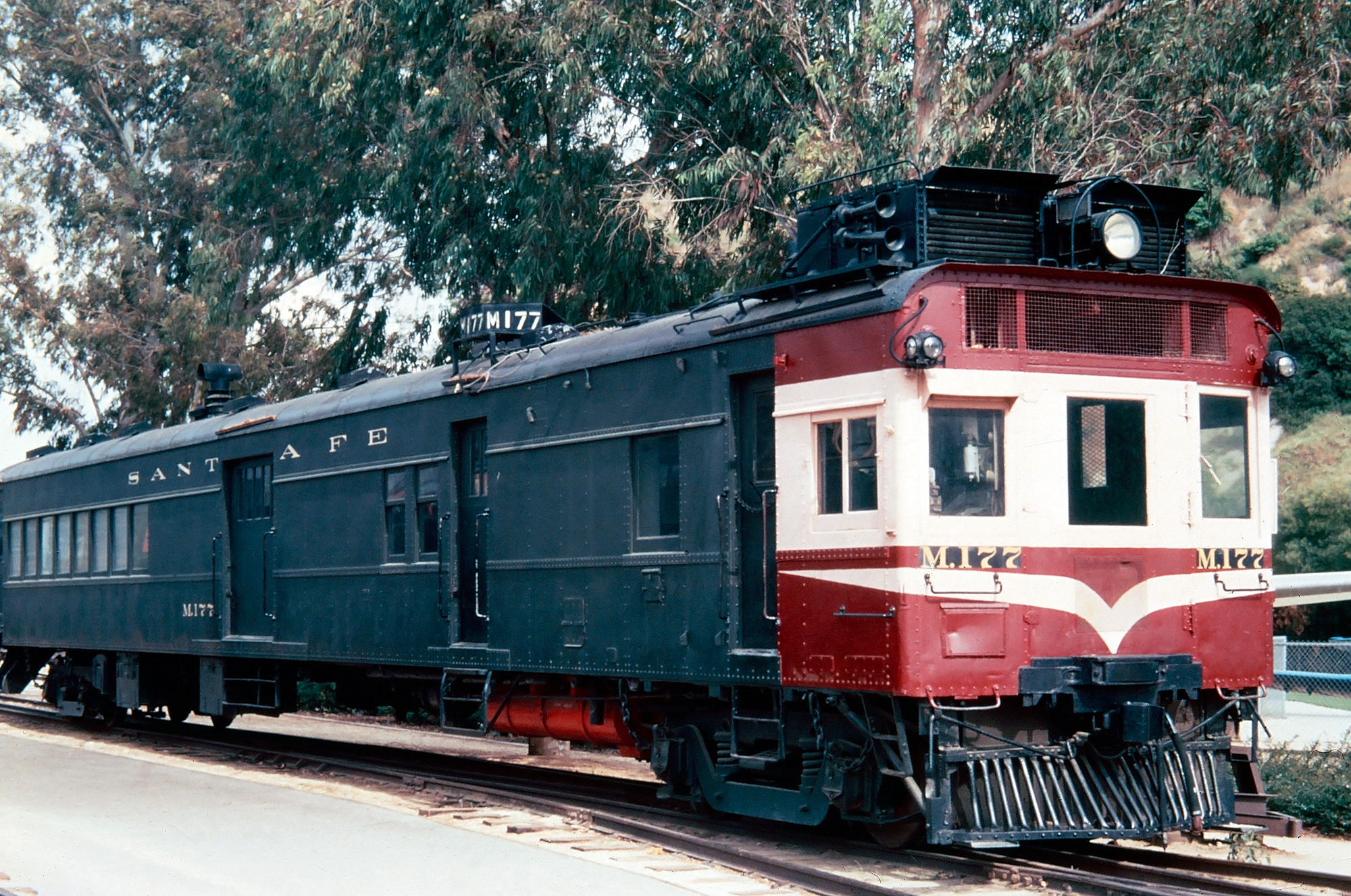 Santa Fe "Doodlebug"/motorcar M-177 on display at the Travel Town Museum in Los Angeles at Griffith Park, circa 1970. The 400-horsepower car, built by EMD/Pullman in 1929, was donated to the museum in 1958 where she still resides today. American-Rails.com collection.
Travel Town Museum
The Travel Town Museum is located at Griffith Park in Los Angeles.
Just as they proclaim the organization truly does have the largest collection of preserved steam locomotives in the western United States with some fourteen pieces on display.  
The museum if free and open to the public.  The heritage of this organization dates back to the 1940's when Charley Atkins and a group of railfans wanted to display an authentic steam locomotive next to the miniature train ride at the park. 
They ultimately began with two pieces; Los Angeles Harbor Authority 0-4-0T #31 built by the Davenport Locomotive Works in 1921 and Consolidated Rock Products 0-6-0 #1 built by Alco's Cooke Works in 1925. 
On December 14, 1952 the Travel Town Museum opened and their collection slowly grew from that point forward.

Western America Railroad Museum
The Western America Railroad Museum (WARM) is based in Barstow with an aim to preserve rail history in the Pacific Southwest (Southern California) region.
The organization is housed within the preserved brick Harvey House (these facilities were spearheaded by the legendary Fred Harvey during the 1870's as a means of providing passengers meals during their trips in a time that pre-dated the modern dining car) and Santa Fe station, originally built in 1911. 
The building carries a wide range of functions including being an active Amtrak stop, home to the Barstow Area Chamber of Commerce & Visitors Bureau, and location of the Route 66 Mother Road Museum. 
The WARM features a wide range of railroad artifacts such as timetables, uniforms, tools, and even artwork.  Also be sure to see their collection of preserved rolling stock outside!

Western Pacific Railroad Museum

In junction with static displays you can also find scenic train rides at the Western Pacific Railroad Museum.  Located in Portola the WPRM is the premier organization preserving the memory of the Western Pacific.  
They have a very large collection of original WP equipment on hand, many of which are not only preserved but also in operable condition.
The history of the Western Pacific Railroad Museum begins in 1983 when the Feather River Rail Society was formed to preserve the history of the Western Pacific, which only a year earlier had disappeared into Union Pacific.
A year later the society created the Portola Railroad Museum as a means of having a permanent site to both display their growing collection of equipment as well a place where visitors could come to see and learn about the WP.
The original museum was named after the town of Portola, which was once a locomotive servicing and maintenance facility for the WP along the eastern edge of its "Feather River Canyon" route in northern California (east of the famous Keddie Wye and "Inside Gateway" route). 
Today, the organization features a collection of over 35 locomotives and 80 pieces of rolling stock. It is well worth the visit!
Western Railway Museum
The Western Railway Museum, led by the Bay Area Electric Railroad Association (BAERA), operates trolley service on a former segment of the Sacramento Northern Railway's main line near Suisun City. 
The history of BAERA began long ago when a local group of railfans from San Francisco loosely started the group in 1946 to preserve the region's interurban and streetcar history. 
In 1958 they obtained a collection of used traction equipment following the Key System's closure and subsequently acquired former SN property at Rio Vista Junction. 
With property secured, they formally launched the BAERA, a non-profit organization. 
The operating arm of the group was known as the California Railway Museum, which later became the Western Railway Museum to eliminate confusion with the California State Railroad Museum. 
Today, they have since acquired 22 miles of the former SN trackage and opened a visitor's center in 2001.
---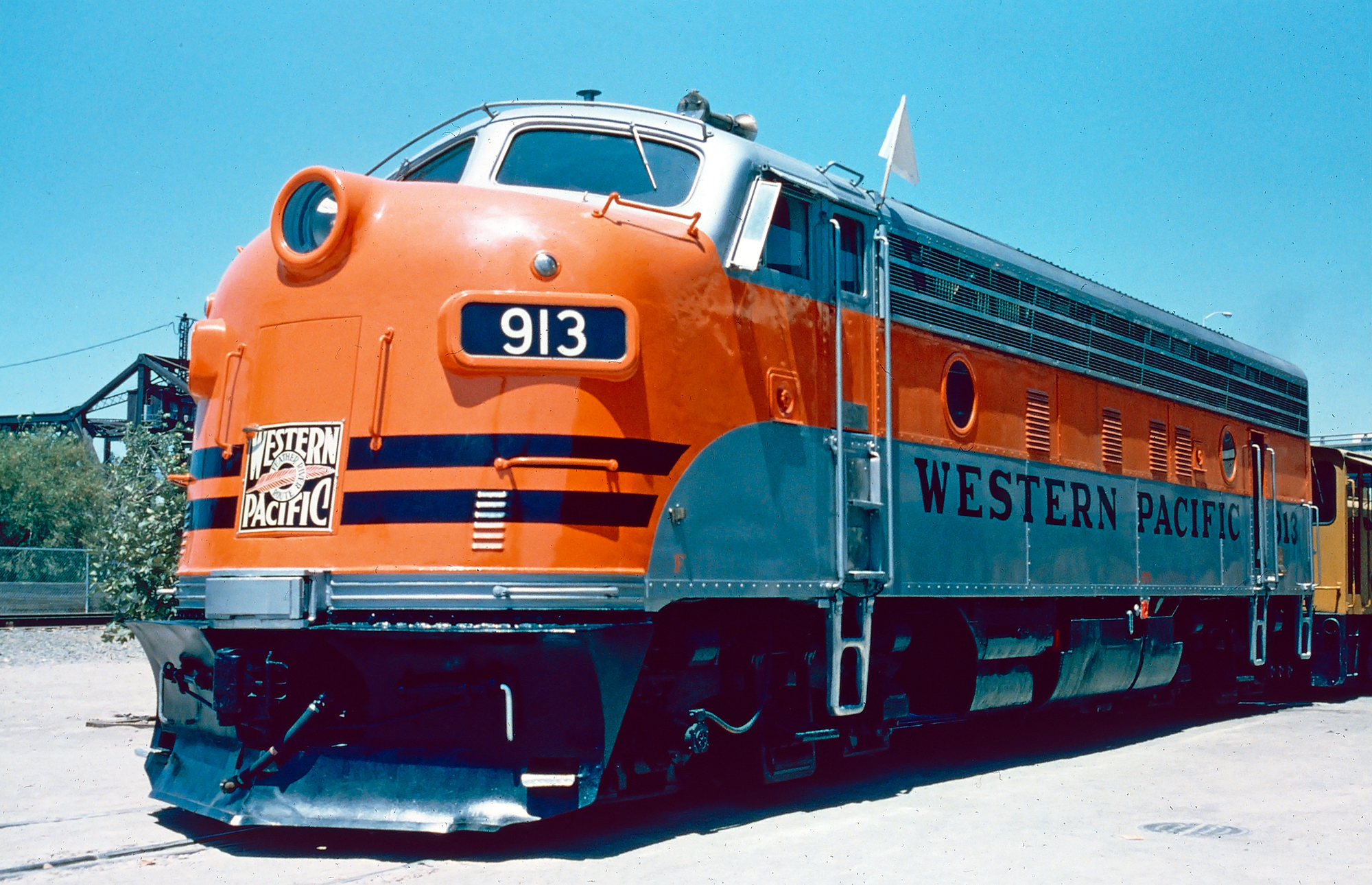 Western Pacific F7A #913 on display at the California State Railroad Museum in Sacramento, circa 1984. Mike Bledsoe photo. American-Rails.com collection.
Yosemite Mountain Sugar Pine Railroad
This narrow-gauge operation, operates 4 miles of ex-Madera Sugar Pine Lumber Company trackage near Fish Camp, California in the Sierra National Forest.
It all began in 1961 thanks to the vision of Rudy Stauffer who rebuilt part of the network (Which peaked at 140 miles running all over the mountains to reach timber reserves.  Its fleet totaled seven locomotives and more than 100 log/skeleton cars.) that had closed and been removed in 1931 due to the Great Depression and loss of timber reserves. 
The organization has two operating Shay geared steam locomotives, both of West Side Lumber heritage; 3-Truck #15 built by the Lima Locomotive Works in 1913 and 3-Truck #10, also manufactured by Lima in 1928. 
Finally, during select times throughout the operating season the railroad operates specials known as the Moonlight Special, which feature dinner and entertainment.