Most excursions include some kind of first class accommodations and many offer the option of dinner trains.  The Napa Valley Wine Train, mentioned above, likely provides the best dinner train service anywhere in the country using restored streamlined equipment that features a five star restaurant atmosphere and overall dining experience. Naturally, it is a bit expensive but well worth the price if one can afford it. You can also find Rails Journey West located in California, which is not so much an excursion train as it is a private rail car service for those who would like to ride aboard Amtrak in complete privacy. It is another quite pricey proposition but offers  an unforgettable journey by rail. And finally, you have your choice of trolley rides offer by organizations like the Orange Empire Railway Museum and California Trolley & Railroad Corporation. Finally, if you are interested in California train rides pertaining to specific events, such as "The Polar Express," Halloween trips, Thomas the Tank Engine excursions, or fall foliage events please click on the corresponding image found in the left hand-column of this page, below the navigation buttons.

California Train Rides And Museums For 2017
Billy Jones Wildcat Railroad

This little operation based in Los Gatos provides scale train rides.  They operate nearly year-round but have different hours depending on the seasons.
Calico and Odessa Railroad
Another small railroad, this tourist attraction is based in Yermo and operates a 2 ft 6 in narrow gauge line through the ghost town of Calico.  It is based from the actual Waterloo Mining Railroad, a local narrow-gauge system which hauled silver ore from Calico to the mills of Daggett during the 1880's (although does not utilize the original right-of-way.
California State Railroad Museum
The California State Railroad Museum offers steam powered excursion trips using an 0-6-0 steam locomotive. It operates April through September on Saturday and Sunday every hour while the museum is open and features a six-mile round trip that follows the Sacramento River. 

California Trolley & Railroad Corporation
This railroad museum looks to preserve the history of rail transportation in the the Santa Clara Valley. They also hope to soon open a small section of interurban trackage for their trolley at their property in Santa Clara. 

California Western Railroad
The famed Skunk Train, one of the most popular California tourist trains is located in the northern region of the state between Fort Bragg and Willits. The railroad operates both steam and diesel locomotives to power their trains, which run year-round. 
Carolwood Barn & Museum
This organization, located in Griffith Park, Los Angeles looks to preserve Walt Disney's vast collection of scale model trains, one of his longtime interests.  
Colma Historical Association
This organization, which launched in 1993, is housed within the Southern Pacific's restored depot in Colma, originally built in the 1860's.  They are open throughout much of the week and there is no admission to tour the grounds.
Descanso, Alpine & Pacific Railway
The DA&P is a 2-foot, narrow-gauge operation which provides free train rides on each Sunday of the week.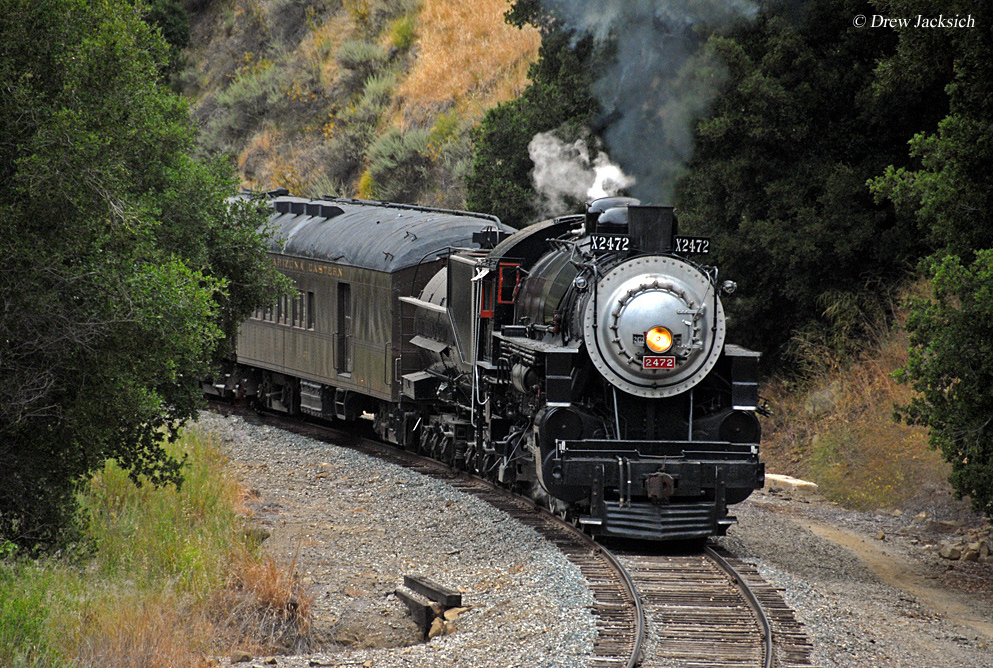 Fillmore & Western Railroad

Located in Fillmore, California just up the coast from Los Angeles the Fillmore & Western Railroad offers numerous different train rides to choose from, including dinner trains and murder mystery specials. The railroad is perhaps best known for being the location of many films.
Folsom Valley Railway/Folsom City Zoo
The Folsom Valley Railway is part of the Folsom City Zoo in Folsom, California.  The train ride has been in operation since 1970 and utilized an authentically-scaled steam engine and cars running on about 3/4-mile of track around the park.
Fort Humboldt State Historic Park
Based in Eureka, this state park (since 1977) carries the goal of preserving the region's logging history.  Specifically their mission state is "...to create awareness and appreciation for the impact of timber, logging, and railroads on the settlement and growth of Humboldt County."  Of their many attractions the group offers train rides or speeder trips during the summer months.  They also have two small steam locomotives on display. 
Irvine Park Railroad
The Irvine Park Railroad is situated in Orange, California offering scale-train rides throughout much of the year within the Irvine Regional Park, which is also home to numerous other outdoor activities.
Knott's Berry Farm
Don't let the name fool you!  This organization provides a long laundry list of activities for the family and is essentially a theme park.  One of their attractions is the narrow-gauge Calico Railroad, providing a round-trip tour of the park.
LARail.com, Inc.
LA Rail is designed to whisk passengers back in time to experience what it was like to enjoy the comforts of rail travel during the 1950's in restored, streamlined equipment.  The cars operate largely between Los Angeles and Santa Barbara attached to the rear of Amtrak consists.  Other destinations include Chicago, Albuquerque, San Diego, Del Mar, and Whitefish (Montana).  To learn more please visit their website. 
Laws Railroad Museum
This museum (operated by the Bishop Museum and Historical Society) is based in Bishop and utilizes the city's preserved Southern Pacific depot built in 1883. Their greatest piece on display is preserved Southern Pacific 4-6-0 #9, a narrow-gauge steam locomotive manufactured by Baldwin in 1909.
Lomita Railroad Museum
This museum, housed in a beautiful replica of Boston & Maine's depot that still stands in Wakefield, Massachusetts (the replica was constructed in 1966).  Their featured attraction is preserved Southern Pacific 2-6-0 #1765 (M-6) which sits on display next to the building.
Napa Valley Wine Train
One of the most popular California train rides, and well known throughout the country, is the Napa Valley Wine Train.  They offer one of the best dinner train experiences you can enjoy anywhere featuring a wide range of dinner options (including wine) aboard their train which operates through the beautiful Napa Valley region. 
Nevada County Narrow Gauge Railroad Museum
This organization is based in Nevada City and attempts to preserve and keep alive the region's narrow-gauge history, which was predominantly centered around the logging industry.  They have a rather substantial collection on the premises with many pieces restored.  To learn more please visit their website.
Nevada County Traction Company
Once a week the narrow-gauge Nevada County Traction Company excursion train offers a barbecue dinner and live entertainment along its property in San Jose.
Niles Canyon Railway
The Niles Canyon Railway features a number of different train rides on its 1 hour, 15 minute round trips, which highlights both steam and diesel locomotives used for power.

Orange Empire Railway Museum
This railroad museum offers several excursion trains to choose from including steam powered trains and trolleys (you can also operate a diesel locomotive), which operate along their 1.5 mile system.
Pacific Southwest Railway Museum
Every month but December the Pacific Southwest Railway Museum offers at least one of its many excursion options along its 16-mile round trip railroad near Campo, California.
Port of Los Angeles Waterfront Red Car Line
As its name implies the Red Car Line operates along the Port's waterfront on a former stretch of the once vast Pacific Electric Railway's interurban operations in the city and surrounding region. 
Poway-Midland Railroad
Located in Poway the Poway-Midland Railroad operates on a half-mile of track in the city's park using a standard-gauge 0-4-0 steam locomotive and trolley car.

Rails Journey West
Less of a true tourist railroad, Rail Journeys West offers private rail car services if you plan to travel by train (i.e., such as via Amtrak). This service truly hearkens back to the "Golden Age" of rail travel with full meals provided as well as entertainment.
RailGiants Train Museum
This museum is located in Pomona at the Fairplex and operated by the  Southern California Chapter of the Railway and Locomotive Historical Society.  They have a large outdoor collection available to see and peruse.  The group's most famous piece, Union Pacific 4-8-8-4 "Big Boy" #4014, was reacquired by the railroad a few years ago for restoration and operation as part of its heritage steam fleet.
Railtown 1897 State Historic Park
Railtown 1897 is located in Jamestown offering excursions pulled by historic steam locomotives and restored vintage railroad equipment.  They also house their equipment within the town's vintage shops and roundhouse.  Excursions are offered throughout much of the year with special events also hosted.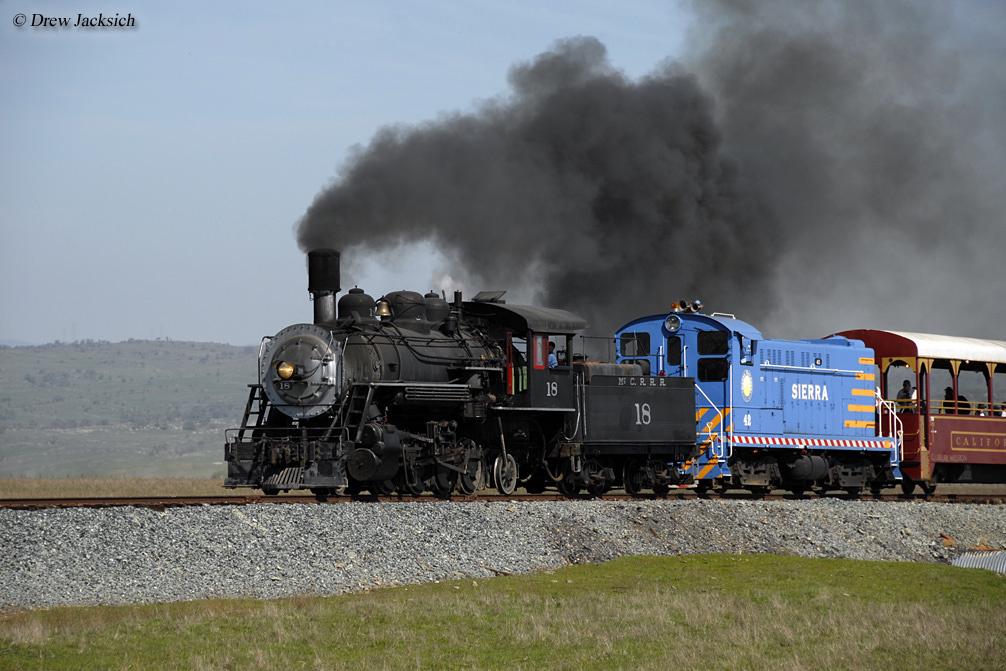 Redwood Valley Railway
Located inside Tilden Regional Park at Berkeley the Redwood Valley Railway offers miniature train rides on weekends year-round and weekdays during the summer.

Roaring Camp Railroads
The Roaring Camp operates a number of different trains including a beach train and forest train. Also, throughout the year the railroad operates special dinner trains that feature entertainment.
Sacramento RiverTrain
The Sacaramento RiverTrain, based in Woodland, offers upscale dinner train packages offering entertainment with your meal during the three-hour trip.  They also provide special trains and events throughout the year.
San Francisco Cable Car Museum
As its name implies this organization tells the rich history of San Francisco's cable cars, which were first put into service in 1873.  While these machines are not traditional railroads they have played an important role in the city's transportation needs for well over a century.  Today, they function largely for nostalgia/tourism.
San Francisco Municipal Railway
Perhaps nothing more is as quintessentially San Francisco as the city's cable cars, which have been in nearly continuously service since 1873.  The Municipal Railway keeps alive this important part of its history and it remains a popular tourism draw today.
Santa Cruz & Monterey Bay Railway
The Santa Cruz & Monterey Bay is a newer excursion line offering incredible scenery along California's beautiful Monterey Bay.  Their upscale accommodations also include full-course meals and luxurious interior settings.
Santa Maria Valley Historical Railway Museum
This organization is located in Santa Maria and has a small collection of equipment on hand for visitors to view, including a small miniature railroad offering rides.  According to their mission statement they are "...dedicated to the preservation of the railroad heritage of California, the Central Coast, and the Santa Maria Valley."
Sonoma TrainTown Railroad
This little operation, located in Sonoma, is based in a small theme park, offering a range of miniature, scale train rides.
South Coast Railroad Museum
Based in Goleta this museum is situated inside the former Southern Pacific's beautifully restored two story wooden depot built in 1901.  They have a few pieces of rolling stock on the grounds and state they "focus on the history, technology, and adventure of railroading" within the local region.
Skunk Train
The famous Skunk Train, located in Fort Bragg, offers a wide range of excursions throughout the year and many are pulled by historic steam locomotives.  They also offer several themed events annually.
Sierra Railroad
Also operated by the same organization that owns the Skunk Train and Roaring Camp the Sierra Railroad offers their Sierra Railroad Dinner Train, which features both dinner and entertainment.
Tehachapi Depot Railroad Museum
This organization utilizes a beautiful replica of a Southern Pacific depot built in 2009.  The attractive facility features a collection of historic artifacts and is free to the public.  If you would like to learn more about the museum please visit their website.
Travel Town Museum
The Travel Town Museum is located at Griffith Park in Los Angeles.  Just as they proclaim the organization truly does have the largest collection of preserved steam locomotives in the western United States with some fourteen pieces on display.  The museum if free and open to the public.  To learn more please visit their website.
Western America Railroad Museum
The Western America Railroad Museum is based in Barstow with an aim to preserve rail history in the Pacific Southwest (Southern California) region.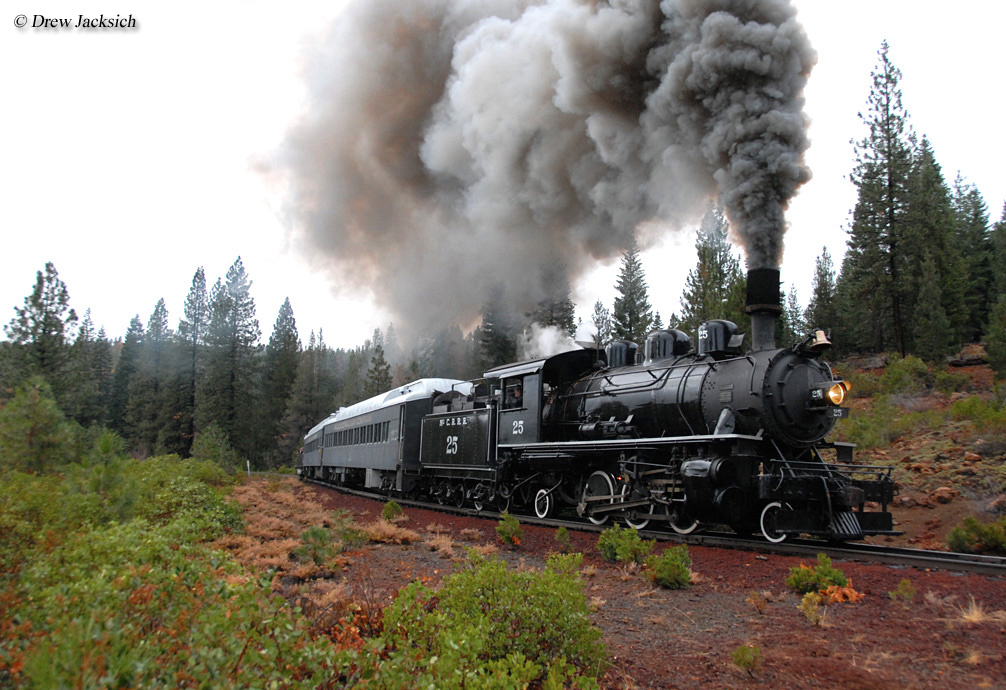 Western Pacific Railroad Museum

Located in Portola the WPRM is the premier organization preserving the memory of the Western Pacific.  They have a very large collection of original WP equipment on hand, many of which are not only preserved but also in operable condition.  This facility is well worth the visit!
Western Railway Museum
The Western Railway Museum operates trolley service on a former segment of the Sacramento Northern Railway's main line located near Suisun City.
Yosemite Mountain Sugar Pine Railroad
A narrow-gauge operation that uses four miles of ex-Madera Sugar Pine Lumber Company property this tourist railroad still uses two Shay steam locomotives. Also, during select times throughout the operating season the railroad operates specials known as the Moonlight Special, which feature dinner and entertainment.
More On California Train Rides
If you would like to learn more about California train rides, Kalmbach Publishing/Trains Magazine releases their Tourist Trains Guidebook each year, which highlights most such destinations throughout the U.S. and Canada.


Home

›

Tourist Train Information

› California