Historically, Colorado's rail operations have known mostly for three things; flat plains, the Rocky Mountains, and narrow-gauge lines. All three still hold true today although the services you can find amongst the state's excursion trains vary quite a bit. While the D&SNG and C&TS focus on their incredible scenery and historic steam locomotives used to pull their trains other Colorado train rides like the Royal Gorge Route and Rio Grande Scenic offer wonderful views as well as fine accommodations and dining services. So, depending on what you may be interested in and the budget you may have, the state definitely offers a wide array of excursion train options.  In any event, the information included here provides a brief overview of all Colorado train rides as well as available museums.  Please note!  This information related to vacation/tourism destinations-only.  Also, if you are interested in Colorado train rides that pertain to specific events, such as "The Polar Express," Halloween, Thomas the Tank Engine excursions, or fall foliage events please click on the corresponding image found in the left hand-column of this page, below the navigation buttons.
Colorado Train Rides & Museums For 2017
Boardwalk Park Museum
This museum is part of the town of Windsor's historical exhibits related to the area's history.  Part of their collection includes a preserved/restored Greeley, Salt Lake & Pacific (Colorado & Southern) wooden depot built in 1882, a caboose, and other railroad exhibits to view. 
Castle Rock Museum
The Castle Rock Museum is operated by the Castle Rock Historical Society, utilizing the town's preserved and restored Denver & Rio Grande depot built in 1875.  There are exhibits on display and admission is free of charge.
Colorado Railroad Museum
The Colorado Railroad Museum, based in Golden, houses a large collection of rolling stock and locomotives.  They also host train rides during the weekends and other special events.

Cripple Creek & Victor Narrow Gauge Railroad
The Cripple Creek and Victor Narrow Gauge Railroad, based in Cripple Creek, Colorado is another of the state's many narrow-gauge tourist railroads (it's gauge is two feet). The little railroad has been in operation since the summer of 1967 and since that time has become a popular operation, running trains on four miles of ex-mining trackage. Of course, the railroad is only one attraction in the town of Cripple Creek, which is itself a popular tourist attraction. 
Cumbres & Toltec Scenic Railroad

The Cumbres and Toltec Scenic Railroad is another of Colorado's famous famous narrow-gauge excursions.  Its heritage is interweaved with that of the nearby Durango & Silverton Narrow Gauge Railroad as both utilize former trackage of the Rio Grande. Also like the D&SNG, the C&TS operates through the gorgeous canyons and mountains located throughout region. So, if you are ever in southwest Colorado I would strongly consider stopping by to see this historic and super scenic tourist railroad! Even better, if you time, also visit the nearby Durango & Silverton.
Durango & Silverton Narrow Gauge Railroad
One of the most popular of all Colorado train rides is the marquee Durango & Silverton Narrow-Gauge which operates the fabled narrow gauge lines of the former Denver & Rio Grande Western Railroad.  Folks from far and wide have ridden this national treasure which continues to use the same steam locomotives that operated under the D&RGW. The railroad also hosts special events and trains throughout the operating season that include lunches and barbecues.
Forney Museum Of Transportation
This organization is located along Brighton Boulevard in Denver with more than 600 transpiration-related artifacts in their collection.  Their priced piece from the railroad industry is Union Pacific 4-8-8-4 "Big Boy" #4005 on display.
Fort Collins Municipal Railway
Based in Fort Collins, Colorado this tourist train operates on 1 1/2-mile stretch of former interurban trackage using a restored Birney Safety Car #21. They normally operate on weekends and host special excursions throughout the year.
Galloping Goose #5
This uniquely restored, historic rail car was returned to operating condition in 1998. It now offers rides on the Cumbres & Toltec Scenic and Durango & Silverton during different times of the year.

Georgetown Loop Railroad
The narrow-gauge Georgetown Loop Railroad is a short, but very popular and scenic tourist railroad located in Georgetown, Colorado and operated by the Colorado Historical Society as the Georgetown Loop Historic Mining & Railroad Park. The scenic line dates as far back as 1881 (as the Georgetown, Breckenridge & Leadville Railroad, originally a Union Pacific subsidiary) when it was chartered to serve thriving silver mines near Georgetown and Silver Plume.
Hugo Roundhouse Preservation, Inc.
This group's goal is to preserve and restore the Union Pacific's former roundhouse in Hugo, Colorado. They eventually plan to open a museum on the grounds. 
Limon Heritage Museum & Railroad Park 
Located in the town of Limon this museum is housed within the preserved Rock Island and Union Pacific union depot built in 1910.  They feature several displays along with a few pieces of original rolling stock.
Leadville, Colorado & Southern Railroad
Colorado train rides are known for their incredible scenery and the Leadville, Colorado and Southern Railroad does not disappoint! It operates through the spectacular Rocky Mountain Range, departing each trip from the historic mining town of Leadville at the former Colorado & Southern depot. The railroad's primary power is a GP9 #1714 painted in LC&S colors.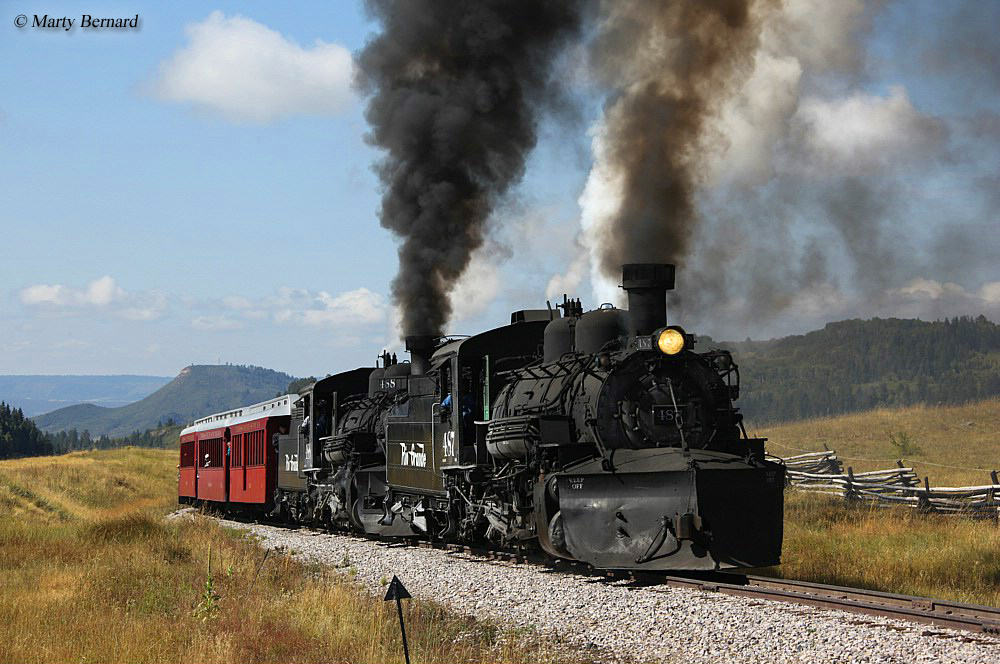 Manitou & Pike's Peak Railway
Arguably the most unique of all Colorado train rides, this cog railway operates up Pike's Peak, along a line that covers nearly 9 miles and hosts trips which last over 3 hours. While this isn't a traditional tourist train it's tough to find one that affords such spectacular views of the surrounding mountains and countryside. 
Museum of Northwest Colorado
This museum is based in Craig and as its name suggests focuses on the history of northwest Colorado.  Their railroad collection includes a small model layout of David Moffat's Denver & Salt Lake Railroad, which later became part of the Rio Grande, as well as his private business car, named after his daughter, Marcia.  It has been beautifully restored and is available for tours.
Platte Valley Trolley
The Platte Valley Trolley operates from mid-April through the end of October every weekend using trolley cars along a route that allows for about a 25-minute ride.
Pueblo Railway Museum
The Pueblo Railway Museum is based in Pueblo, Colorado and one of the state's growing such facilities. Its home is next to the beautifully restored Pueblo Union Depot, a large three-story structure. The museum's primary displays are featured outdoors on its storage tracks and range from steam locomotives to historic freight and passenger cars.
Ridgway Railroad Museum
The Ridgway Railroad Museum based in Ridgway, Colorado has the main goal of preserving railroads which served Ouray County. Along with its large collection of mostly narrow-gauge equipment the museum also offers excursion train rides on its grounds. 
Rio Grande Scenic Railroad
One of the newest Colorado train rides is the Rio Grande Scenic Railroad based in Alamosa.  It is a division of Iowa Pacific and has been operating since 2006. The railroad operates exclusively over ex-Rio Grande trackage (as you may have guessed from the name) and connects with the popular narrow-gauge tourist line, Cumbres & Toltec Scenic at its southern terminus of Chama, New Mexico.
Royal Gorge Route Railroad
In what many would argue is the most breathtaking of all Colorado train rides, the Royal Gorge Route Railroad operates part of the Denver & Rio Grande Western's trackage through this stunning natural wonder.  It also near other very popular lines like the Rio Grande Scenic Railroad, Cumbres & Toltec Scenic, and Durango & Silverton Narrow-gauge the Royal Gorge Route operates 24 miles of Rio Grande's legendary "Royal George Route," departing daily from Cañon City, Colorado (it should be noted that the railroad is one of the few in the state to operate year-round).
Tiny Town Railroad
The Tiny Town is located in Morrison offering scale-train rides using authentic, miniature steam locomotives.  Their excursions are offered daily between June, July, and August and run during the weekends from September through May.

More On Colorado Train Rides
If you would like to learn more about Colorado train rides, Kalmbach Publishing/Trains Magazine releases their Tourist Trains Guidebook each year, which highlights most such destinations throughout the U.S. and Canada.

Home

›

Tourist Train Information

› Colorado