Hawaiian Railway
The Hawaiian Railway, based in Ewa, Hawaii on the island of Oahu is actually a historical society which operates short 90-minute train rides on a former stretch of the Oahu Railway & Land Company. During the journey you will hear about the history of this railroad and the sugar cane operations that were once prolific in the area. The train operates every Sunday except Christmas Eve and Day.

Kauai Plantation Railway
The Kauai Plantation Railway is based in Lihue, Hawaii on the island of Kauai. A relatively new tourist train it operates a 2.5-mile section of former Kauai Railroad right-of-way. As of now it uses a Whitcomb diesel locomotive for power but plans to restore steam locomotives that were original to the narrow-gauge line for use on the railroad.
Lahaina Kaanapali Railroad (Sugar Cane Train)
The Lahaina Kaanapali Railroad, better known as the Sugar Cane Train, is helping to keep alive, bring back, and revitalize Hawaii's rich railroading history. The little tourist line, located on the Island of Maui, has been in operation since 1969 when the Sugar Cane Train was started that year by A.W. "Mac" McKelvy. As when it was started the Lahaina, Kaanapali & Pacific Railroad (as it is officially known) operates over six miles of narrow-gauge railroad which connects Lahaina to Puukolii. While the LK&P is certainly no Strasburg or Napa Valley Wine Train in the many and/or luxurious services/trains offered it still is a unique and interesting operation in a tropical setting that, interestingly enough, was once teaming with railroads (which will learn about while on your trip).  Sadly, it was announced during the summer of 2014 the the Sugar Cane Train would likely close at some point in the near future.
Laupahoehoe Train Museum
Hawaii's only railroad museum that does not offer a train ride, the Laupahoehoe Train Museum is located in Laupahoehoe on the north shore of Hawaii (the Big Island).  This little organization's mission is to generally preserve the local history of North Hilo and Hamakua while also keeping alive the story of Hawaii's railroads, which were once quite rich and diverse!  The museum is open on select days of the week year-round (except major holidays) or by appointment.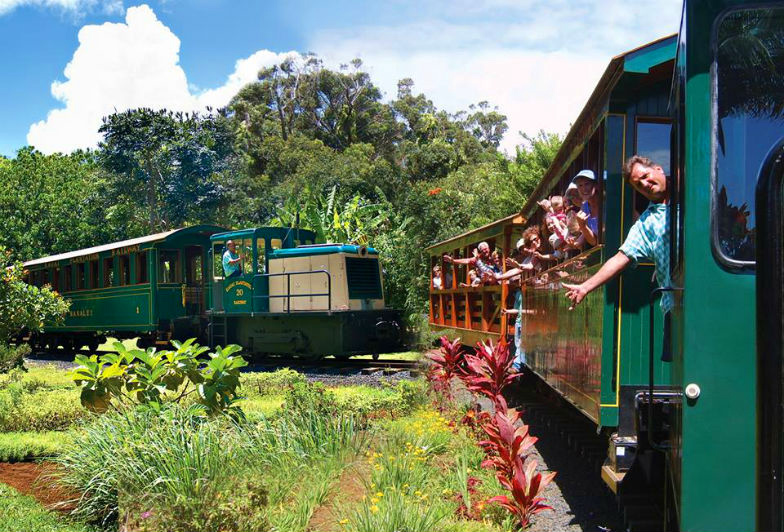 Pineapple Express
The Pineapple Express, located in Wahiawa on the island of Oahu, provides train rides at the Dole Plantation.  This attraction offers a wide range of things to do from tours of the property to train rides offered on their Pineapple Express.  This little excursion uses open-air cars powered by a, narrow-gauge locomotive that is modeled after an 0-4-4T built by the Mason Machine Works in Taunton, Massachusetts in 1883 but actually carries a diesel engine.  The two-mile trip lasts about 20 minutes and provides narration of the plantation and its history.

More On Hawaii Train Rides
If you would like to learn more about Hawaii train rides, Kalmbach Publishing/Trains Magazine releases their Tourist Trains Guidebook each year, which highlights most such destinations throughout the U.S. and Canada.


Home

›

Tourist Train Information

› Hawaii