Hawaii Train Rides And Railroad Museums Guide

It may seem hard to believe but the Hawaiian Islands were not only once home to one, but many railroads.  Except for the Hawaii Consolidated Railway (located on the Big Island of Hawaii) all of the islands' railroads were built to the 3-foot, "narrow-gauge," width and constructed primarily to serve the numerous sugar plantations once found there.  The Island of Kauai also featured two of its own systems, the Kauai Railway as well as the Ahukini Terminal & Railroad Company (AT&RC).  A section of the latter is what comprises today's 7-mile, Ke Ala Hele Makalae.  The AT&RC was established during the early 20th century but like many of Hawaii's railroads saw only a few decades service before it was abandoned.  However, it did survive longer than many others as rails were not removed until the late 1950s.  Surprisingly, you can still catch a train on Hawaii with three different excursions available; the Hawaiian Railway, Kauai Plantation Railway, and Lahaina, Kaanapali & Pacific Railroad (better known as the Sugar Cane Train).   All three feature just very short rides although they all offer visitors a chance to experience part of Hawaii's history most folks never even knew about. The information provided here gives just a brief glimpse of the state's tourist trains offering their contact information to learn more about them.  In addition, learn more about Hawaii's few railroad museums.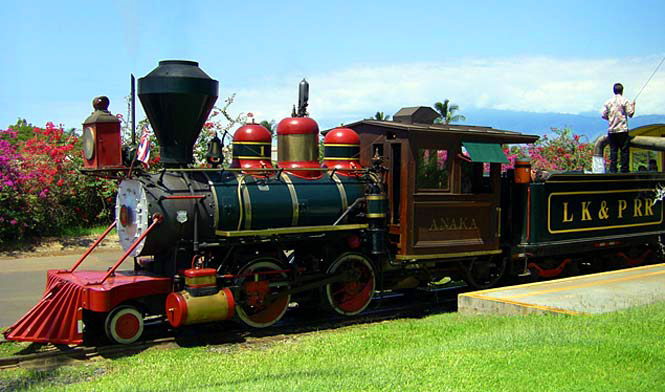 A Brief History Of Hawaii's Railroads
The development of railroads on the Hawaiian Islands was largely a result of U.S. intervention.  On September 9, 1876 the Kingdom of Hawaii and the United States signed an agreement allowing the latter to harvest sugar from the islands, free of charge, for the right to establish a coaling station at Pearl River Lagoon, present-day location of the Pearl Harbor Naval Station (Hawaii would become an American territory in 1898 and an official state in 1959).  To extract and refine sugar required an extensive array of equipment and materiel, which soon began arriving in large numbers.  Transportation, of course, was vital in moving the raw and processed product efficiently and profitably.   Since there were no established roads on the islands, and reliable, motorized travel was decades away, railroads were tapped for the job.  According to George Hilton's book, "American Narrow Gauge Railroads," such systems were chosen on Hawaii for a number of reasons:  firstly, to provide fluid (compatible) interchange among private (common-carrier) and plantation-owned operations; secondly, there was no standard-gauge precedent as in the continental United States (4', 8 ½''); and thirdly, they were less costly to construct.  Altogether, Hawaii's notable narrow-gauge systems included the Ahukini Terminal & Railroad Company (2-foot, 6-inch), Hawaii Railway, Kahului Railroad, Kauai Railway (2-foot, 6-inch), Koolau Railway, Oahu Railway & Land Company, and the Hawaiian Agricultural Company's private 2 foot system on the big island that linked its mill at Pahala with the port at Punaluu.
Guides To Train Rides And Railroad Museum In The West
More Reading...
The large Island of Hawaii's railroad history is best remembered with the Hawaii Consolidated Railway, one of the state's only standard-gauge railroad operations. The railroad was originally chartered as the Hilo Railroad on March 28th, 1899, to connect the Olaa sugar mill with Waiakea, a distance of eight miles. As the years progressed the railroad made numerous extensions, which included lines to Olaa, Kapoho (17 miles), Hilo itself and later a 12.5-mile line north of Olaa to Glenwood, although the latter was later scaled back in the early 1930s. The railroad continued to grow in the 20th century with a 33.5-mile line up the Hamakua coast.  This extension was extremely expensive with numerous tunnels and bridges which forced the railroad into receivership in 1914. It emerged as the Hawaii Consolidated Railway and continued moving people and goods through World War II (its Hamarkua Division was very popular with tourists). As was the case with the Oahu Railway & Land Company, however, the massive and devastating tsunami on April 1st, 1946 destroyed numerous bridges and washed out the right-of-way in several locations instantly forcing the railroad to shutdown. Today, the Hawaiian Railway Society has rebuilt over six miles of track on the Island of Hawaii, with future plans for further extensions with excursions offered over the railroad. The society is also home to the state's most extensive collection of railroad equipment.

Hawaii Train Rides And Museums
Hawaiian Railway Society
The Hawaiian Railway Society, based in Ewa, Hawaii on the island of Oahu is actually a historical society which operates short 90-minute train rides on a former stretch of the Oahu Railway & Land Company (OR&L). During the journey you will hear about the history of this railroad and the sugar cane operations that were once prolific in the area.  According to Dr. Hilton's book, the OR&L was chartered by Benjamin Franklin Dillingham on September 11, 1888, a franchise signed into law by King Kalakaua.  Its purpose was to serve sugar plantations and opened its first segment between Aiea and Honolulu on September 16, 1889 (9 miles).  In the succeeding years it headed west, followed the coast where it opened to Kaena Point on June 1, 1898, and eventually wrapped its way around the island to reach Kahuku on December 28, 1898.  Here, it interchanged with the Koolau Railway.  In 1906 it completed one notable a branch, an 11-mile spur from Waipahu Junction at Pearl Harbor to Wahiawa which served a pineapple plantation.  This line was later extended to a connection with the main line near Waialua during World War II. 
Kauai Plantation Railway

The Kauai Plantation Railway is based in Lihue, Hawaii on the island of Kauai. A relatively new tourist train it operates a 2.5-mile section of former Kauai Railway right-of-way.  This small system was the project of Theodore H. Davies & Company, established in 1906 to to serve sugar mills situated along the island's southern shore.  It would eventually open an 11-mile railroad running eastward from Eleele Landing (Port Allen) to the Koloa Mill with another short branch (2 miles) to serve the town of Koloa.  In addition, it utilized trackage to the west owned by the McBryde Sugar Company and Hawaiian Sugar Company to serve the Makaweli Sugar Mill.  The Kauai was built to the odd width of 2-feet, 6-inches but did carry common-carrier status (although carried few passengers during its existence).  It was a short-lived affair and was abandoned in 1933.  Today's tourist attraction operates with a Whitcomb diesel locomotive for power but plans to restore steam locomotives that were original to the narrow-gauge line for use on the railroad.
Lahaina, Kaanapali & Pacific Railroad  (Sugar Cane Train)
The Lahaina Kaanapali Railroad, better known as the Sugar Cane Train, is helping to keep alive, bring back, and revitalize Hawaii's rich railroading history. The little tourist line, located on the Island of Maui, has been in operation since 1969 when the Sugar Cane Train was started that year by A.W. "Mac" McKelvy. As when it was started the Lahaina, Kaanapali & Pacific Railroad (as it is officially known) operates over six miles of narrow-gauge railroad which connects Lahaina to Puukolii. While the LK&P is certainly no Strasburg or Napa Valley Wine Train in that it provides no first-class "luxury services which these famous attractions provide it nevertheless is a unique and interesting operation in a tropical setting that, interestingly enough, was once teaming with railroads (which will learn about while on your trip). It was announced during the summer of 2014 the the Sugar Cane Train would likely close but was averted when local businessmen stepped in to keep the operation alive.  If interested in riding this attraction please click here.
Laupahoehoe Train Museum

Hawaii's only railroad museum which offers to type of excursion train ride, the Laupahoehoe Train Museum is located in Laupahoehoe on the north shore of Hawaii (the Big Island).  This little organization's mission is to generally preserve the local history of North Hilo and Hamakua while also keeping alive the story of Hawaii's railroads, which were once quite rich and diverse!  The museum is open on select days of the week year-round (except major holidays) or by appointment.  There are a few pieces of rolling stock on the grounds to peruse; most noteworthy include a wooden caboose that originally operated on the Hawaiian Consolidated Railway and a small diesel switcher which originally came from a local plantation in Haina.  This little unit was manufactured by the Plymouth Locomotive Works and was in very poor condition when located.  It has since been restored to operable condition.  Although there is no place to run the locomotive it is housed beneath a shed, protected from the elements.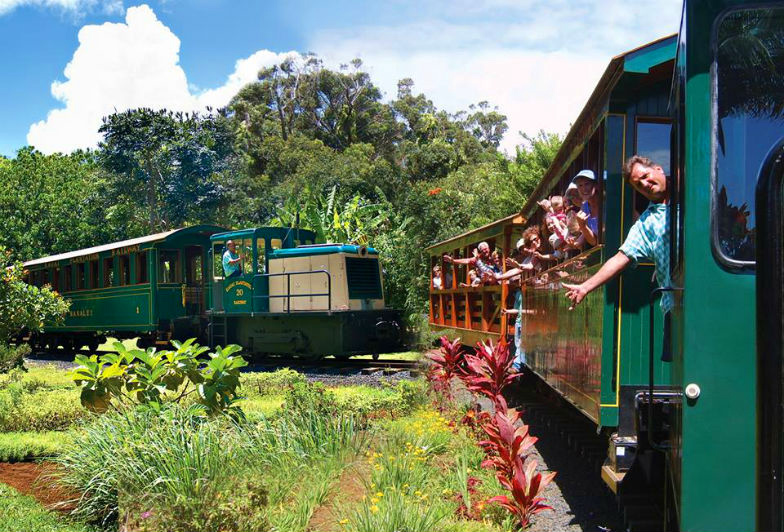 Pineapple Express At The Dole Plantation
The Pineapple Express, located in Wahiawa on the island of Oahu, provides train rides at the Dole Plantation.  This attraction offers a wide range of things to do from tours of the property to train rides offered on their Pineapple Express.  This little excursion uses open-air cars powered by a three narrow-gauge "steam locomotives" (3-foot), although are three are actualy diesel-powered.  They include a 0-4-4T modeled after a design manufactured by the Mason Machine Works in Taunton, Massachusetts in 1883 (named "Lady Liberty"); a 4-4-0 designed after an 1870 model; and a little 0-6-0.  The two-mile trip lasts about 20 minutes and provides narration of the plantation and its history.  There are two different rides available named the Pineapple Express, and Aloha Express.  The plantation is open nearly year-round and there is an admission required to ride the train.  To learn more please visit their website by clicking here.

Home

›
Tourist Train Information
› Hawaii