Missouri Scenic Train Rides: A Complete Guide (2023)

Last revised: June 6, 2023
By: Adam Burns

Missouri was one of railroading's most important states.  It was not only a gateway state served by several different systems but also home to the actual Gateway City, St. Louis! 

Far to the west, at the Kansas border, a similar metropolitan region could be found, Kansas City.  John Stover's book "The Routledge Historical Atlas Of The American Railroads," notes that mileage peaked at over 8,100 miles during the 1920's. 
This trackage was operated by several classic railroads including the:
Atchison, Topeka & Santa Fe

Missouri Pacific

St. Louis-San Francisco Railway (Frisco)

St. Louis Southwestern ("The Cotton Belt Route"); 

Wabash

Missouri-Kansas-Texas Railroad (" The Katy");

Milwaukee Road

Chicago, Burlington & Quincy (Burlington)

Chicago Great Western;

Chicago, Rock Island & Pacific

Gulf, Mobile & Ohio

Baltimore & Ohio (for a time)
With such a rich railroading heritage, there are many institutions and attractions found throughout the Show-Me State highlighting its history: scenic train rides include the St. Louis, Iron Mountain & Southern; Belton, Grandview & Kansas City; and Branson Scenic Railway while there are also numerous museums.  
Please note!  The guide here pertains only to Missouri scenic train rides related to vacation and tourism destinations.  If you are interested in intercity/long distance rail travel please visit Amtrak's website.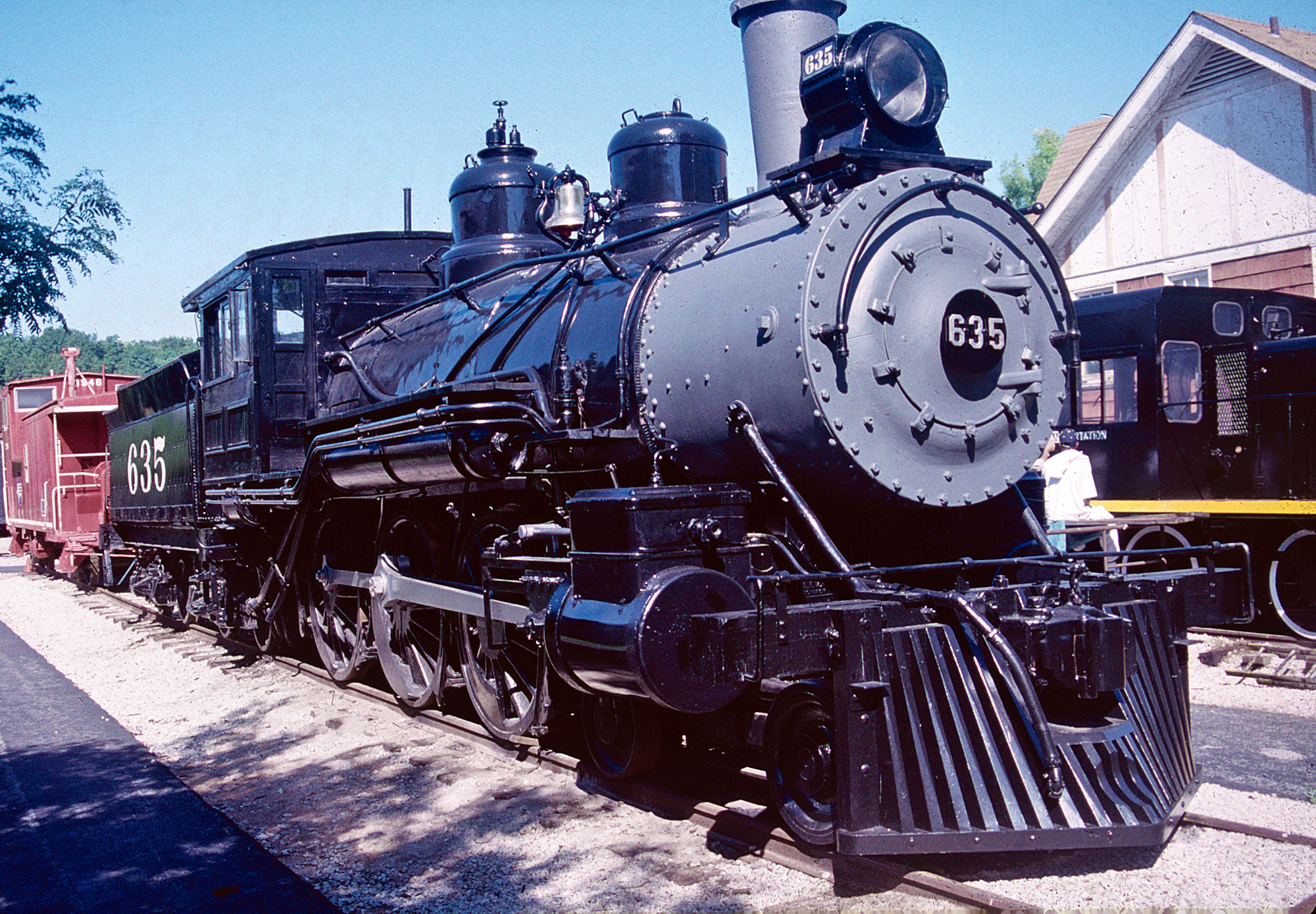 St. Louis, Iron Mountain & Southern Railway (Missouri Pacific) 4-6-0 #635 on display at the Museum of Transportation in St. Louis; June, 2001. This Ten wheeler was built by Baldwin in 1889 and now resides under an open shelter. American-Rails.com collection.
State Rail History

Missouri has a fascinating history with railroads, which dates back to the Pacific Railroad (PR) chartered in March, 1849. 
According to Joe Collias's book "Frisco Power: Locomotives And Trains Of The St. Louis-San Francisco Railway, 1903-1953," this system was formed by the state to link St. Louis with the Pacific coast. 
Such endeavors were quite common in that era but was only successful following the federal government's involvement. 
The PR was ambitious but formidable with numerous challenges; the most critical was procuring a steady flow of capital. 
Even the prospect of laying a grade was extremely difficult due to the region's remoteness, sparse population, and lack of infrastructure. 
In his book, "Missouri Pacific Lines: Freight Train Services And Equipment," author Patrick Dorin notes ground was broken in St. Louis on July 4, 1851.
According to the book, "Baltimore & Ohio Railroad," by Kirk Reynolds and David Oroszi it was tradition to launch new canal construction on July 4th and many early railroad projects also chose that date. 

The initial goal involved following the Missouri River's south bank to reach Kansas City.  The company's first locomotive, named Pacific, arrived on August 20, 1852; shortly thereafter the first 5 miles from St. Louis to Cheltenham opened. 
On December 9th the company's inaugural train, also credited as the first to operate west of the Mississippi River, chugged down this track carrying local dignitaries and officials. 
Ultimately, the railroad would never reach the Pacific coast.  However, it was completed to Kansas City on September 19, 1865 and eventually wound up as part of Missouri Pacific's 12,000 route-mile network.
Guide Information
American Association of Railroaders, Inc
Not to be confused with the Association of American Railroads (an industry trade group that has been in operation since 1934), this organization was first launched in 1967. 
They look to generally tell the history of the nation's railroad industry.  They do not have a physical location in which equipment or artifacts are available for display but they do host charters, excursions, and weekend tours.  To learn more please visit their website by clicking here.

American Railway Caboose Historical Educational Society, Inc.
This society looks to preserve the history and tell the story of the caboose, once an important car that normally operated at the rear of freight trains.  The group occasionally sponsors trips with restored cabooses.  To learn more please visit their website by clicking here.

Belton, Grandview & Kansas City Railroad
The Belton, Grandview & Kansas City Railroad is based in Belton, Missouri and offers a 5-mile excursion on former St. Louis-San Francisco ("Frisco") trackage. 
The line was one of three the railroad once maintained between Springfield and Kansas City!  Today's attraction began as the Kansas City Railroad Museum in 1964, an organization operated by the Smoky Hill Railway & Historical Society. 
Following a handful of moves they settled on a location in Belton during 1995.  Today, the railroad operates several seasonal specials and also offers cab rides. 
Their locomotive collection includes a pair of steam locomotives on static display as well as a few diesels. 
The former include Okmulgee Northern Railway 2-8-0 #5 (built by American Locomotive's Cooke Works in 1923 and St. Louis-San Francisco 2-10-0 #1632 (manufactured by Baldwin in 1918). 
The group's two diesels include Chesapeake & Ohio GP9 (originally numbered 6142) and a little 25-ton switcher manufactured by the Plymouth Locomotive Works.
Branson Scenic Railway
The Branson Scenic Railway is a tourist attraction operated in conjunction with short line freight carrier Missouri & Northern Arkansas Railroad between Galena and Self, Missouri (trains depart from Branson). 
This particular corridor date back to 1902 when the White River Railway was founded that year.  It eventually became part of the Missouri Pacific, better known by railroaders and railfans as the "MoPac."
The Branson Scenic came about in 1993; since its inception the railroad operates either north to Galena or south to Self, depending on how the freight line's operations are playing out that particular day. 
As a result, round trips usually run about 40 miles and last nearly 2 hours. 
Because the trains pass through Missouri's beautiful Ozark Mountains visitors can experience passage through a number of tunnels and bridges during their journey.
Overall the railroad is quite scenic and well worth the trip through a region sometimes forgotten for its beauty and ruggedness.
Chicago & Alton Railroad Depot

This museum is housed inside the extensively restored Chicago & Alton depot located in Independence, a two-story wooden structure which originally opened in 1879. 
The Chicago & Alton Railroad began as the Alton & Sangamon, formed in 1847 to link Alton with Springfield, Illinois, the state capital. 
In 1857 it was renamed as the St. Louis, Alton & Chicago, and then again as the Chicago & Alton in 1861.  After arriving in Chicago and St. Louis, the system reached Kansas City in 1878. 
With so much competition the C&A struggled for many years.  According to the book, "Baltimore & Ohio Railroad," by Kirk Reynolds and David Oroszi the B&O acquired the bankrupt C&A in 1929, renaming it as the Alton Railroad. 
Unfortunately, the B&O was also in financial straits due to the ongoing economic downturn of the 1930's. 
It allowed the Alton to enter bankruptcy in 1942, after which time it was acquired by the Gulf, Mobile & Ohio.  Inside the museum there are numerous historic displays and artifacts to see within the two-story building. 
Additionally, a few events are held each year.  The museum is open from April through late October each year.
Kansas City Northern Railroad
This attraction is located within the Frank Vaydik Line Creek Park at Kansas City offering 16-inch-gauge scale train rides.   
The all-volunteer, 501(c)3 non-profit organization was formed in 1984 when the Kansas City Parks & Recreation Department wanted the former Kansas City Zoo railroad to restore the operation. 
The three diesels which normally operate are based on Electro-Motive's successful "F" series line of streamlined, cab model locomotives;
#31 wears Kansas City Southern's attractive Southern Belle livery (named for that company's once popular streamliner by the same name) and was built in 1953 (it remained in use at the zoo until 1972),


#802 was first put into service in 1955 at the Pittsburgh (Pennsylvania) Zoo


#561 wears the Missouri Pacific's elegant cream and blue paint scheme that adorned its fleet of Eagle streamliners.  
The Kansas City Northern is open from May through September each year.
Magic City Line Mini Train
This attraction is located at Rothwell Park in Moberly offering 12-inch-gauge scale train rides on a 1-mile loop. 
While there are no live steam locomotives operating they do have a nice collection of diesel locomotives which are based on actual model types. 
There are three currently in their fleet:
A Norfolk Southern "Dash 9." (This variant is a somewhat more modern locomotive built by General Electric from the 1990's through early 2000's.  It was highly successful with thousands built.)


A Norfolk & Western H24-66 "Train Master." (This high-horsepower type was a 1950's locomotive built by Fairbanks Morse.  It proved unsuccessful with few buyers.)


An "F" series model featured in Wabash Railroad's colors. (This diesel type was built by Electro-Motive from the late 1930's through the early 1960's.  It remains an iconic, timeless locomotive still found in service today.)
Museum Of Transportation
The Museum Of Transportation at St. Louis features one of the most impressive collections of rolling stock and locomotives anywhere in the country. 
While they feature many transportation-related artifacts their rail exhibit is second to none! 
Some of their featured pieces include:
Union Pacific "Big Boy" 4-8-8-4 #4006 (built by American Locomotive in October, 1941)


Union Pacific "Centennial" DDA40X #6944 (a product of Electro-Motive in 1971)


Baltimore & Ohio boxcab diesel #50 (this 1,800 horsepower locomotive was a predecessor to Electro-Motive's modern line of successful E and F series diesels that appeared in the late 1930s')


One of the Aerotrain sets (to read more about this failed experiment please click here)


Chicago, Burlington & Quincy streamliner #9908, the "Silver Charger" 
There are nearly 200 pieces in all (which includes a magnificent collection of preserved steam locomotives), some of which include interurban and streetcar equipment.

Patee House Museum
This historical museum complex, located in St. Joseph, is housed within a former 140-room, 4-story upscale hotel complex. 
It was built by John Patée and opened in 1858 as a means of serving travelers utilizing the Hannibal & St. Joseph Railroad. 
This system was chartered on February 16, 1847 and was the first to complete an east-west route across Missouri, opening on February 15, 1859.  
The railroad connected its namesake cities and interchanged with another Forbes road, the Quincy & Palmyra, at Palmyra.
The museum generally tells the local area's history.  However, also on the premises is the restored Hannibal & St. Joseph (the railroad would go on to join the much larger Chicago, Burlington & Quincy) depot completed in 1877. 
Finally, displayed in the town is Hannibal & St. Joseph 4-4-0 #35 (a Class A-2 "American" built by the Baldwin Locomotive Works in 1892) as well as Chicago Burlington & Quincy 4-8-4 #5614 (this Class O-5a "Northern" was built by the company's own shop forces in Aurora, Illinois in 1937).
Railroad Historical Museum, Inc.
This museum is located in Springfield, featuring a collection of rolling stock to peruse which includes a dual-level, gallery car (used in commuter service) and caboose. 
They also house a very well preserved steam locomotive; St. Louis-San Francisco Railway 4-8-4 #4524 which is under-shed and cosmetically restored.
It was part of a group of 25 (numbered 4500-4524) the railroad acquired from the Baldwin Locomotive Works between 1942 and 1943, the most modern steamers within its fleet. 
The "Frisco" was medium-sized, Midwestern/Southeastern system linking Kansas, Oklahoma, Texas, and Missouri with Arkansas, western Tennessee, Mississippi, Alabama, and even Florida's western panhandle.
It would join the growing Burlington Northern in 1981.  The museum is typically open during the warmer months each year.
St. Louis, Iron Mountain & Southern Railroad
The St. Louis, Iron Mountain & Southern Railroad is based in Jackson and since 1986 has offered a 10-mile excursion through the rolling, open countryside of southeastern Missouri.
The railroad normally uses a former Pennsylvania Railroad E8A (built as #5898-A in 1951) to pull its trains but also has 2-4-2 #5 on-hand, a steam locomotive which is currently out-of-service and under a long term restoration (it was manufactured by the H.K. Porter Company in 1946 for the Central Illinois Public Service). 
The St. Louis, Iron Mountain & Southern name is quite historic, as it formed a primary component of the modern Missouri Pacific, a system pieced together in larger part through the efforts of notorious tycoon Jay Gould. 
The current tourist attraction offers a number of special runs throughout the year such as a Murder Mystery Dinner Theater, "The Santa Express," and Chuck Wagon Dinners.
Wabash, Frisco & Pacific Steam Railway
This little operation, maintained by the Wabash, Frisco, & Pacific Association, is another 1-foot-gauge, scale train ride, located in Glencoe. 
The railroad operates miniature, live steam locomotives which power trains on a 2-mile, round trip which last about a half-hour. 
The history of this attraction is much older than what most realize.  The group was formed in 1939, utilizing 4-4-2 #171 which operated over about 1 mile of track on 30 acres of property near Brown Road and Natural Bridge. 
Unfortunately, rising property values near what is today St. Louis Lambert International Airport forced them to move with a final run being made on July 19, 1959. 
They have been based at their current location since 1961.  Since that time the group has added numerous buildings, including a car barn, roundhouse, and a locomotive fleet totaling four steamers!  They are open every Sunday between May and October (rain or shine!).
Walt Disney Hometown Museum
This unique museum, located inside the town of Marceline's restored Santa Fe depot (a two-story, brick building completed in 1913), looks to tell the story of Walt Disney, himself, and what he meant to so many folks. 
Disney grew up in this town and had a great love for trains.  There are two other attractions throughout the country which also highlight his interest in railroads:
Carolwood Barn & Museum located in Griffith Park, Los Angeles (The barn in which these displays are housed holds particularly historical significance.  It was built in 1950 by Disney, himself, at his home in Holmby Hills, California, replicating a similar structure at his family's farm in Marceline, Missouri.)


Walt Disney World Railroad at the world-renowned tourist attraction in Orlando, Florida)
Aside from the museum, the busy BNSF main line lies just outside the depot's front door while you can also explore the downtown area.
---
Webster Groves Frisco Depot
The Big Bend Railroad Club, the oldest model railroad club in the country (formed in 1938), is housed inside the St. Louis-San Francisco Railway's (Frisco) depot in Webster Groves, a brick/stucco structure originally completed in 1910. 
The building remains at its original location where the former "Frisco" line is still an active part of the BNSF Railway's enormous western network. 
This segment of the former SLSF was originally part of the Pacific Railroad's Southwest Branch, the first component of what later became the St. Louis-San Francisco (the original Pacific Railroad main line would go on to form part of the modern Missouri Pacific). 
During its height of construction what was then the St. Louis & San Francisco attempted to reach the west coast via New Mexico, Arizona, and Southern California but unfortunately was blocked by the more powerful Atchison, Topeka & Santa Fe. 
To read more about the company's complete history please click here.  The museum is open to the public only one Tuesday of each month.