New Mexico Scenic Train Rides: A Complete Guide (2023)

Last revised: June 6, 2023
By: Adam Burns

Aside from Albuquerque and Santa Fe, New Mexico is often portrayed as barren desert land and mountains.  However, the state does possess forested regions, minerals, precious metals, and even some agriculture/cattle farming. 
Nearly 3,000 miles of railroad was laid down between 1881 and 1920 to serve these industries, in addition to constructing, "through," or main line routes to far away points such as Los Angeles, Chicago, and New Orleans. 
Most notable among the latter included Santa Fe's "Transcon" linking Los Angeles-Chicago and Southern Pacific's "Sunset Route" connecting Los Angeles-New Orleans. 

With so many important corridors, New Mexico's current rail mileage stands at 1,860, down from its all-time high of 2,972 in 1920 according to, "The Routledge Historical Atlas Of The American Railroads," by author John F. Stover.  
If you're looking for scenery, the Land of Enchantment will not disappoint, particularly aboard the Cumbres & Toltec Scenic. 
This attraction utilizes a component of the venerable Denver & Rio Grande Western's fabled mining branches in the, which passed through both the South San Juan Mountains and the Brazos Mountains.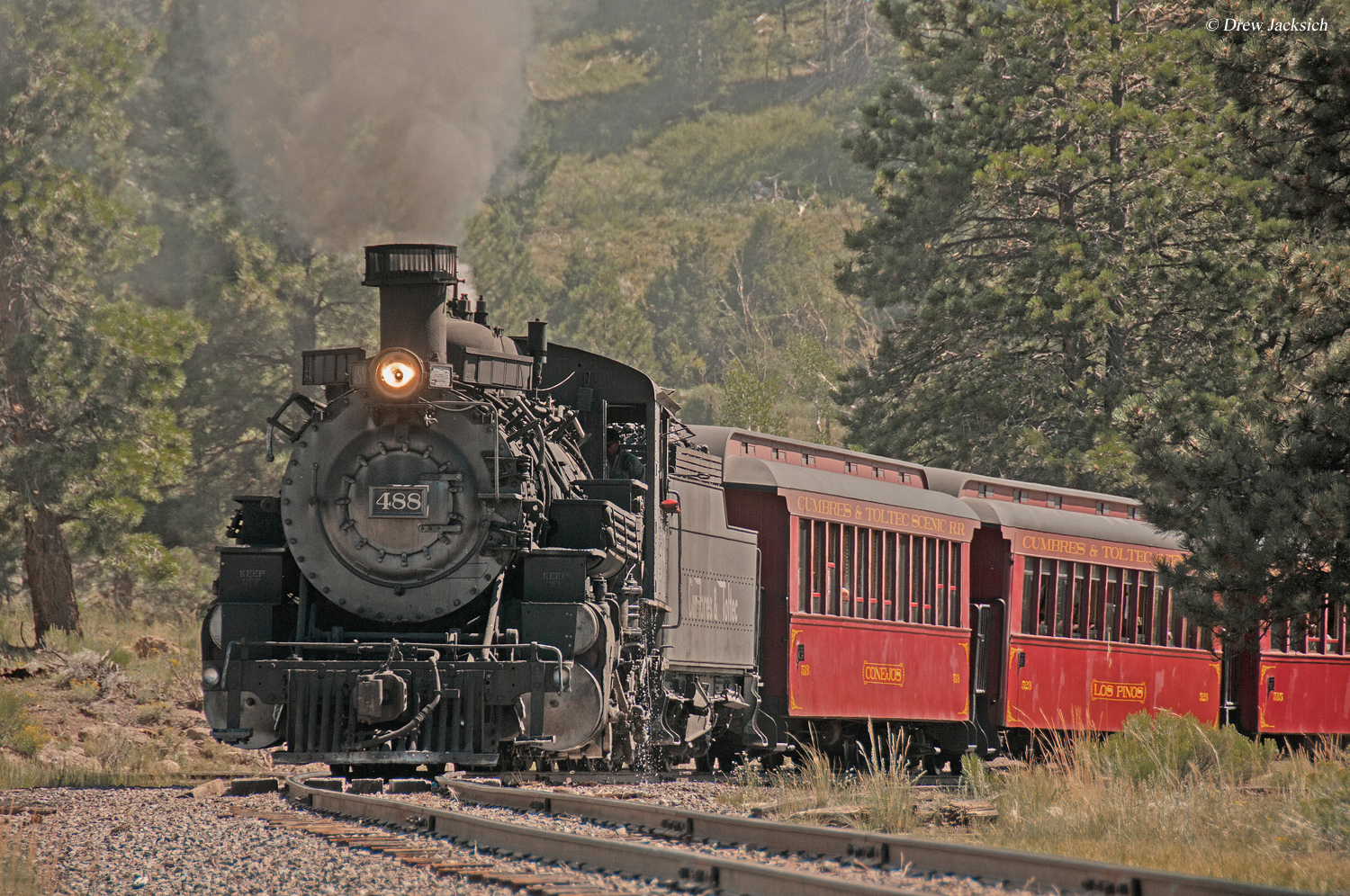 Cumbres & Toltec Scenic 2-8-2 #488 (K-36) heads east while the climbing the grade at Big Horn, New Mexico on August 20, 2015. Drew Jacksich photo.
State Rail History

New Mexico's railroading heritage begins in the late 1870's when a surging Atchison, Topeka & Santa Fe entered the state in 1879 on its way southwestward towards Mexico. 
The AT&SF was then a regional Midwestern carrier but it was rapidly growing under the leadership of William Barstow Strong, who arrived at the company in 1877. 
In his quest to dominate the west he fought the Denver & Rio Grande for access into Colorado's lucrative silver mining industry and then eyed a Pacific port at Guaymas, Mexico. 
The true reasoning(s) behind this move remains unknown although it is believed the ever-independent Strong felt the Santa Fe could reap greater benefits by establishing its own west coast port for trade to the Orient, South Pacific, and other parts of Latin America.
In addition, these efforts would eliminate competition against Collis P. Huntington's Southern Pacific, which controlled all of California at the time (in the end the AT&SF eventually abandoned this endeavor and entered the Golden State). 
Nevertheless, the two carriers opened the second transcontinental railroad when a silver spike was driven at Deming, New Mexico on March 8, 1881 according to an in-depth analysis Trains Magazine published in its January, 2007 issue entitled, "Great Railroading: State-By-State." 
There were a number of other railroads to serve New Mexico aside from these two railroads. 
The Denver & Rio Grande (later Denver & Rio Grande Western) penetrated parts of northern New Mexico when its narrow-gauge San Juan mining district was completed from Antonito to Durango, Colorado on July 27, 1881. 
Along the way it crossed 10,015-foot Cumbres Pass and linked such small hamlets New Mexican hamlets as Chama, Monero, and Navajo.  After a number of delays, the Rio Grande also opened an extension to Santa Fe on January 8, 1887. 
This was also a narrow-gauge line, nicknamed the "Chili Line" due to the propensity of local farmers to ship chili's by rail. 
The route was never particularly successful and ceased operations after September 1, 1941. Three other noteworthy systems included:
Colorado & Southern (whose main line from Montana to Texas clipped northeastern New Mexico)




Chicago, Rock Island & Pacific (reached Tucumcari through subsidiary Choctaw, Oklahoma & Gulf in 1910, which opened the "Golden State Route" with the El Paso & Southwestern [later Southern Pacific])




 El Paso & Southwestern
The so-called "Southwestern Route" served parts of southern Arizona, much of New Mexico, and even reached Nacozari, Mexico.  
The company's decline, unfortunately, began soon after it reached its peak. Following World War I the price of copper plummeted forcing mines to close. 
As a primary source of traffic, this setup deeply hurt the railroad. Interestingly, the EP&SW nevertheless continued to grow when it took over the Arizona & New Mexico Railroad on January 1, 1922.
The A&NM connected with the EP&SW at Hachita, New Mexico and reached Clifton to the north. With sagging copper prices and the railroad's revenues cut by one-third officials at Phelps Dodge Corporation, which owned the railroad, elected to sell it to Southern Pacific. 
The deal was completed on October 31, 1924 which included stock, bonds, and cash of $64 million. 
The transaction also required the Espee to construct a new line to serve Phoenix and provide Phelps, Dodge with terminal property in Los Angeles.
The SP also saw a benefit with The Southwestern Route as it was still a profitable road and also offered the western giant a connection to the Rock Island. 
In any event, to learn more about New Mexico scenic train rides and railroad museums please read about each covered below.
Guide Information
Clovis Depot Model Train Museum
This small museum is based in Clovis and housed inside the town's beautifully restored, Santa depot completed in 1907.  While you can view model trains there the organization also tells the Santa Fe's role and history within the area. 

Today, its main line, notably the Belen Cutoff, remains busy under BNSF today.  Inside the building you will find several artifacts and other items on display. 
Also, they currently operate 11 different layouts covering most of the popular model railroad scales (HO, O, N, etc.).   Finally, peruse their gift shop or just check out the train action right outside!
Cumbres & Toltec Scenic Railroad
The Cumbres & Toltec Scenic is another famous narrow-gauge tourist railroad located in southwest Colorado and northwest New Mexico. 

It utilizes part of the historic Denver & Rio Grande Western's San Juan mining district like the Durango & Silverton Narrow Gauge. 
The C&T also operates a stable of preserved Rio Grande 2-8-2's like its neighboring tourist attraction.  For this reason, and its location within gorgeous canyons and mountains, the railroad draws tens of thousands annually. 
This is New Mexico's top train attraction; I would strongly consider stopping by to see this historic and super scenic tourist railroad!
New Mexico Steam Locomotive & Railroad Historical Society
This organization is based in Albuquerque and is restoring Atchison, Topeka & Santa Fe 4-8-4 #2926 (manufactured by Baldwin Locomotive Works in 1944) back to operational status.  To learn more about planning a visit or volunteering to help in their efforts with the impressive locomotive please 
visit their website
.
Toy Train Depot Foundation
This organization is based in the town of Alamogordo and noteworthy as New Mexico's very first train museum. 

Their building is a preserved El Paso & Northeastern (later El Paso & Southwestern which became a part of Southern Pacific 1924) depot built in 1899. 
The building was originally located in Torrance and later moved to Corona before arriving at its current location.  Inside are several historic displays, artifacts, and documents while the foundation also offers rides on their "Alameda Park Narrow Gauge Railway," a 16-inch gauge scale attraction. 
Finally, they were recently donated a caboose located nearby.  The museum is open on select days throughout the year.
---
Sky Railway
What was formerly known as the Santa Fe Southern Railway (which closed in 2014), this new excursion launched on December 3, 2021 and is based in Santa Fe along the former AT&SF branch line to Lamy. 

Passenger trains board from the restored mission-style depot on 410 South Guadalupe Street in Santa Fe. 
The Santa Fe Southern operation had a rollercoaster history; it was mothball between 2012-2014 and then came under new management.
This group hoped to revitalize the attraction as an upscale operation with fine dining, first-class accommodations, and other special events.  However, the project fell through and operations closed again at the end of the 2014 season.
In 2020, a group of entrepreneurs purchased the property and worked for more than a year to restore the operation for continued excursion service.
They will host holiday-themed rides and other special events throughout the year with excursions centered around entertainment and a moving stage.