New York Scenic Train Rides: A Complete Guide
Last revised: April 16, 2022
By: Adam Burns
If you are interested in traveling the rails, New York scenic train rides are many and numerous thanks to the state's rich history with the railroad.   
This section highlights only the Empire State's many tourist attractions (and railroad museums).  Railroading here traces its roots back to the industry's genesis. 
The Mohawk & Hudson was officially incorporated on April 17, 1826 and later became a part of the gigantic New York Central System. 
Over time, steel ribbons crisscrossed its borders, eventually totaling more than 8,000 miles by the World War I era!  Today, many organizations continue to tell the state's heritage while providing entertainment to the public.  
Whether you are interested in enjoying trips within climate-controlled cars, riding a restored trolley, or watching a restored steam locomotive in action you can find it all in New York. 
Some of the more noteworthy locations include the Adirondack Scenic Railroad, Arcade & Attica Railroad, Catskill Mountain Railroad, Cooperstown & Charlotte Valley Railroad, Delaware & Ulster Railroad, and Finger Lakes Scenic Railway.
A New York Central E7A and E8A have a passenger train heading westbound through Newark, New York on March 22, 1953. Note the Pennsylvania Railroad overpass in the background and the station to the right. This scene has changed drastically today; both lines are abandoned and few traces of either can be found at this location.
A History Of New York's Railroads
New York was once the place to witness northeastern railroading as several famous systems could be found there including the New York Central; New York, Ontario & Western; Erie Railroad; Delaware, Lackawanna & Western; Lehigh Valley; and others. 
The state's first was the previously mentioned Mohawk & Hudson, which, according to Mike Schafer and Brian Solomon's book, "New York Central Railroad," opened on August 9, 1831. 
The 16-mile corridor connected the Hudson River at Albany with the Mohawk River at Schenectady.  It was designed as a shortcut to compete against the recently finished Erie Canal. 
Heralded as engineering marvel, this transportation artery linked New York City with Buffalo and initially proved quite successful. 
However, with the railroad gaining popularity at the time of its 1825 opening, the canal (and others like it) was living on borrowed time.  While successful in delaying and slowing railroad development it was ultimately eclipsed by the iron horse.  
America's first railroads (like the Baltimore & Ohio; South Carolina Canal & Rail Road; Mohawk & Hudson; and Camden & Amboy) were all built for specific reasons, usually to serve a particular city. 
Only later, as increasingly more track was laid down, did railroads transform into a unified, national network.  Arguably New York's most important of this era was the Erie.
It was chartered as the New York & Erie Rail Road on April 24, 1832 to connect Piermont, along the Hudson River, with Dunkirk situated along Lake Erie.
In 1847 the NY&E opened to Binghamton and completed its 447-mile main line in the spring of 1851.  
According to H. Roger Grant's authoritative title, "Erie Lackawanna: Death Of An American Railroad, 1938-1992," the first train of dignitaries ran the entire length of the system on April 22nd that year.
Alas, in some ways the NY&E's opening proved its zenith.  Further growth stalled for years and it slowly fell behind competitors racing towards the Midwest as the Baltimore & Ohio, Pennsylvania, and what later became the New York Central passed it by.  
Its original end points were of little value; Piermont did not development into a market of any considerable size while Dunkirk did not have a deep water port.  
Realizing it needed a connection to the growing city of Buffalo it reached that location in 1853, as well as nearby Rochester, via branch lines from its main stem.  
In 1859 it entered into the first of five bankruptcies, emerging as the Erie Railway on June 25, 1861.
The Erie was plagued with further bankruptcies and reorganizations over the years, in part due to unscrupulous tycoons like Jay Gould who leveraged the company for his own self-interests. 
Despite its constant financial issues the Erie was a valuable railroad that remained in business until merging with the Delaware, Lackawanna & Western in 1960 to form the Erie-Lackawanna Railway. 
Since Buffalo was always seen as the early 19th century's western gateway many railroads built west from New York/New Jersey to reach that point. 
The state's many metropolitan regions, coupled with its considerable natural resources, made it an attractive location for many railroads. 
In his book, "The Routledge Historical Atlas Of The American Railroads" author John F. Stover notes that New York boasted 8,390 miles of railroad by 1920. 
However, as trains lost importance to other modes of transportation this number has declined to just 3,378 miles today.
If you are interested in New York scenic train rides that pertain to specific events, such as "The Polar Express," Halloween, Thomas the Tank Engine excursions, or fall foliage events please visit the main tourist trains section of this website.  
New York Scenic Train Rides And Railroad Museums, 2021
Adirondack Scenic Railroad
One of the most popular scenic train rides in New York can be found at the Adirondack Scenic Railroad, first launched in 1992.
Today, it operates two, unconnected sections of this former New York Central branch that once extended from Utica to Lake Placid, a distance of over 150 miles.
Their operations include a short 10-mile section between Saranac Lake and Lake Placid, and another 50-mile section between Utica and Thendara. Plans call for the railroad to eventually reopen the long dormant section between Thendara and Tupper Lake.
Arcade & Attica Railroad
The Arcade & Attica Railroad, based in Arcade, New York operates on trackage originally built and owned by the Buffalo, Attica & Arcade Railroad.
The railroad also hauls freight with its train rides running between late May and December.  They host several special events throughout the season.
Alco-Brooks Railroad Display
Managed by the Dunkirk Historical Society this display (with free admission) is located in Dunkirk on the Chautauqua County Fairgrounds, featuring a few pieces of rolling stock, including Boston & Maine 0-6-0 #444 (Class G-11b) built by Alco's Brooks Works in 1916.
Buffalo, Rochester & Pittsburgh Depot Museum
As the name suggests this museum, maintained by the Western New York Railway Historical Society, is housed within a preserved Buffalo, Rochester & Pittsburgh brick depot located in Orchard Park near the northern/eastern terminus of the railroad's system.  It was originally built in 1912.
Catskill Mountain Railroad
Another popular New York train ride is the Catskill Mountain Railroad based in Kingston.  It operates on trackage built by the Ulster & Delaware Railroad, later acquired by the New York Central. It travels through the beautiful Catskill Mountain region and carried a record year recently witnessing more than 40,000 annual riders.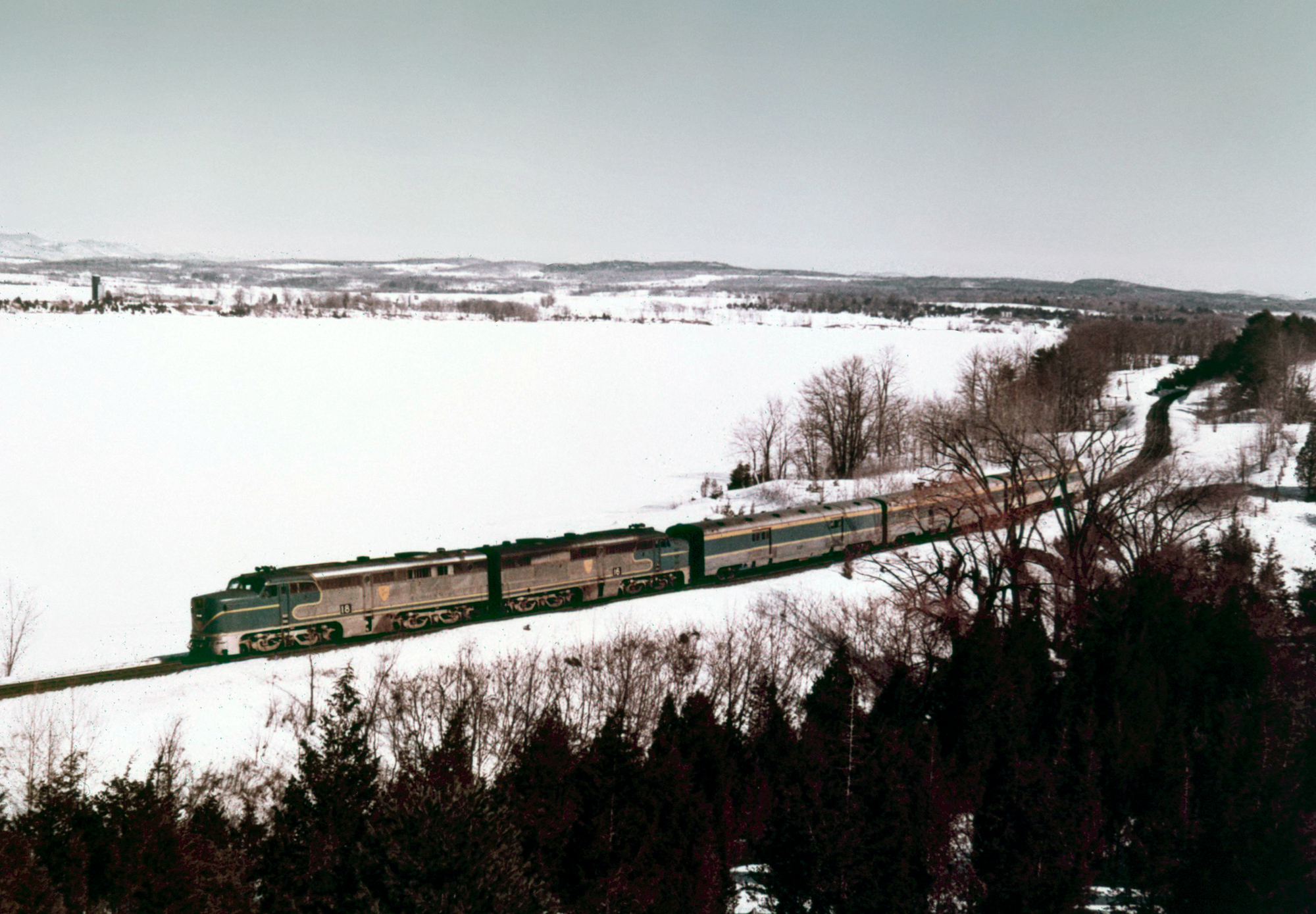 Delaware & Hudson PA-1's #18 and #16 lead the "Laurentian" northbound along Lake Champlain during the late 1960's. Jim Shaughnessy photo. Author's collection.
Central Square Station Museum
This museum is located inside the preserved New York, Ontario & Western/New York Central union depot at Central Square. 
The building houses several artifacts, historic documents and displays inside while outside can be found a rather impressive collection of rolling stock. 
These include Pennsylvania Railroad (Penn Central/Conrail/Amtrak) GG1 #4926 (#926), two 0-4-0T switchers of different heritage, a 45-ton switcher, and a 25-ton switcher.
Chester Historical Society
This organization has preserved the Erie's depot in Chester among its other historical buildings, which generally looks to keep alive the local area's history.  The museum is open from June through October.

Cooperstown & Charlotte Valley Railroad
The Cooperstown & Charlotte Valley Railroad is operated by the Leatherstocking Railway Historical Society.  The group utilizes trackage originally built a railroad known as the Cooperstown & Charlotte Valley. Trains operate through the upper Susquehanna River Valley and are powered by a few historic diesel locomotives.
Delaware & Ulster Railroad
The Delaware & Ulster Railroad is based in Stamford and operates over part of the same corridor (ex-New York Central) which the Catskill Mountain Railroad utilizes (originally built by the Ulster & Delaware Railroad). 
Their trains travel through the scenic Catskill Mountain region and depart from the depot in Arkville with an operating season running between late May and October.
Empire State Railway Museum
This museum is located inside the Ulster & Delaware's small restored depot which once served the local area. 
Along with historic artifacts displayed inside the group owns former Lake Superior & Ishpeming 2-8-0 #23, which they hope to restore one day.  Additionally, they offer rides on their scale train located nearby.  The museum is open from late May through October.
Heritage Discovery Center
Located in Buffalo, this museum's stated purpose is to tell the city's rich history in all aspects.  They state, "The museum will offer interactive, educational opportunities for young and old by providing a center of learning about railroad, industrial and maritime history."  
Hyde Park Railroad Station
This museum has preserved the New York Central's depot in Hyde Park built in 1914.  The building primarily displays artifacts related to railroads which served the local area.  It is open on select days year-round and hosts special events and activities throughout the year.
Jamestown Gateway Erie Train Station
As its name implies this organization has preserved the Erie's impressive station in Jamestown.  While tours of the building/grounds are offered the station also plays host to many events throughout the year and is even available for businesses for lease. 
Martisco Station Museum
This small museum is housed inside the NYC's beautifully restored Victorian era, brick depot that was originally constructed in 1881. 
It houses several displays and historic artifacts inside.  As with the Central Square Station Museum it is maintained and operated by the Central New York Chapter of the NRHS.   It is open from May through October.

Medina Railroad Museum
The Medina Railroad Museum's mission statement is to preserve the area's railroad history, notably the New York Central.
The museum is housed in the railroad's former freight depot and also operates a 34-mile round trip excursion along the Erie Canal Heritage Corridor during the warmer months. The trains also host special trips throughout the year such as Santa and wine trains.
New York Museum Of Transportation
This transportation museum, located in West Henrietta, aims to preserve transportation history in Upstate New York. 
They feature numerous pieces of railroad and streetcar/interurban rolling stock, some of which is operational for rides around the grounds.  Additionally, the museum is home to several artifacts, displays, and a large operating model layout.
New York Transit Museum
This facility is located in Brooklyn and has a large collection of historic artifacts, interactive displays, and other material which tells the history of the New York City's many transit systems. 
They are described as the largest such facility anywhere in the United States.  The museum is open throughout much of the year.  To learn more please visit their website.
North Creek Railway Depot Museum
Based inside the depot at North Creek is is this depot which houses a great deal of artifacts related to the Delaware & Hudson Railway. 
Their mission statement is highlight the region history with railroads and also to tell the Gore Mountain's story in general.  To learn more about the museum please visit their website.
Oyster Bay Railroad Museum
This museum looks to preserve the history of Oyster Bay's railroading past as well as that of the entire Long Island region. 
They currently have a large collection of rolling stock on hand along with many artifacts and displays.  The museum has future plans to greatly expand their presence by constructing a large complex in the area to further draw in visitors.
An A-B set of New York Central E7's, led by #4024, depart Harmon, New York around 11:48 AM with train #39, the westbound "North Shore Limited" (New York-Chicago), during April of 1948. The train's consist, seen here, included an RPO, mail/baggage, coaches, tavern-lounge coach (Buffalo), diner (New York-Buffalo), diner-lounge (Detroit-Chicago), heavyweight 12-section/1-drawing room sleeper and a lightweight 10-roomette/6-double bedroom sleeper. At Buffalo the train added a 8-section/buffet/lounge while three sleepers from the Canadian Pacific were picked up at Detroit. Ed Nowak photo.
Railroad Museum Of Long Island, Greenport & Riverhead Museum
Another railroad museum located on Long Island at Greenport and Riverhead, this organization has a number of exhibits to see along with an operating layout to peruse. 
Their long-term goal is to fully restore and operation Long Island Rail Road 4-6-0 (Class G5s) #39.  To learn more please visit their website.
Railroad Museum Of Niagara Frontier
Located in North Tonawanda within the town's restored, 1922 Erie freight depot, the museum is operated by the Niagara Frontier Chapter of the National Railway Historical Society (NRHS). 
It is the only such museum in the Buffalo area and its mission is to keep alive the history of railroading in this region.  Along with artifacts and displays the museum has several pieces of rolling stock on-hand.
Rochester & Genesee Valley Railroad Museum
Affiliated with the New York Museum of Transportation, this museum has been in operation since 1971, located at the Erie's restored depot at Industry.  Along with several pieces of rolling stock and numerous locomotives within its collection they are home to many artifacts and displays. 
Roscoe O&W Railway Museum
This facility is a division of the Ontario & Western Railway Historical Society.  It is located in Roscoe and has artifacts relating to the New York, Ontario & Western.  The museum is open during the warmer months each year.
Salamanca Rail Museum
This Salamanca Rail Museum is located at the restored brick depot built by the Buffalo, Rochester & Pittsburgh.  It is open during warmer months and features displays and artifacts related to the BR&P, other railroads, and the area in general.  There are also a few pieces or rolling stock on display.
---
---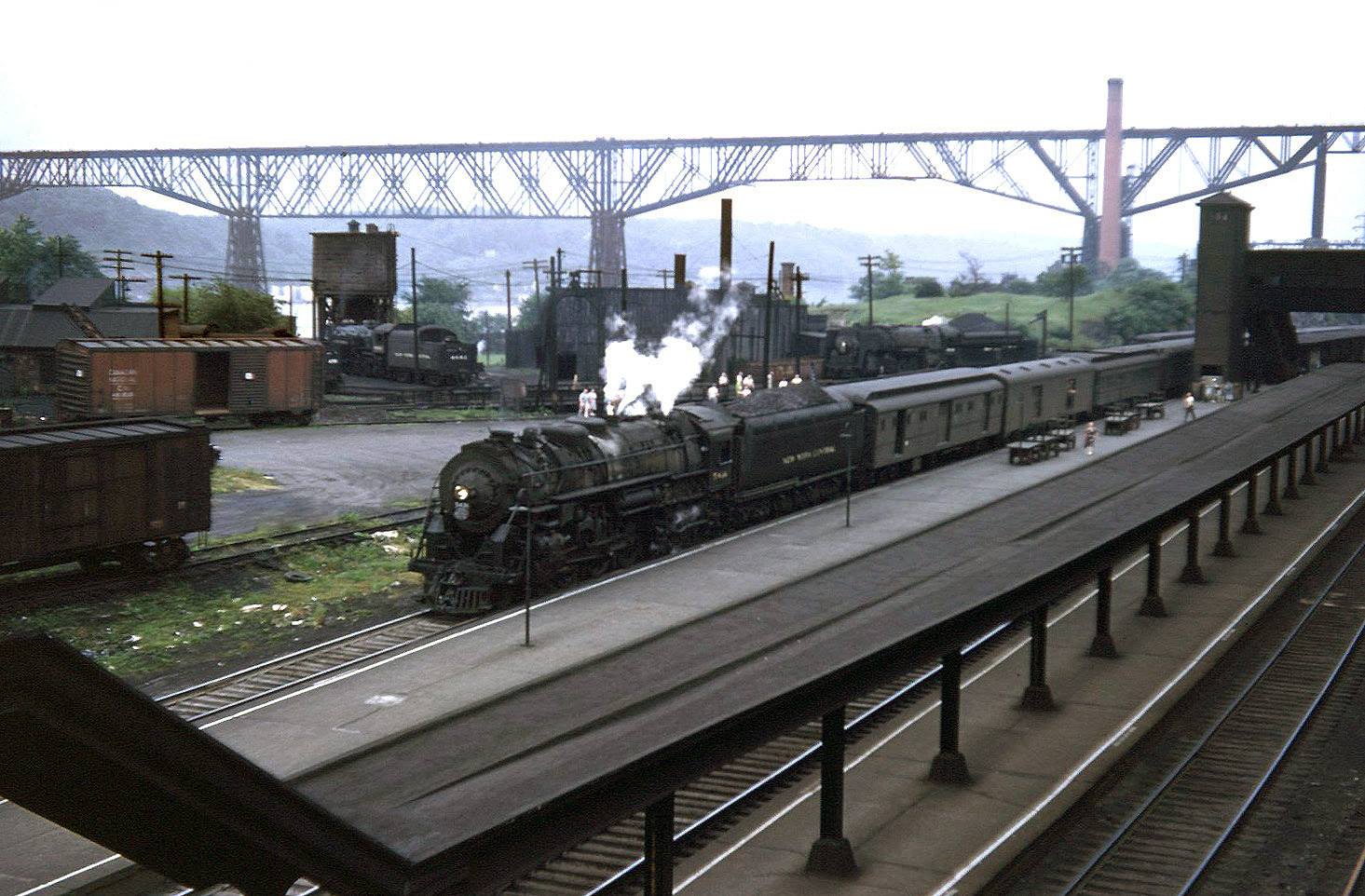 New York Central 4-6-4 #5431 has a southbound passenger consist at Poughkeepsie, New York in June of 1950. In the background can be seen the massive Poughkeepsie Bridge spanning the Hudson River which served as an important source of interchange freight for smaller roads like the New Haven, Lehigh & New England, and Lehigh & Hudson River via nearby Maybrook. Today, it is home to the Walkway Over the Hudson State Historic Park.
Saratoga & North Creek Railway
Formerly known as the Upper Hudson River Railroad until 2010, the new Saratoga & North Creek Railway is based in North Creek and operates through the beautiful Adirondack Mountains along the Hudson River.
Their excursions use the Delaware & Hudson's ex-Adirondack Branch. 
Under new management the S&NC has greatly expanded its services and now offers upscale accommodations and numerous other events and specials throughout the year.  The road is unique for its use of a rare Electro-Motive BL2 diesel locomotive.
Trolley Museum Of New York
Founded in 1955, Trolley Museum Of New York features the state's only operating trolley at Kingston. The museum operates on 1 1/2-mile of trackage and uses the former yards of the Ulster & Delaware Railroad to store and display equipment.