Oregon Train Rides
Oregon train rides define the Pacific Northwest with rugged mountain views, trips along rocky shorelines, and wet, soggy weather. Despite weather that can be less than cooperative at times, Oregon does offer some incredible scenic views with its rail excursions. Case in point, take the Mount Hood Railroad, one of the more popular tourist railroads in the country that sees thousands upon thousands of riders annually during their operating season, much of which is due to the fabulous scenes of nearby Mt. Hood. Other Oregon train excursions include the Eagle Cap Excursion Train, Oregon Coast Scenic Railroad, Sumpter Valley Railroad, and the Willamette Shore Trolley.  Please note!  The guide information here pertains only to Oregon train rides related to vacation and tourism destinations.  If you are interested in intercity/long distance rail travel please visit Amtrak's website.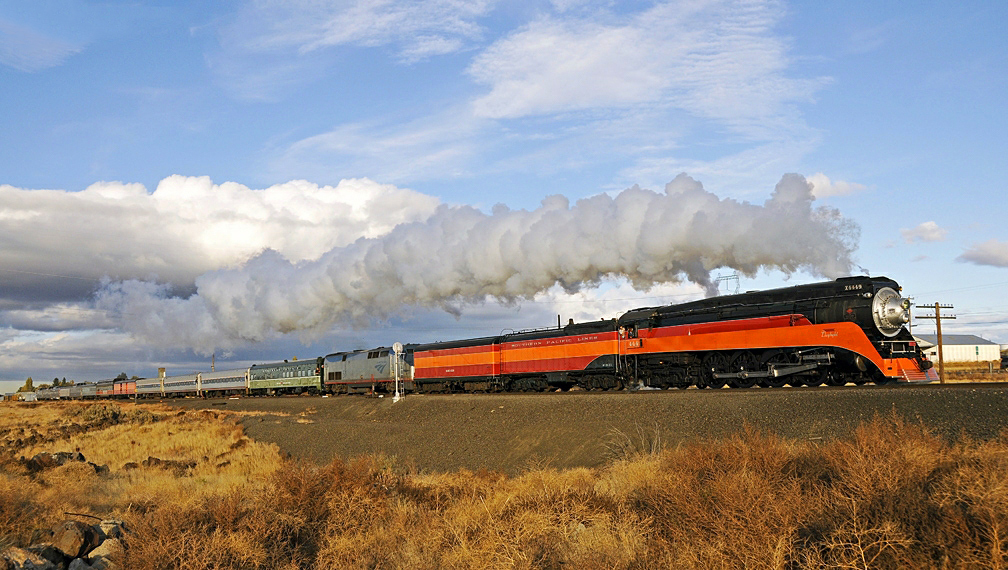 Once upon a time Oregon was predominantly served by the Southern Pacific, whose operations in the state became famous for its level of difficulty due to the rugged topography. Today, many Oregon train rides like the Mount Hood Railroad look to preserve this history through the fabulous scenery the state's secondary lines once provided. You can also catch an excursion near the coast with the Oregon Coast Scenic Railroad, which operates near Tillamook. They also use historic steam locomotives to power their trains, as does the Sumpter Valley Railroad located across the state in Sumpter. And finally, you have the chance to even ride historic trolley cars owned and operated by the Oregon Electric Railway Museum near Portland.  Also, if you are interested in Oregon train rides that pertain to specific events, such as "The Polar Express," Halloween, Thomas the Tank Engine excursions, or fall foliage events please visit the main tourist trains section of this website.
Canby Depot Museum

Owned by the Canby Historical Society this museum is situated inside the town's restored Southern Pacific depot.  Inside are several historic displays to peruse while a caboose its nearby.  For more information please visit their website.

Eagle Cap Excursion Train
The Eagle Cap Excursion Train, based in Elgin, Oregon operates train rides in northeast Oregon on trackage owned by the Wallowa Union Railroad Authority, which also operates freight service on the line. The trains use RDCs (or Rail Diesel Cars) for their excursions which follow the Grande Ronde River. 
Flower Farmer and Phoenix & Holly Railroad
This organization hosts scale-train rides (15 and 24-inch gauge equipment) and is located in Canby.  Their season begins each year on Memorial Day.  For information about riding their train please visit their website.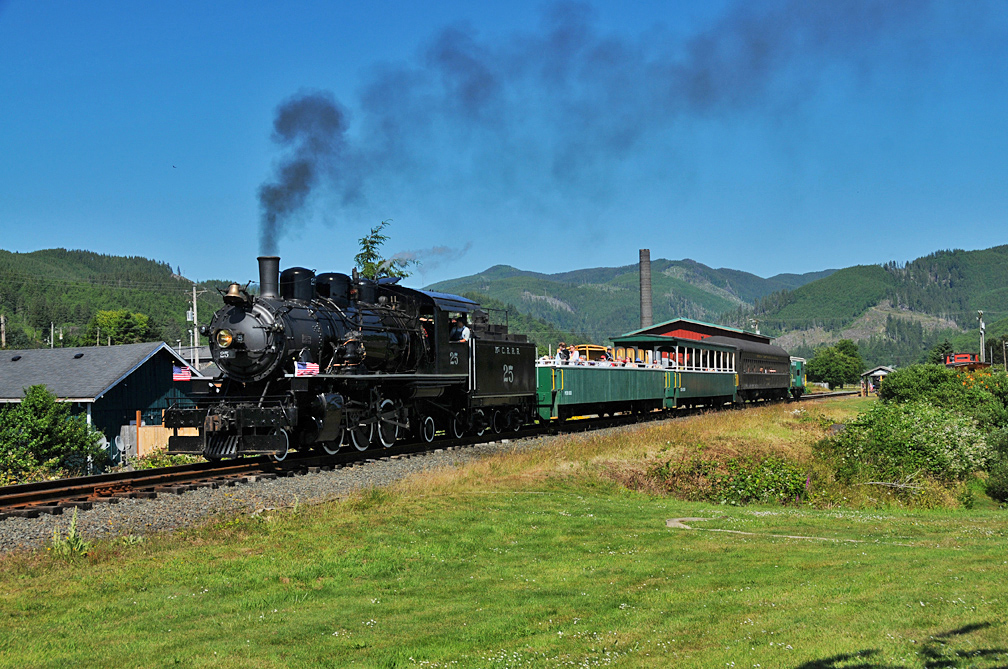 Medford Railroad Park

Owned and operated by the Southern Oregon Railway Historical Society the park features a "1 1/2-inch scale live steam train rides, HO scale model layout, displays of full size railroad equipment used in the area, a garden railway (G scale) layout and a working exhibit of Morse telegraphy."

Mount Hood Railroad
The Mount Hood Railroad hosts train rides between Hood River and Parkdale (about 60 miles) along a corridor that carriers a heritage dating back to 1906. As it stands today the company provides both freight and passenger trains on its line offering guests a wide range of amenities during their excursion using the company's equipment of climate-controlled cars. 
Oregon Coast Historical Railway
This operation is located in Coos Bay with a selection of historic equipment on the grounds to see, much of which is from the logging industry.  The group also owns Coos Bay Lumber Company 2-8-2 #104 and Alco S2 #111, built in 1949 for the Longview, Portland & Northern Railway.  For more information please visit their website.
Oregon Coast Scenic Railroad
The Oregon Coast Scenic Railroad is based in Tillamook.  It is one of the state's mos popular train rides and has operated on the Port of Tillamook Bay Railroad since 2002 using a historic Climax geared steam locomotive for power. Along with standard excursion trains the railroad also operates special and seasonal trains throughout the year, including dinner trains. 
Oregon Rail Heritage Center
Opened on September 22, 2012 this facility, located in Portland, is the new home of Southern Pacific 4-8-4 #4449 (operational); Spokane, Portland & Seattle 4-8-4 #700 (operational); Oregon Railroad & Navigation 4-6-2 #197; and various other pieces of rolling stock.  To visit the museum please visit their website for more information.

Sumpter Valley Railroad
The Sumpter Valley Railroad, based in Sumpter, located in northeast Oregon, operates on trackage originally owned by the Sumpter Valley Railway. The railroad was created to preserve this corridor and today hosts popular train rides while continually restoring the trackage. They currently have two operational steam locomotives on their property. 
Washington Park & Zoo Railway
Located in Portland at Washington Park the railroad is a 2-foot, 6-inch narrow-gauge scale train.  It transports visitors between the Oregon Zoo, Hoyt Arboretum, International Rose Test Garden, and the World Forestry Center.  For more information please visit their website.
Willamette Shore Trolley
The Willamette Shore Trolley is operated by the Oregon Electric Railway Museum, the largest trolley/interurban museum in the Pacific Northwest. It currently operates trolley service on a 6-mile section of railroad between Lake Oswego and Portland.
Home

›
Tourist Train Information
› Oregon