South Dakota Scenic Train Rides: A Complete Guide

Last revised: December 29, 2021
By: Adam Burns
Like its northern neighbor, there are few railroad attractions available in the Mount Rushmore State.  However, South Dakota scenic train rides do exist! 
Its star attraction is the Black Hills Central Railroad in Hill City.  This popular tourist train operates a short section of a former Chicago, Burlington & Quincy branch line which was located along the far reaches of its system in western South Dakota. 
Excursion trains began running here in 1957 and the modern Black Hills Central maintains about 10 miles of the old CB&Q property. 
What's more, trains are even pulled by restored steam locomotives! 
You can also ride behind an iron horse at the Prairie Village near Madison as they maintain two operational steamers, which pull short excursions over about 2 miles of track.
In his book, "The Routledge Historical Atlas Of The American Railroads," historian John F. Stover notes that South Dakota's rail mileage peaked at 4,276 in 1920. 
It contained a mixture of main lines (Milwaukee Road and the Chicago & North Western) and agricultural/mining branches.  With so much of the latter scattered across the state, many were abandoned after the 1970's. 
The Association of American Railroads notes South Dakota currently boasts 2,029 miles.  The information below highlights tourist attractions found throughout South Dakota.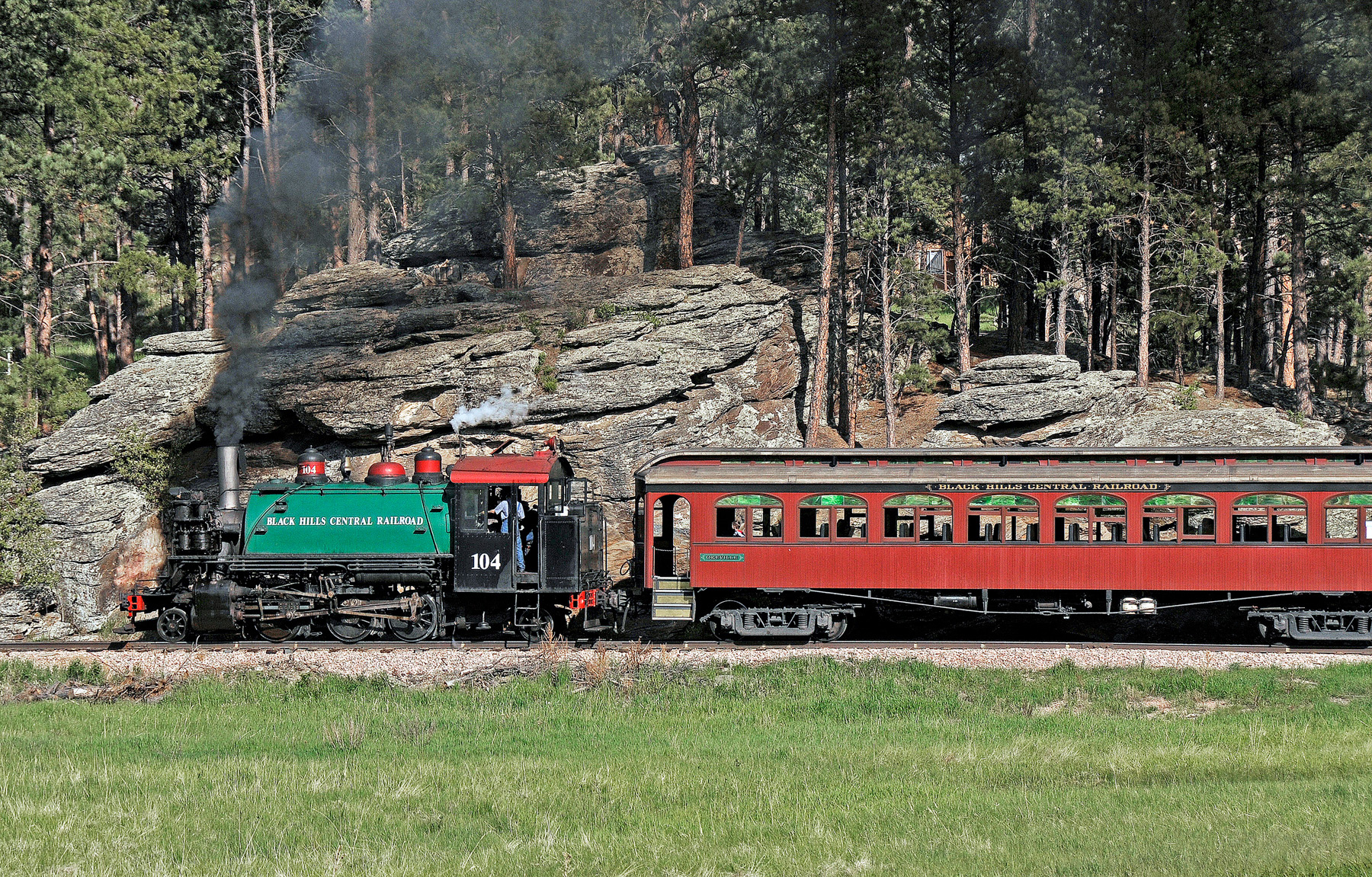 A Brief History Of South Dakota Railroads
Railroad construction across the Midwest took off in the years immediately following the Civil War and reached its zenith during the 1870's and 1880's, dampened only by the financial Panic of 1873. 
In 1870 the nation's rail mileage stood at 52,922; by 1880 this number had swelled to 93,267 miles and then reached 163,597 miles by 1890. 
The story of South Dakota's first railroad begins with the Sioux City & Pacific Railroad (SC&P), which intended to open improved transportation to northwestern Iowa and Dakota Territory by linking up with Union Pacific's main line at Fremont, Nebraska. 
The project involved various subsidiaries, most notably the Cedar Rapids & Missouri River Railroad organized on January 16, 1860. 
This carrier, in conjunction with the SC&P, opened a line between those two towns in early 1869. 
The SC&P was led by John I. Blair, who sought to continue the railroad on to Yankton, Dakota Territory and eventually reach the Canadian border by following the James River. 
According to the South Dakota State Historic Preservation Office, in a dissertation prepared by Mark Hufstetler and Michael Bedeau in July, 1998, Blair formed the Dakota Southern Railway Company in 1871 to connect Yankton with Sioux City.
Trains Magazine notes in the article, "Great Railroading: State-By-State," published in its January, 2007 issue, construction began in June, 1872 and soon reached Vermillion, Dakota Territory later that summer (North Dakota and South Dakota were split on November 2, 1889 to become the 39th and 40th states in the Union). 
It was completed to Yankton in February, 1873.  In 1881 the railroad became a part of the Chicago, Milwaukee & St. Paul Railway (CM&StP). 
Better known as the Milwaukee Road, this system blanketed South Dakota with agricultural branches. 
It also maintained two through routes in the state; one which terminated at Rapid City and the other, its legendary Pacific Coast Extension.
After turning down James Hill's proposal to purchase the property, new president Albert J. Earling (1899) wanted the CM&StP to open its own route to the west coast.
The company's board of directors approved the plan in 1905 and a financially healthy CM&StP went west, at a projected cost of $60 million. 
After all the needed rights-of-way were acquired (privately purchased without the aid of land grants), construction began from Mobridge, South Dakota, a tiny hamlet that sat along the Missouri River's eastern bank. 
With crews working rapidly from multiple directions the entire Pacific Coast Extension was finished in a mere three years with the formal "Last Spike" ceremony held at Garrison, Montana on May 19, 1909.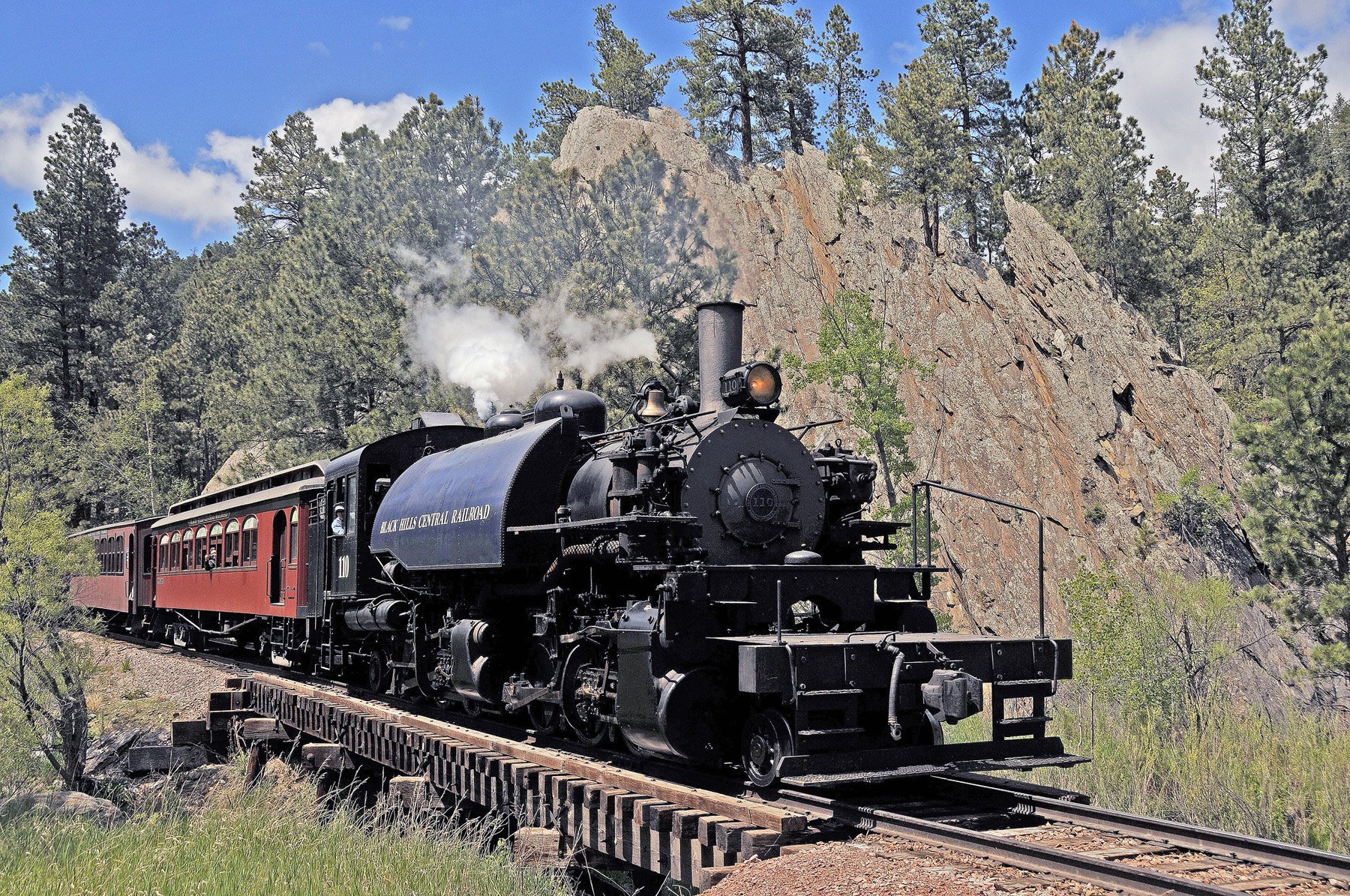 Black Hills Central Railroad

The state's only notable excursion line, the "1880 Train" features historic steam locomotives and one of the only places in the country that utilizes the "Mallet" compound design (2-6-6-2T #110). 
The railroad's trackage is a section of the former Chicago, Burlington & Quincy's Keystone Branch running between Hill City and Keystone, South Dakota. 
They also  host a number of specials during the year, including the Holiday Express; a Christmas-decorated train allowing kids to see Santa and receive a small gift. 
As one of the premier such attractions in the country, the Black Hills Central is a must-see!  They not only operate another steam locomotive, 2-6-2T #103, but also display several other steamers on their property. 
Preserved Steam Locomotives Across South Dakota
Railroad/Number

Branch Mint Railroad #1

Duluth & Northeastern #29


Duluth & Northeastern #30

Grand Rapids Gravel #7


Homestake Mining 

Homestake Mining


Homestake Mining #30 


Homestake Mining #29

Hibernia Ag #5


Homestake Mining #9


Homestake Mining #7

Homestake Mining #14


Homestake Mining #27

Homestake Mining #2


Homestake Mining #35

Homestake Mining #1-A


Homestake Mining  #24

Kelley Island Lime & Transport  #11

Prescott & Northwestern #7

Silver Falls Timber #103

Silver Falls Timber #104

South Dakota State Cement

South Dakota Cement

Weyerhaeuser #108

Rayonier #110


Arrangement

0-4-0T

0-6-0 (Operational)

0-6-0

0-4-0T

0-4-0T

0-4-0CA

0-4-0CA

0-4-0CA

0-4-0T (Restoration)

0-4-0CA

0-4-0CA

0-4-0CA

0-4-0CA

0-4-0CA

0-4-0CA

0-4-0CA

0-4-0CA

0-4-0T (Operational)

2-6-2

2-6-2T (Stored)

2-6-2T (Operational)

0-4-0T

0-4-0T

2-6-6-2T (Restoration)

2-6-6-2T (Operational)


Builder/Date

HK Porter/1906

Lima/1904

Alco/1921

Davenport/1921

Baldwin/1879

HK Porter

HK Porter/1915

HK Porter/1913

Orenstein & Koppel/1927


HK Porter/1907

HK Porter/c.1912

HK Porter/1908

HK Porter/1910

HK Porter/1903

HK Porter/1931

HK Porter/1928

HK Porter

Alco-Cooke/1924

Baldwin/1919

Baldwin/1922

Baldwin/1926

HK Porter/1924

HK Porter/1911

Baldwin/1926

Baldwin/1928

Location

Custer

Prairie Village/Madison


Black Hills Central/Hill City

Murdo

Deadwood

Sturgis

Wade's Gold Mine/Hill City

Huron

Prairie Village/Madison


Black Hills Mining Museum/Lead


Black Hills Mining Museum/Lead


Black Hills Mining Museum/Lead


Gold Run Park/Lead

Lead

Lead

Lead

Lead

Prairie Village/Madison

Black Hills Central/Hill City

Black Hills Central/Hill City

Black Hills Central/Hill City

Huron

Rapid City

Black Hills Central/Hill City

Black Hills Central/Hill City

Prairie Village
This historic museums is located near Madison, South Dakota on the shores of Lake Herman. 
It spans 120 acres and features more than 40 buildings which display hundreds of artifacts from the early 20th century. 
Among their collection includes preserved chapel cars, numerous tractors, two depots, and three locomotives. 
They also operate the "Prairie Village, Herman & Milwaukee Railroad" which maintains about 2 miles of track. 
Trains are pulled by a restored 0-6-0, #29, originally built by the Lima Locomotive Works in 1944 for the Duluth & Northeastern Railroad. 
In 2017 the organization also brought another steamer back to life, 0-4-0T #11, manufactured by American Locomotive in 1924.  Finally, be sure to stop by for their "Railroad Days" event held each summer!
---
---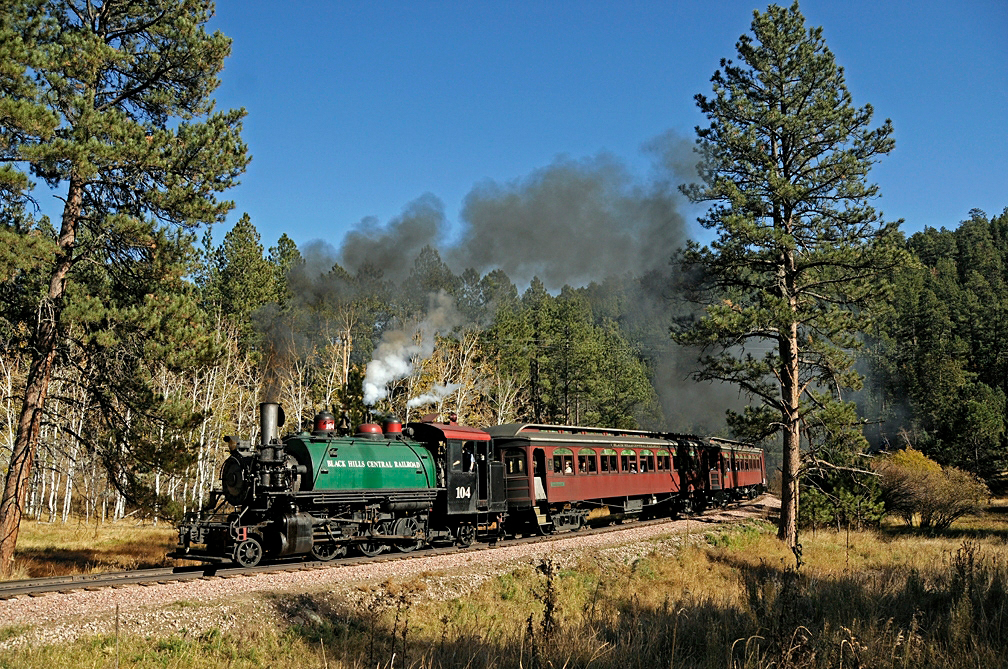 South Dakota State Railroad Museum
Maintained by the same group which operates the 1800 Train, this organization is the state's only official railroad museum. 
The museum was launched in 1994 and is located in Hill City.  Due to the Dakotas' harsh winter weather, it is only open seasonally. 
Its stated purpose is as to:
"...operate a railroad museum which will serve as a central location from which to collect, interpret, preserve and display any and all objects, documents, photographic images, and artwork related to the various railroads that operated in the region now known as South Dakota; and to use any and all of these items to educate and inform the public of the vital role of railroads in South Dakota's history in the past, present, and future." 
Thanks to the 1880 Train's success, the museum has grown too and is now housed in a facility which opened only in 2010.  If you are visiting the railroad be sure to also stop by the museum!