Texas Train Rides

Texas train rides are not as plentiful as one might expect given the state's size and the fact that over 16,000 miles of railroads once criss-crossed the state.  However, there are a handful of great organizations to choose from.  In any event, you do have the option of seeing both historic steam and diesel locomotives in action and you can even catch a trolley at the McKinney Avenue Transit Authority in Dallas. The state's busiest and most popular tourist train is the Texas State Railroad, which offers visitors a multitude of different excursion options and packages as well as hosting numerous special activities and events throughout the year.  Please note!  The guide here pertains only to Texas train rides related to vacation and tourism destinations.  If you are interested in intercity/long distance rail travel please visit Amtrak's website.
Because of the state's size, valuable natural resources (oil, for instance), and important cities (Dallas/Fort Worth, Galveston, San Antonio, etc.) Texas found itself home to thousands and thousands of miles of rails. These lines were owned by once famous names like the Santa Fe, Katy, Frisco, Southern Pacific and others who operated well known passenger trains like the Sunset Limited, Super Chief, and others through the state. Today, the four tourist railroads you can ride in Texas try to keep this history alive and offer folks some of the different excursion options mentioned above depending on your interest and budget.  Finally, if you are interested in Texas train rides that pertain to specific events, such as "The Polar Express," Halloween, Thomas the Tank Engine excursions, or fall foliage events please visit the main tourist trains section of this website.
Texas Train Rides And Museums, 2018
Austin Steam Train Association
The Austin Steam Train is based in Austin, Texas operating through the state's "Hill Country" uses tracks once owned by the Southern Pacific. The line is 163-miles in length and used as both a commuter and freight rail line today with the Steam Train having permission to operate excursion trains on the line. Along with their standard excursion the train also offers murder mystery specials, seasonal trips, and charters.
Edwin Olsen Railroad Museum

"The former Gulf, Colorado & Santa Fe railroad depot in Clifton has been restored with the old passenger section of the building being transformed into a railroad museum. The original depot building was built in 1880 but burned in 1901 and was replaced with the current building. The Gulf, Colorado & Santa Fe originated in Galveston and many Texas towns along the route were created by the railroad and named after various personalities within the railroad including Rosenberg, Sealy, Cameron, Temple, Moody, Kopperl and Morgan, to name a few. Like many railroads in the era, the GC&SF encountered financial difficulty and was subsequently bought by the larger and more famous "Santa Fe", the Atchison, Topeka & Santa Fe Railway in 1888. In that era, the railroad was an economic juggernaut and was the cause for a migration of the town of Clifton from its original location, a bit north on the Bosque River, to be next to the rails. Equipment, furniture and other goods and supplies, both large and small, arrived on a railhead directly behind the major store fronts. Local farmers shipped their crops and cattle by rail; a grain elevator, a dedicated cotton bale loading platform and a cattle corral were all located on Clifton's rails just south of the depot. At its peak, Clifton had seven active sets of rails passing through town, distributed on both sides of the depot building.
With the rapid growth of the highway system and more affordable and reliable automobiles combined with the dawn of the airline industry, national demand for railroad passenger service plummeted after World War II and in 1953 scheduled passenger service in Clifton was terminated. Santa Fe's "Texas Chief", which operated between Galveston and then Houston and Chicago, continued to pass through Clifton with the closest stop being in McGregor. In 1967 the U.S. Postal Department terminated the vast majority of mail contracts with America's railroads. Those mail contracts were the lifeblood of the passenger train service and after the contract cancellation, the railroads rushed to drop unprofitable passenger service all across the country. In 1971 Amtrak assumed nearly all passenger rail traffic in the United States with Santa Fe's "Texas Chief" being ultimately replaced by Amtrak's Texas Eagle which still passes through Clifton to and from Chicago.
In 1983 local freight traffic had also diminished substantially and the Santa Fe closed the agency in Clifton, donating the depot building to the City of Clifton with the proviso that it be moved off the AT&SF right-of-way. The City moved the depot to about two blocks north and two blocks west of its original position and converted it into the headquarters for the Clifton Police Department, a capacity in which it served for over 25 years.
The railroad industry went through yet another series of financially trying times. Many railroads were failing and mergers and acquisitions became commonplace throughout the industry as the railroads worked to survive in an environment where the many operational interfaces between the customers and the various railroads produced huge inefficiencies. A proposed merger of the Santa Fe with the Southern Pacific was blocked by the federal government. Although still profitable, the Santa Fe needed a partner and in 1995 the Santa Fe was acquired by the Burlington Northern, giving birth to the Burlington Northern Santa Fe or BNSF. BNSF still uses sidings in Clifton for occasional local freight shipments but most of the trains now simply pass through town on their way to other destinations. 
After the police department moved into a more spacious and modern home, the depot fell into ill repair. Very little maintenance had been done in 30 years. So, in 2016 the family of Edwin Olsen, a long time Clifton resident and a die-hard railroad enthusiast, generously offered to finance much needed repairs and improvements to the depot including a new roof, carpentry repairs, new heating and air conditioning, electrical work and both interior and exterior paint, interior lighting, landscaping and display cases and many items for those cases. So in April, 2017 Amtrak's Texas Eagle made the first scheduled passenger stop in Clifton in over 54 years and de-boarded over 60 passengers to help celebrate the grand opening of the Edwin Olsen Railroad Museum. 
While naturally focused on the Santa Fe, the museum houses historical railroad items from many other famous railroads. A fully functional HO-scale model railroad layout exposes a new generation  to model railroading while kindling fond memories for many other railroad fans. 
The City of Clifton owns and operates the museum, which is open on the 1st and 3rd Saturdays of the each month, except for holiday weekends, from 10am to 2pm. The museum is also open to school tour groups, civic organizations and others by special arrangement through the City offices."
Flatonia Rail Park
This attraction is located in Flatonia features railroad history of the local area including a small pavilion, museum, original switching tower, and caboose on the grounds.
Forest Park Miniature Railroad
This attraction is located at 1700 Colonial Parkway in Fort Worth and features a 5-mile trip from the Forest Park Depot to the Duck Pond in Trinity  Park and back.  The rides last about 30-45 minutes.  The little railroad has been in operation since 1959.  To learn more please visit their website.
Galveston Railroad Museum
One of the state's larger railroad museum the facility at Galveston features an impressive collection of rolling stock and preserved locomotives along with a wide range of displays and artifacts.  Some of their noted pieces include a pair of cosmetically restored Santa Fe F7s (ex-Southern Pacific) and SP/T&NO 4-6-0 #1 built by Alco in 1892.  There is also an operating model layout and short train rides on the grounds.
Grapevine Vintage Railroad
The Grapevine Railroad, based Grapevine, Texas operate train rides between its headquarters and Fort Worth on trackage originally owned by the St. Louis Southwestern Railway (The Cotton Belt). Along with two operable steam locomotives the railroad also has a GP7 diesel locomotive on hand to power its trains. The railroad operates numerous specials throughout the year (such as hosting "A Day Out With Thomas" the tank engine) along with their standard excursion schedule.
Historic Jefferson Railway
The Historic Jefferson Railway, also known as the Jefferson & Cypress Bayou Railway, is a 3-foot, narrow-gauge located in Jefferson, Texas.  It has been in service since 1985 and uses 4-4-0 #7 for power, to pull trips on a 3-mile journey through the Big Cypress Bayou.  The railroad hosts several special train rides and other trips throughout the year.  To learn more please visit their website.
History Center
The History Center is located in Diboll and is an organization which looks to keep alive the history of the entire East Texas region.  They feature a small collection of rolling stock on the grounds, including Texas Southeastern/Southern Pine Lumber 4-6-0 #13 built by Baldwin in 1920 as well as a large exhibit of historic photos relating to the area's lumber industry.
Houston Railroad Museum (Closed For Relocation)
The Houston Railroad Museum is located at 7390 Mesa Road in Houston and is operated by the Gulf Coast Chapter of the NRHS.  They are home to a nice collection of rolling stock and three early, first-generation diesel switchers of Baldwin and Alco heritage.  The facility also houses displays and artifacts.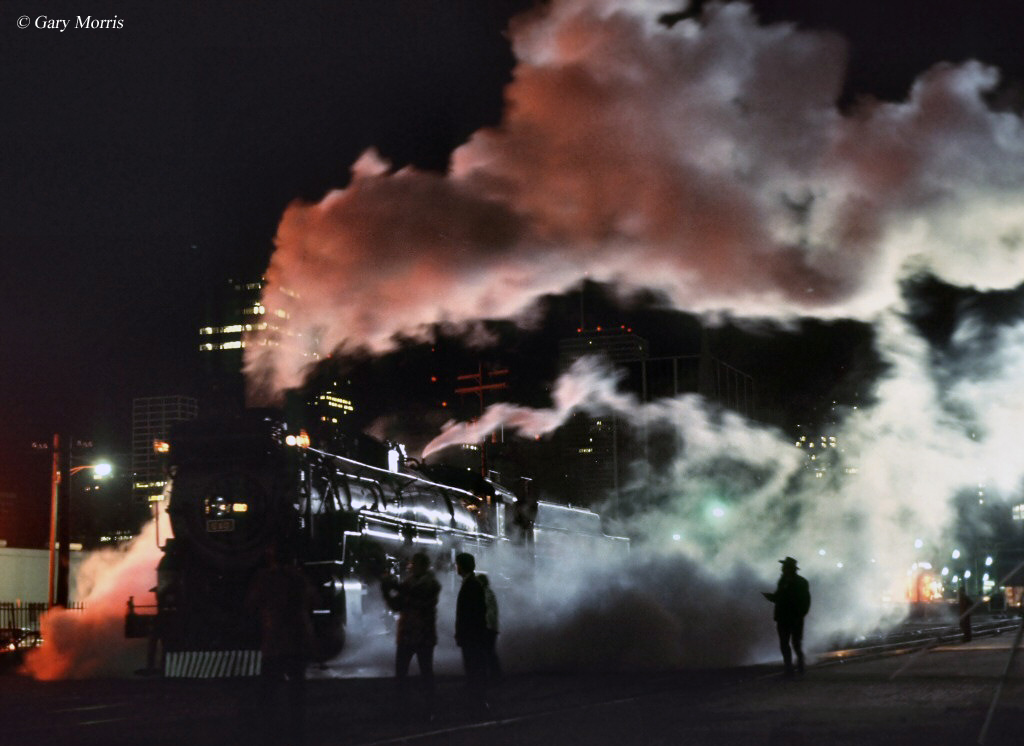 Interurban Railway Museum

This museum, located in Plano, looks to tell the history of the interurban/streetcar service which once operated in the area and known as the Texas Electric Railway, formed in 1916 through the merger of predecessor carriers.  It was very large for an interurban with three branches radiating away from Dallas.  The museum features numerous displays and a preserved interurban car.

McKinney Avenue Transit Authority
The only operating vintage trolley service in the state, the McKinney Avenue Transit Authority serves its namesake street in Dallas (in the Uptown district) as well as a section of St. Paul Street and Cole Avenue. Service is provided by restored trolley cars that are climate controlled.
Museum Of The American Railroad
Another of the state's larger railroad museums the Museum Of The American Railroad, now located in Frisco, features an impressive collection of rolling stock including Union Pacific "Big Boy" 4-8-8-4 #4018, Frisco 4-8-4 #4501, Frisco 2-10-0 #1625, and one of only two preserved Alco PAs still in the United States, former Santa Fe #59-L (under restoration).  To learn more about their facility please visit their website.
New Braunfels Railroad Museum
This museum, located in New Braunfels, features a collection of artifacts and displays related to the railroads which serve the region including the Missouri Pacific/International-Great Northern and Missouri-Kansas-Texas (Katy).  They are home to a few pieces of rolling stock including Florida Portland Cement 0-6-0T #7 built by H.K. Porter in 1942.
Railway Museum San Angelo
This museum is located inside San Angelo's beautifully restored Kansas City, Mexico & Orient Railway (later Santa Fe) depot.  Inside they feature numerous displays as well as an operation model train layout.  Also, outside be sure to check out their 44-ton switcher and GP9 road-switcher (former Northern Pacific #211 but preserved as South Orient #103).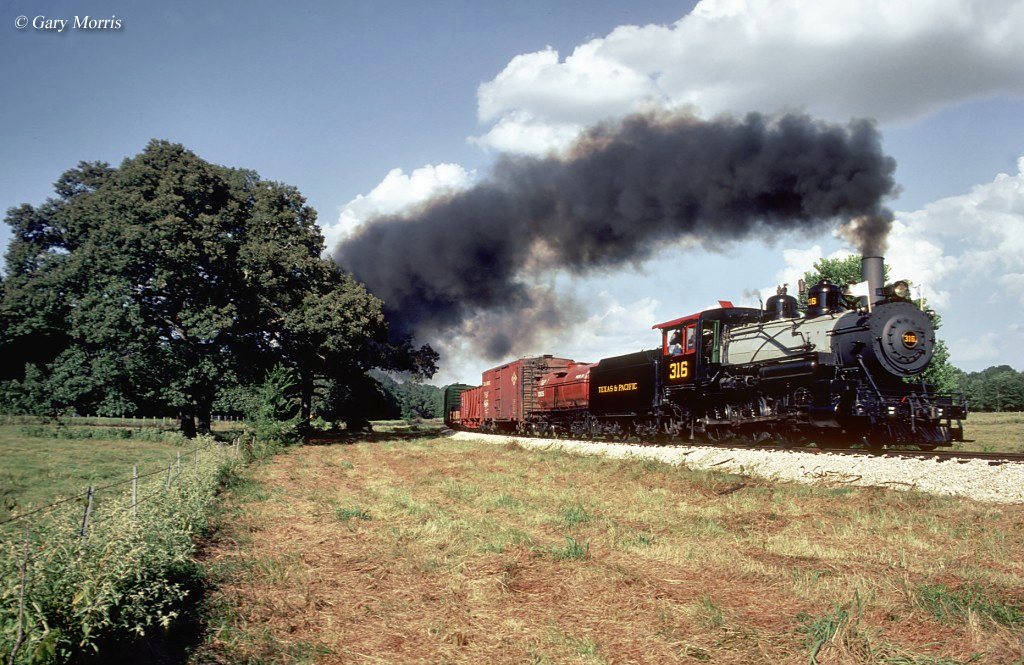 Texas & Pacific Railway Museum
The Texas & Pacific Railway Museum is located inside Marshall's restored, two-story brick 1912 Texas & Pacific (Missouri Pacific) depot, which is also used as an Amtrak stop.  The facility attempts to preserve the history of the T&P and has a large collection of artifacts and displays on-hand while outside be sure to see the Union Pacific caboose.

Temple Railroad & Heritage Museum
This historical organization is located inside the beautifully restored 1911 Gulf, Colorado & Santa Fe Railway (Santa Fe) at Temple.  The museum looks to tell the history of railroads within the region and the role they played.  Inside are several exhibits and historic artifacts on display while they are also home to an archives and library wing.  To learn more please visit their website.
Texas State Railroad
The state's most popular train ride is the Texas State Railroad, based in Rusk and Palestine, Texas. Using trackage once owned by the Southern Pacific the railroad features two operating steam locomotives and a vintage diesel locomotive (an Alco RS2). Along with their standard excursions the railroad hosts numerous specials throughout the year.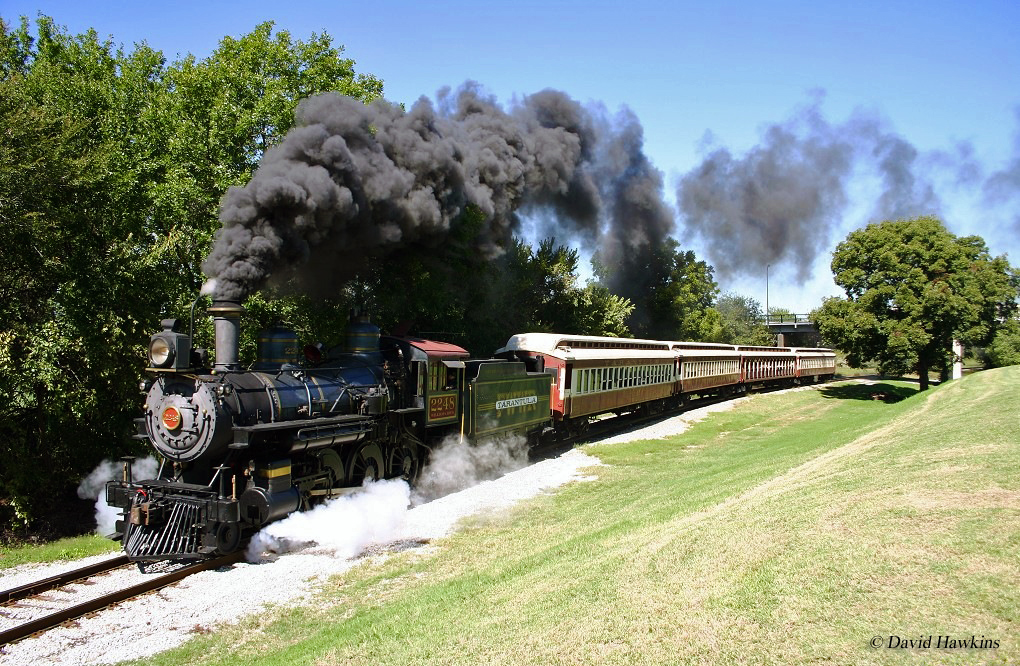 Texas Transportation Museum
The Texas Transportation Museum, located in San Antonio, has several pieces on-hand to peruse from fire trucks to farm tractors.  They also feature a large collection of rolling stock and locomotives, including a few steam locomotives and operational diesel switchers that pull short excursion trains.  Along various other artifacts be sure to check out all of their model layouts on display.
Wichita Falls Railroad Museum
This museum has been in Wichita Falls since 1980 and features a nice collection of rolling stock and locomotives to exhibit including Fort Worth & Denver 2-8-0 #304 built by Alco in 1906.  They are open most Saturdays of each week.  To learn more please visit their website.

Home

›
Tourist Train Information
› Texas