Arizona Scenic Train Rides (2023): A Complete Guide

Last revised: June 4, 2023
By: Adam Burns

The deserts of Arizona may not seem a likely place to find high-class scenic train rides but surprisingly, two of the most popular can be found there, the Grand Canyon Railway and Verde Canyon Railway. 

In addition, the Sierra Madre Express pampers guests with an unforgettable experience, hearkening back to the "Silver Age" of rail travel when on-board meals were freshly-prepared, the scenery was spectacular, and a comfortable bed beckoned each night. 
It operates from Tucson through Mexico as a multi-day adventure which must be planned/booked far in advance.  The Verde Canyon Railway is nestled in central Arizona and has blossomed into a very popular, upscale attraction since its 1990 debut.
Finally, the Grand Canyon Railway operates in a class by itself, whisking passengers to the Grand Canyon's South Rim. 
Other entertainment venues include the Paradise & Pacific Railroad offering miniature train rides and the Old Pueblo Trolley hosting trolley trips in Tucson.  Also included within this guide are railroad museums. 
Please note!  The information here pertains only to scenic train rides in Arizona related to vacation and tourism destinations.  If you are interested in intercity/long distance rail travel please visit Amtrak's website.
State Rail History

Unlike in some states where a quaint, relatively forgotten operation holds the honor as the first railroad, Arizona's story is relatively straightforward.  Its involvement with the iron horse began with Southern Pacific's march eastward from the west coast. 
The so-called "Big Four" consortium (Collis P. Huntington, Leland Stanford, Charles Crocker, and Mark Hopkins) had recently completed the Transcontinental Railroad's western leg, known as the Central Pacific, and held a grand ceremony at Promontory Summit, Utah on May 10, 1869 to mark the occasion in conjunction with the Union Pacific. 
Afterwards, the group maneuvered to dominate California's intrastate trade and extend their railroad beyond its borders. 
To do this they formed the Southern Pacific Railroad in 1870, which broke away from the Bay Area and headed for Arizona.  Its ultimate destination was Texas and the Gulf Coast. 
By 1876 the SP had reached Los Angeles; it then turned east and opened to Fort Yuma, Arizona a year later (May, 1877). 
According to an in-depth analysis Trains Magazine published in its January, 2007 issue entitled, "Great Railroading: State-By-State," rails arrived in the city of Tucson in 1880.  As work progressed at a lightning-fast pace, the SP was extended to El Paso, Texas by 1881.
In the succeeding years, several other railroads entered Arizona, notably the Atchison, Topeka & Santa Fe.  The AT&SF was SP's primary rival in the Grand Canyon State and throughout the Southwest. 
According to Keith Bryant, Jr.'s excellent book, "History Of The Atchison, Topeka & Santa Fe Railway," it arrived shortly after the SP as the company's leader, William Barstow Strong, sought his own Pacific coast connection. 
Instead of battling with Huntington for access into California, he opted for a southwesterly routing through New Mexico and southeastern Arizona, which ultimately terminated at Guaymas, Mexico along the Gulf of California. 
This western port was designed to capture the "China trade" and all business originating to and from the South Pacific, Latin American, New Zealand, and Australian regions.  In addition, this corridor was actually several hundred miles shorter from New York City than SP's San Francisco line. 
The project was a three part endeavor: first, the Sonora Railway was chartered in 1880 to build from Guaymas to the U.S. border at Nogales, Mexico; second, trackage rights over the SP were secured between AT&SF's end-of-track at Deming, New Mexico and Benson, Arizona; and finally, the AT&SF built a 90-mile connector from Benson to Nogales.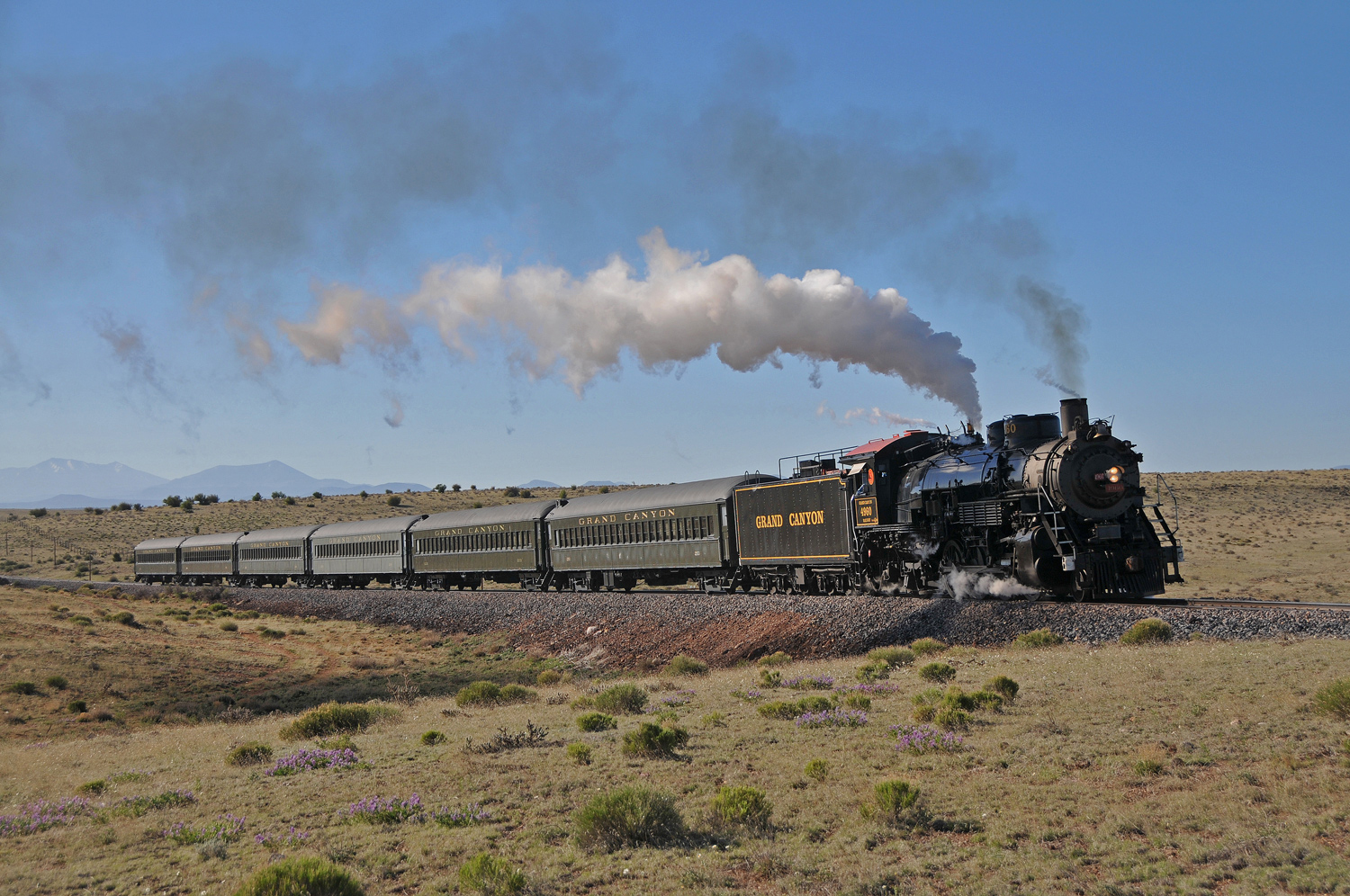 The latter was constructed as the New Mexico & Arizona Railroad and undertaken throughout the summer of 1882 with crews completing the extension on October 25th that year. 
Unfortunately, Santa Fe's Mexican route never materialized as expected and the company would later open its own line into California (eventually serving all of the state's major cities).  At its peak, Arizona was home to some 76 different railroads, many small short lines. 
According to the book, "The Routledge Historical Atlas Of The American Railroads" by author John F. Stover, the state's network reached its zenith in 1920 when 2,478 miles were in service.  Over the years this number has steadily dropped as other modes of transportation, notably trucks and automobiles, led to abandonments. 
The Association of American Railroads notes Arizona currently has 1,780 active miles, operated by 11 different railroads. 

Overview
Arizona Railway Museum
This museum is located in Chandler, somewhat southeast of Phoenix.  The organization was launched in 1983 and its collection generally focuses on preserving Arizona's railroad history, as well as that of the entire Southwest.
Their more notable pieces include:
Homestake Mining 0-4-0CA #5 (manufactured by H.K. Porter in December/1905)


Southern Pacific 2-8-0 #2562 (listed by the railroad as a Class C-9 "Consolidation" it was out-shopped by the Burnham, Williams & Company [Baldwin Locomotive Works] in 1906)


Chicago & North Western E8A #5022-B (built by Electro-Motive in July/1950)


Magma Arizona Railroad DRS-6-6-1500 #10 (originally built by Baldwin for the McCloud Railway as its #29 in July/1950).
Due to the region's extreme summer heat the museum is closed from late May through early September.  Admission is free!
Grand Canyon Railway
One of the most popular train rides in the country is the Grand Canyon Railway, offering upscale trips through the beautiful Arizona desert.  You depart from Williams and 64 miles later arrive at the world-renowned Grand Canyon National Park over trackage (originally owned by the Atchison, Topeka & Santa Fe). 
At the South Rim you can stay at the historic El Tovar Hotel (among other accommodations) or simply enjoy the incredible views.  During the trip there are many level of services provided, from standard coach to dome-cars. 
There are also several vacation packages to choose from.  The popularity of the Grand Canyon has certainly increased since its inception in 1988, and today, the railroad's diesel and steam locomotives pull a well-maintained fleet of restored passenger equipment for unparalleled enjoyment and spectacular views. 
Old Pueblo Trolley
The Old Pueblo Trolley opened on April 17, 1993 to preserve Tucson's transit history.  The city's first electrified streetcars entered service on June 1, 1906 to replace what had been horse and mule-powered operations (typical in many towns and cities of that time period). 
Unfortunately, the classic trolley proved very susceptible to other modes of competition, including standard steam railroads.  Early automobiles, notably Ford's Model T, put many out of business by the 1920's while the Great Depression finished off the industry. 
The Tucson operation was no different and the last cars ran on December 31, 1930.  The idea for the Old Pueblo Trolley first began in 1988 and its equipment is currently housed at the 36th Street Shops.
The group's 1-mile of track begins at University Boulevard, heads south beneath Union Pacific's main line, and then loops around Congress Street/Broadway Boulevard.  The organization also operates buses and manages the nearby Southern Arizona Transportation Museum. 
Paradise & Pacific Railroad/McCormick-Stillman Railroad Park
The Paradise & Pacific Railroad, located in Scottsdale, is part of the McCormick-Stillman Railroad Park. The train is based from a Colorado narrow gauge and is exactly 5/12th's the original, carrying passengers on a 1-mile trip around the park. 
They also feature a small museum which includes an impressive of collection of preserved wooden depots: one of Santa Fe vintage constructed in 1907 and that once sat at Aguila, North Scottsdale Avenue; a Southern Pacific structure built during the 1930's at Maricopa, North Scottsdale Avenue; and finally another Santa Fe station originally located at Peoria, North Scottsdale Avenue, completed in 1895. 
A fourth depot replicates an Arizona & New Mexico Railroad building that once stood in Clifton, Arizona.  While there don't forget to see 2-6-0 #6, built for the El Paso & Southwestern by the Burnham, Williams Company (Baldwin) in 1907 and Pullman car "Roald Amundsen," which saw use by every U.S. president from Herbert Hoover through Dwight Eisenhower.
Gadsden-Pacific Division Toy Train Operating Museum
This organization is based in Tucson and features a caboose on the property and an indoor pavilion, which houses a large operating model train layout. 
The caboose is of Denver & Rio Grande Western lineage; given #01433 it was manufactured by the company's shop forces at the Burnham Rail Yard in Denver, Colorado between June/July, 1944.  It remained in active service until 1986. 
After spending many years awaiting an uncertain fate, it was privately purchased by a hobby shop owner in Arizona City and restored (even the blanked-out windows were replaced).  In 2005, Gadsden-Pacific acquired the car where it remains on display today. 
In addition to their indoor layout the group also has an outdoor garden railroad and large-scale trains. They are closed during July and August due to the extreme heat but otherwise remain open every second and fourth Sunday the rest of the year. Admission is free.
Maricopa Live Steamers
Large-scale, outdoor railroads have become an increasingly popular alternative to the more expensive, standard excursion rides.  Some groups do not even charge admission!  This organization, based in Glendale (Phoenix), offers just such an attraction. 
What is known as the Adobe Western Railroad hosts 30-40 minute trips on the property which includes a rather substantial network of track.  Their public rides are offered every Sunday between 12 and 4:30 p.m. from mid-September through mid-May (again, due to summer's extreme heat they are closed outside of these dates).   
In addition to their collection of steam locomotives the group also has a fleet of diesels to pull their trains.  While rides are free the organization does eagerly welcome donations.  To learn more and plan a visit their website for more information.
Sierra Madre Express
(Discontinued, 2009)
What was one of the most unique rail travel experiences anywhere, the Sierra Madre Express (hosted by North American Rail Adventures) took you back to the days of yore during railroading's "Silver Age" of streamliners.
During these trips one could enjoy freshly-prepared meals, and high-class accommodations.  The private rail tour operated between Tucson, across the Mexican border, passed through the country's breathtaking Copper Canyon, and operated as far as Creel/Divisadero.  
It was discontinued in 2009.  Today, you can still experience the Copper Canyon by rail on the Chepe Express, which runs via Chihuahua.
Southern Arizona Transportation Museum
The Southern Arizona Transportation Museum is housed in the restored Southern Pacific/El Paso & Southwestern depot in Tucson (At its peak the EP&SW reached over 1,200 miles in length.  It was acquired by Southern Pacific in 1924).
Located at 414 North Toole Avenue, the brick/adobe structure was built in 1907 and also acts a stop for Amtrak on Union Pacific's main line. While there be sure to visit their preserved steam locomotive, Southern Pacific 2-6-0 #1673. 
The little Mogul (listed as Class M-4b) was built by the Schenectady Locomotive Works (forerunner to the modern American Locomotive Company of Schenectady, New York) in 1900 and is housed beneath a large outdoor pavilion. 
Inside there are various interactive historical exhibits, not all of which relate to railroad history.  Admission is free although hours vary.  To learn more please visit their website.
Superstition Scenic Narrow Gauge Railroad 
The Superstition Scenic Narrow Gauge Railroad is an often forgotten attraction, located in the rebuilt gold mining town of Goldfield, situated about 40 miles east of downtown Phoenix. 
This historical interpretive center, which opened in 1989 and known as the "Goldfield Ghost Town," tells the story of a small mining community that once produced more than $1.5 million in gold from small, local shafts during the 1890's. 
After just a few years the "rush" was over and the town closed before 1900. 
The Superstition Scenic operates roughly 1.5 miles of track as a 3-foot, narrow-gauge around the grounds with cars pulled by a diesel switcher manufactured by the Plymouth Locomotive Works (but dressed to appear as a steam locomotive). 
Trips last about 20 minutes.  To learn more please click here to visit the town's website, which offers several different attractions.
---
Verde Canyon Railway
The scenic train rides available in Arizona today are thanks in large part to the Santa Fe Railroad. The Verde Canyon Railroad is no exception as it uses former AT&SF trackage in central Arizona, near the very popular tourist destination of Sedona.
The Verde Canyon has become a popular tourist attraction since it began operations in the early 1990s. Today, the railroad offers several different excursions and special trips. 
Although prices average a little higher than what you might find on other tourist railroads the scenery afforded within climate-controlled coaches is well worth the cost! 
If you are visiting Sedona, or Arizona in general a visit to the Verde Canyon Railroad, is very much recommended. This is especially true since you can often witness Bald Eagles on the journey and it is the only way to see Arizona's breathtaking Verde Canyon.