Colorado Short Line Railroads: Complete List (Active)
Published: April 19, 2023
By: Adam Burns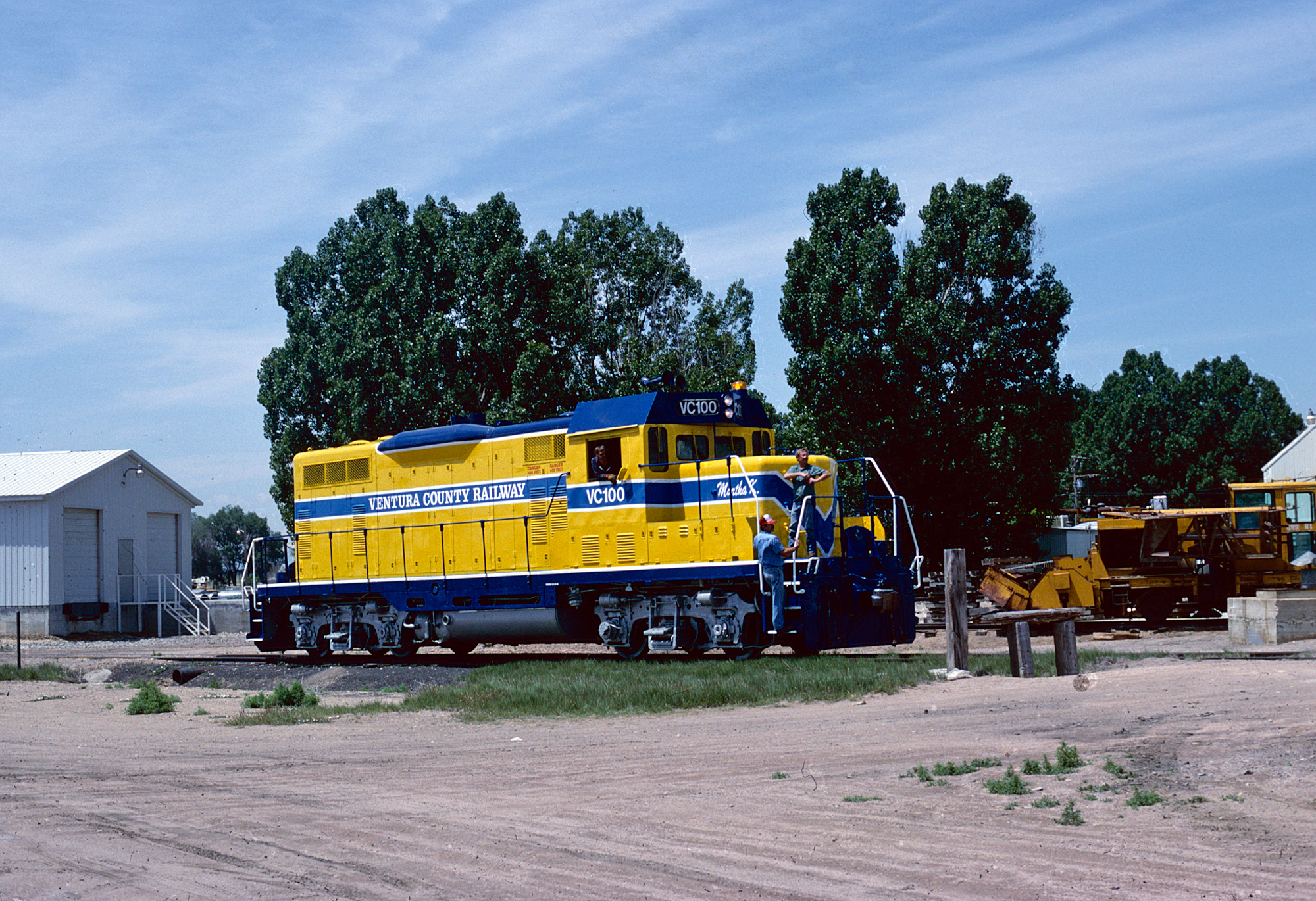 Ventura County Railway GP7 #100 (built as Santa Fe #2735) is on the move at Johnstown, Colorado on June 2, 1992. Vincent Porreca photo. American-Rails.com collection.
Guide Information
Cimarron Valley Railroad
(reporting mark, CVR):  This large short line operates 254 miles of former Santa Fe trackage in Kansas, Oklahoma, and Colorado. 
There are two disconnected lines; one from Dodge City, Kansas to Boise City, Oklahoma while the other runs from Satanta, Kansas to Springfield, Colorado.  Much of the trackage is 10 mph and weed-covered.  Its traffic base is primarily agriculture.
Colorado & Wyoming Railway
(reporting mark, CW):  This historic road has a history dating back to 1899.  Today it operates just 4.5 miles of its original network, serving the area around Pueblo.  Its current traffic includes coal, ore and steel products where it interchanges with both UP and BNSF.
Denver Rock Island Railroad
(reporting mark, DRIR):   This privately owned short line first began service in 1993 on trackage once owned by the Rock Island.  It currently serves three yard near Denver known as the North Washington Park, Stockyards, and Airlawn.  They currently operate with a few Electro-Motive switchers.
Great Western Railway Of Colorado
(reporting mark, GWR):  Not to be confused with the English road carrying the same name, this Great Western dates back to its incorporation on October 16, 1901 by the Great Western Sugar Company to serve its sugar plants in Loveland and Greeley. 
For many years the railroad moved sugar beets, molasses, processed sugar, and related products.  It also handled passenger business until 1927.
It remained under private ownership for many years before it was acquired by OmniTRAX. Today, the Great Western operates about 80 miles from Greeley to points west, north, and south. 
Its traffic base is no longer sugar-related but it moves a diversified range of freight including agricultural products, paper, plastics, sand, forest products, brewing grains, beer, and miscellaneous by-products.  Of note, its original 2-10-0 Decapod #90 currently operates on the Strasburg Railroad.
Kansas & Oklahoma Railroad
(reporting mark, KO): See Kansas.
Kyle Railroad
(reporting mark, KYLE):  This large, Class II, regional system operates more than 500 miles of which most is the Rock Island's former main line between Chicago and Denver. 
It also owns some branch trackage north and west of Salina, Kansas with a very short segment reaching into southern Nebraska. 
It was a long-time RailAmerica property before that company was purchased by G&W in 2012.  Its current traffic includes wheat, soybeans, milo maize, alcohols, siding asphalt, and roofing granules handling more than 21,000 carloads annually.
Nebraska, Kansas & Colorado Railway
(reporting mark, NKCR):  This Class II, regional is another OmniTRAX property and operates roughly 559 miles of disconnected track predominantly based in Kansas but also reaches Sterling, Colorado. 
It has been in service since 1996 with traffic largely made up of coal movements while it also handles wheat, corn, and fertilizer.
Rock & Rail, LLC
(reporting mark, RRRR):  This short line operates 11.75 miles of the former Rio Grande's "Royal Gorge Route" between Parkdale and Cañon City, Colorado.  The property is best known for hauling excursion trains, known as the Royal Gorge Route Railroad.
---
San Luis Central Railroad
(reporting mark, SLC):  Originally founded in 1913 to handle sugar beets from farms located around the small town of Center to a mill near the town of Monte Vista (13 miles), where interchange was made with the then-Denver & Rio Grande Western.
Today, the little line continues to subsist on agricultural (grain and potatoes) traffic, along with fertilizer, but its interchange is now with short line San Luis & Rio Grande Railroad, which forwards its business on to Union Pacific at at Walensburg.
San Luis & Rio Grande Railroad
(reporting mark, SLRG):  This short line launched service in 2003 over the former Rio Grande, covering 154 miles from an interchange at Walensburg with Union Pacific to Alamosa. 
From this point, two branches are operated reaching Derrick and Antonito.  As of this writing, the SL&RG is operated by a bankruptcy trustee following Iowa Pacific Holdings' financial collapse.
V&S Railway
(reporting mark, VSR): See Kansas.